By Kirsten Johnson | Lynnwood Times
When Gustavo Balderas takes helm as Edmonds School District's new superintendent July 1, he said his first step is to listen.
"The first few months, I plan to do a lot of listening and learning," Balderas told the Lynnwood Times. "I want to really learn about the quality of work that's being done around the campuses to really get an understanding of the system."
Balderas was selected March 3 to succeed outgoing superintendent Kristine McDuffy, who is retiring at the end of the school year.
Balderas is currently superintendent of the Eugene School District 4J in Oregon. Prior to that, he was superintendent at two different districts in California and he also was previously a classroom teacher and school counselor.
Balderas was selected over finalist Deborah Rumbaugh, superintendent of Highline School District in Burien.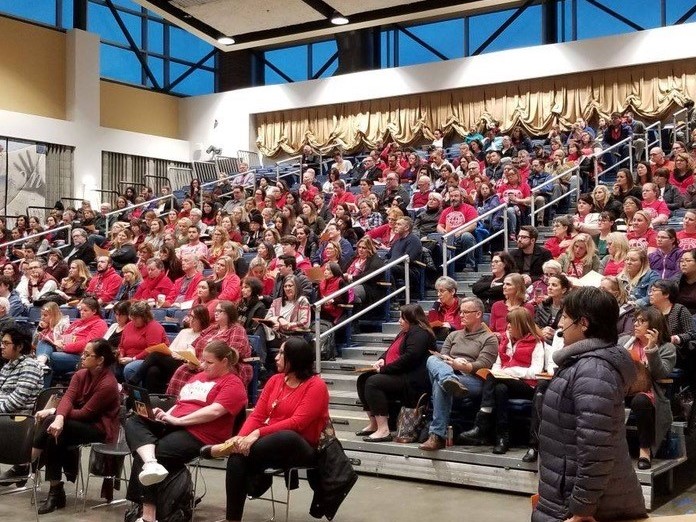 Both he and Rumbaugh vetted questions from the community March 2 at a two-hour forum which packed the bleachers of the auditorium at Meadowdale High School. District officials said about 350 people attended the forum and another 110 live streamed the event online.
They were asked questions spanning topics including: the need for certified librarians, their perspective on disproportional discipline of students of color, and their plan to support K-12 arts programs in Edmonds. Attendees were able to rate candidates via feedback forms, which were then used to help make the final selection.
Balderas told forum attendees that he was born in Mount Vernon and that he is the child of migrant farm workers. He said he was an English Language Learner as a youth. He has served as superintendent in Eugene since 2015 and was named 2020 National Superintendent of the Year last month by AASA, The School Superintendents Association.
Balderas said at the forum that he has helped increase the graduation rate by 19 percentage points in the Eugene School District and that he is an advocate of "offering options within the public school system" such as dual-language programs and magnet programs within the schools.
He also said he thinks increasing engagement and that staff building quality relationships with students can help boost graduation rates. He said the graduation rate in his district is between 90 to 92 percent and "that's because (the students) are engaged in school."
"Every kid wants to be successful," Balderas said during the forum. "I've never met an (elementary-aged) kid who said they don't want to graduate high school. So what happens for kids as they go through our educational system is they get disengaged … I see kids start to fall through the cracks a little bit around the intermediate grades."
When asked about his plan to mitigate the equity and opportunity gap in Edmonds, Balderas said he believes that "the people with the most affluence don't have to have the most influence." He also said that he aspires to increase the number of staff of color in schools: the Eugene School District has gone from 10 percent principals of color to 39 percent and "that was very intentional in getting there and it was very much a community value," Balderas said.
"We have a really aggressive action plan to diversify our workforce in a variety of ways," he said.
Under Balderas' leadership, the Eugene School District passed a historic $319 million bond in 2018 used to rebuild three schools, according to information about Balderas online.
Balderas told the Lynnwood Times that another one of his first moves in Edmonds is to "really look at the bond that didn't pass and to build relationships with folks to figure out how to move that forward." The district had attempted to pass a $600 million bond in February which would have funded replacement and upgrades to several buildings but it failed to achieve a 60 percent supermajority.
"I want to get an understanding of the bond work and the vision of the board in order to help really move that work forward," Balderas said.
Balderas also told the Lynnwood Times that he and his wife are empty nesters who have two college-aged sons. He said they are currently looking at houses in the area so that they can "start to transition and move up."
"It's an exciting change for my wife and I," Balderas said. "I love the community, I love the area and … I'm just really humbled by the opportunity. It's an honor to be selected to lead Edmonds School District add I can't wait to get up there to begin the work."
Balderas' contract is currently under negotiation. He earns a base salary of $241,500 in Eugene. McDuffy, the current Edmonds School District superintendent, earns a base salary of $294,284.
Balderas won't be the only new face in district leadership next school year. Assistant Superintendent Justin Irish announced last month he is leaving Edmonds to become the superintendent of the Anacortes School District. Also, Kimberlee Armstrong, executive director of Equity and Public Relations, was named Assistant Superintendent of Educational Services for Tamalpais Union High School District in California.