Mukilteo- A little bit of spirit can go a long way
By Erin Freeman | Lynnwood Times Staff
The city of Mukilteo hosted two consecutive weeks of Spirit Weeks hoping to raise spirits amid the coronavirus pandemic stay home, stay healthy statewide order.
"This is something positive to take our minds off the bad parts of our stay home time. It just emphasizes the spirit and togetherness of our community," explained Mukilteo Mayor Jennifer Gregerson. "Normally, we're able to lean on each other during an emergency, and this is just a very different experience."
The Mukilteo Police Department's Crime Prevention Unit, who partners with the local community to provide information and resources to prevent crime, launched the community-wide effort to maintain their active engagement with community members.
"In crime prevention, it is very important that we stay engaged with the community and maintain that relationship and sense of partnership we have between police and community," explained Crime Prevention Division Officer Myron Travis. "With isolation and social distancing, you can lose that if you don't come up with innovative ways to maintain those interactions and that engagement."
Every weekday from Monday, April 27 through Friday, May 8, Mukilteo residents were encouraged to participate in daily themes arranged to help the community feel more connected with one another. Mayor Gregorson explained that the themes for the different days were designed to be "achievable and safe, while also being things that people could do at home."
The Koch Family participated every day of both weeks. Parents Brianne and Joshua said it gave them something to look forward to enjoying with their two young daughters.
"It's something to look forward to every day in the absence of everything else," remarked Joshua.
"We just like getting involved in the community and this is a great way to stay connected," added Brianne.
Mukilteo's spirit weeks kicked off on Mondays, inviting people to wear or display Kamiak High School's school color purple to show support for the class of 2020.
"Our Kamiak High School graduating seniors are missing out on so many traditions," said Gregerson in a press release. "This is our shared opportunity to support them and show them how proud we are of their academic accomplishments and to wish them well."
"Thinking about the high school students and understanding that they would have to forgo their graduation…. we wanted to still recognize our students and their academic accomplishments," added Travis.
Tuesdays were "Picnic in your Yard Day", where residents were asked to have lunch in their front yard to get out and see their neighbors and look for first responders driving through Mukilteo neighborhoods.
"This day was exciting for me, particularly because I was able to go out and see our community… it was an opportunity to say thank you for being responsible and doing something that's not easy but necessary," explained Travis. "I was able to stop in at a safe distance and talk to the community house by house neighborhood by neighborhood."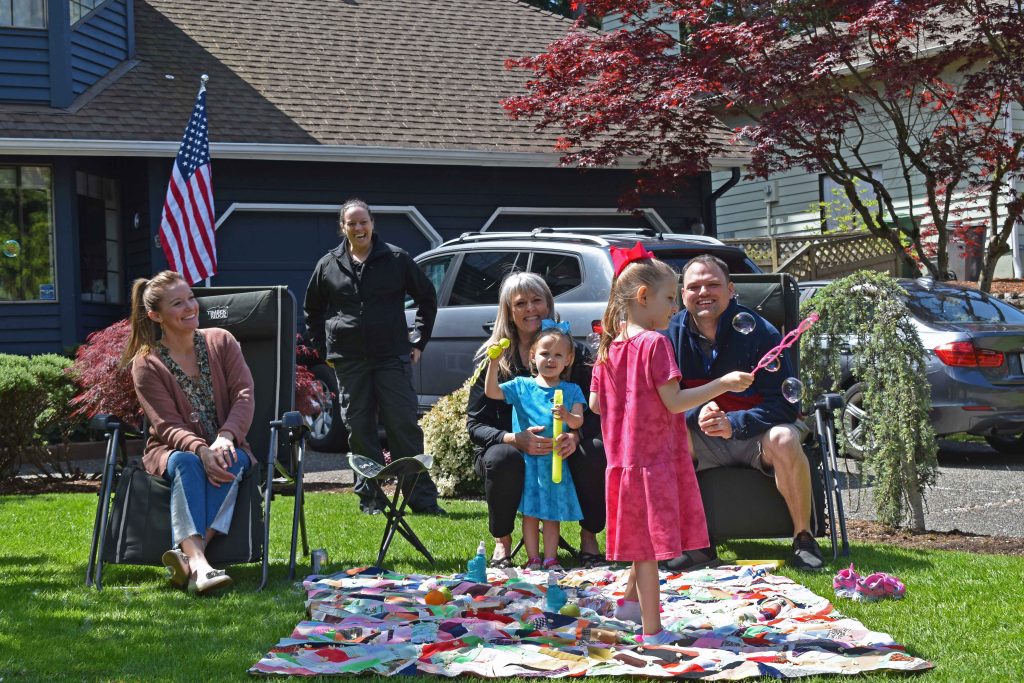 Jaime and Doug Kilishek and their two boys Cooper and Mason ate lunch in foldable lawn chairs stationed on the edge of their property on the second Tuesday, waving at neighbors and officers as they came by.
"It's so beautiful out and we wanted to celebrate what the city was doing," remarked Jaime. "It's so great that our city is doing this."
"I just wanted a picnic," chimed in Cooper, causing an eruption of laughter from the Kilishek family.
"Lights on for Essential Workers" Wednesdays and "Support our Mukilteo Businesses Day" on Thursdays remembered essential workers on the front lines and small businesses open during the pandemic. Both days asked residents to turn on their home lights, and if possible, to coordinate different colored bulbs to show support for different agencies.
"I shined a white light outside of my office to support doctors and nurses," said President of the Mukilteo Police Foundation and State Farm Agent Matt Mitchell, who participated with his family and insurance team. "Every day of the first week we utilized the support local business day… and had lunch from a different local restaurant."
Mukilteo finished out the spirit weeks on Fridays with residents encouraged to dress to impress, changing out of their stay at home casual attire and dressing up for a formal day at home.
"It was an opportunity to shed our pajamas and get dressed up and have dinner, just to break our cycles to add some diversity to our day," Travis said explaining the intent behind the theme.
Reflecting on his personal and work relationships participation throughout the week, Mitchell remarked that "we find ourselves in a very bizarre time with a lot of uncertainty and a lot of fear. I thought this would just be fun, and we had a great time doing it. "
According to Officer Travis, the community's enthusiastic response and engaged participation throughout the spirit weeks were remarkable.
"The response was overwhelming. Mukilteo is a great community that's very engaging and they always maintain that spirit of togetherness. it puts a smile on my face to see that while we're apart, we can be close," reflected Travis. "As our hashtag Mukilteo strong says, we're stronger together."