Mazatlan Mexican Restaurant donates lunch to food bank volunteers
by Luke Putvin | Lynnwood Times Staff
On June 3, the Lynnwood Food Bank saw a packed parking lot of individuals in need of food. The food bank, next to Silver Creek Family Church, had a long line of cars in addition to a completely filled parking lot. Everyone was waiting their turn for assistance at a time when many families are having difficulty keeping food on the table.
Among all this, the volunteers of the Lynnwood Food Bank worked rapidly; they filled carts and took food out to parked cars to unload. Alissa Jones, director of the food bank, said that some volunteers will be there from 7 AM to 6 PM.
Wanting to do something to help, Mario Pimienta, the owner of Mazatlan Mexican Restaurant in Mountlake Terrace, came and donated lunches for each of the volunteers. Pimienta said that it's a clear a lot of rightful focus on the people need help right now, but he wanted to make sure that there is also focus on those providing help.
Pimienta shared that he has been talking with Julieta Altamirano-Crosby, Lynnwood City Council Member, and working closely with her and the community. "She's been helpful with the Latino community, and so I give my part to the community," he said.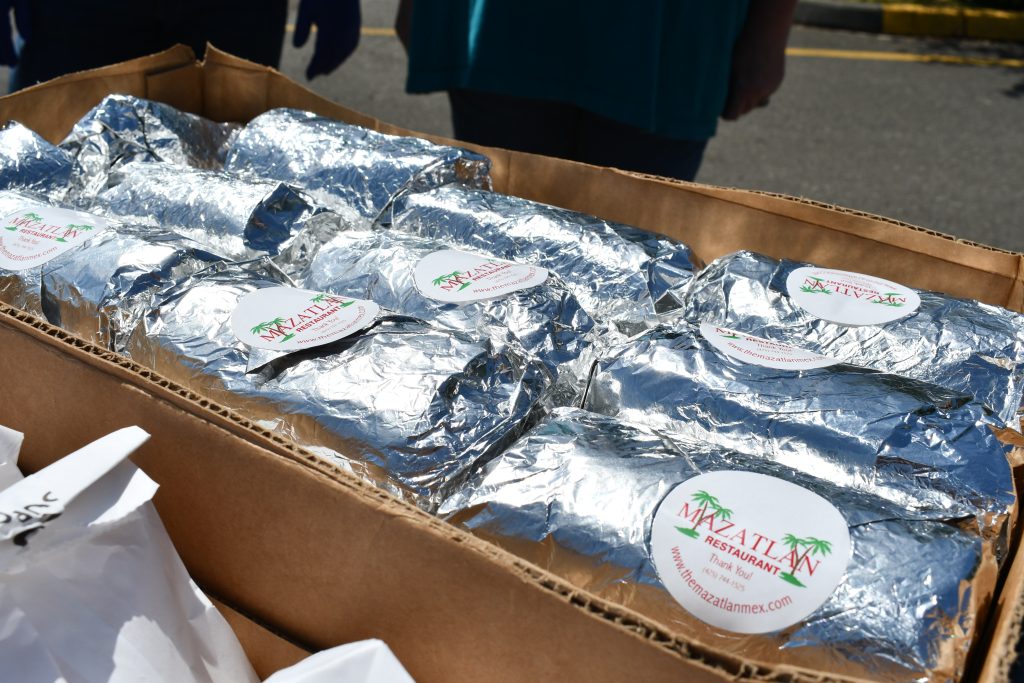 He also mentioned the difficulties that the COVID-19 pandemic has had on his restaurant, mostly the need to lay off many employees. Lately, the restaurant has been running with very few people.
"The community has been really good to me and has tried to support [the restaurant], but it's just not enough. So I hope things get back to normal soon," Pimienta said.
Jones expressed her deep gratitude to Pimienta and said that, for the volunteers that are there for so long during the day, it is great for them to be able to share a delicious and nutritious lunch. "We are really grateful," she told him.
Pimienta shared his thanks with Jones and the rest of the food bank for the work that they have been doing at this time. "If we work together, we can get far," Pimienta said. "And we can get over this soon."
For more information about the Lynnwood Food Bank, visit www.lynnwoodfoodbank.org, and for more information about Mazatlan Mexican Restaurant, including a menu, visit www.TheMazatlanMex.com.