Principles and character over prejudice
By Erin Freeman | Lynnwood Times Staff
April 8, 2020 – An on-duty Lynnwood Police Officer fell victim to a string of racist and discriminatory comments, some of which were caught on video.
"You work for me. You are my slave, you work for me," says an off-camera voice to the Lynnwood Police Department's (LPD) only Black officer, A.J. Burke.
"It was extremely hurtful having to take that sort of verbal abuse from somebody," explained Burke. "It was constant, it was relentless, and he just kept going,"
Six minutes of the verbal attack was recently leaked online, originally filmed by the aggressor himself, but Burke says it lasted nearly an hour.
"The altercation was roughly 55 minutes with him just yelling at me, screaming at me, and calling me names."
Identifying himself as a "First Amendment Auditor," the attack did not come from a Lynnwood resident, but from an individual known to repeatedly antagonize and scrutinize officers within the LPD and other North Sound area law enforcement agencies.
"He is known for being extremely aggressive and has recorded videos of our LPD officers before," confirmed LPD spokesperson Joanna Small.
As the interaction progressed, Burke became increasingly hyperaware that his response would affect more than himself. It would also reflect on two communities he is a part of.
"I felt like he was attacking me as a Black man and not as a police officer," explained Burke. "But I thought to myself, I represent two big communities and I don't want to do anything to jeopardize those communities."
"We cannot express how incredibly proud we are to have Officer Burke on our team," wrote the LPD in a Facebook post. "His actions that day and every day he puts on the uniform truly exemplify our core values of 'professionalism, vigilance, and community."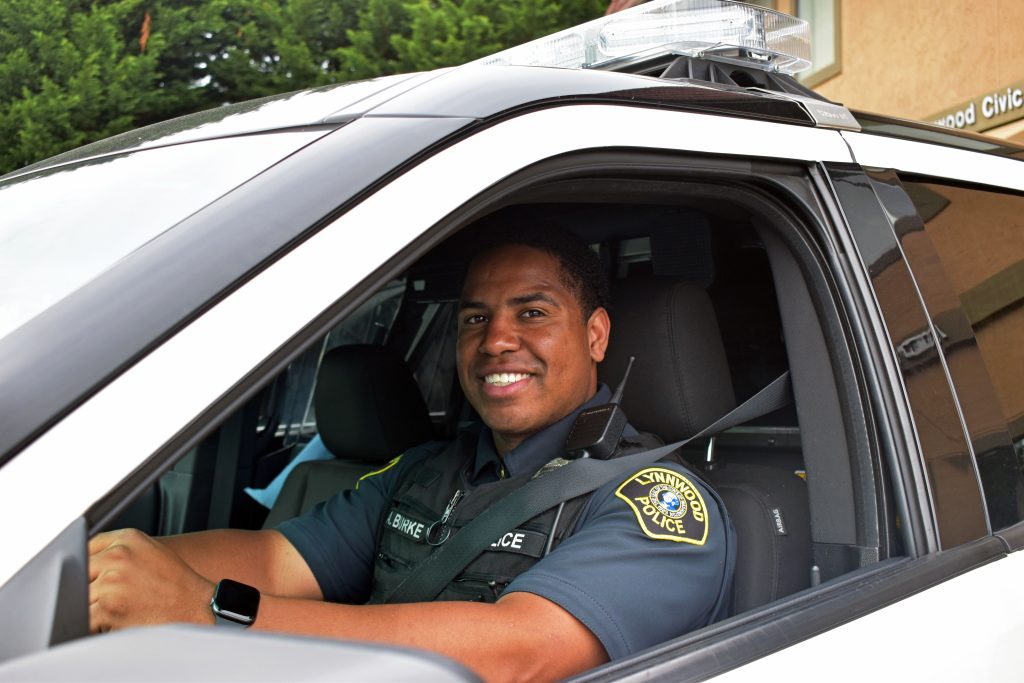 Eight years ago, Burke joined law enforcement, wanting to represent and set an example "for people who look like him" while protecting everyone in his community.
"This [interaction] does not reflect Lynnwood to me at all, I've built a lot of relationships with community members," said Burke. "Lynnwood's a great community."
"We condemn any and all acts of hate and discrimination and are committed to being a safe, welcoming, and equitable community for all people, including our employees," said Julie Moore, the spokesperson for the City of Lynnwood. "We thank Officer Burke for his unwavering commitment to serve our community."
The agitator, who has been labeled as a "frauditor," regularly uses derogatory and demeaning phrases when speaking with police officers who are simply doing their job.
In February 2017, the frauditor's criminal record shows that he made a call to a non-emergency phone line where he threatened to assault law enforcement. This and other actions against law enforcement personnel have flagged the frauditor as a credible threat.
From the numerous online videos watched by the Lynnwood Times, the frauditor creates tense situations with police officers. He approaches them, asks for their name and badge number and then proceeds to mock them or use belittling sexual verbiage.
There were many situations where the frauditor placed the public and law enforcement into harm's way by exerting himself into already stressful circumstances.
It is important to note that all of the officers that the frauditor had engaged with and filmed, exuded professionalism and discipline. These interactions show the professionalism of officers when dealing with difficult people.
As one commenter stated, "It's a testament to officer training that this guy hasn't been shot in the face yet."