Hundreds join Fortney to support law enforcement and in remembrance of Officer Shoop
by Mario Lotmore | Lynnwood Times Staff
EVERETT, WA, July 17, 2020 — Over 350 attended a Back the Blue rally in Everett, WA. The Snohomish County Republican Party sponsored the event at the Snohomish County Plaza to show support to law enforcement and first responders.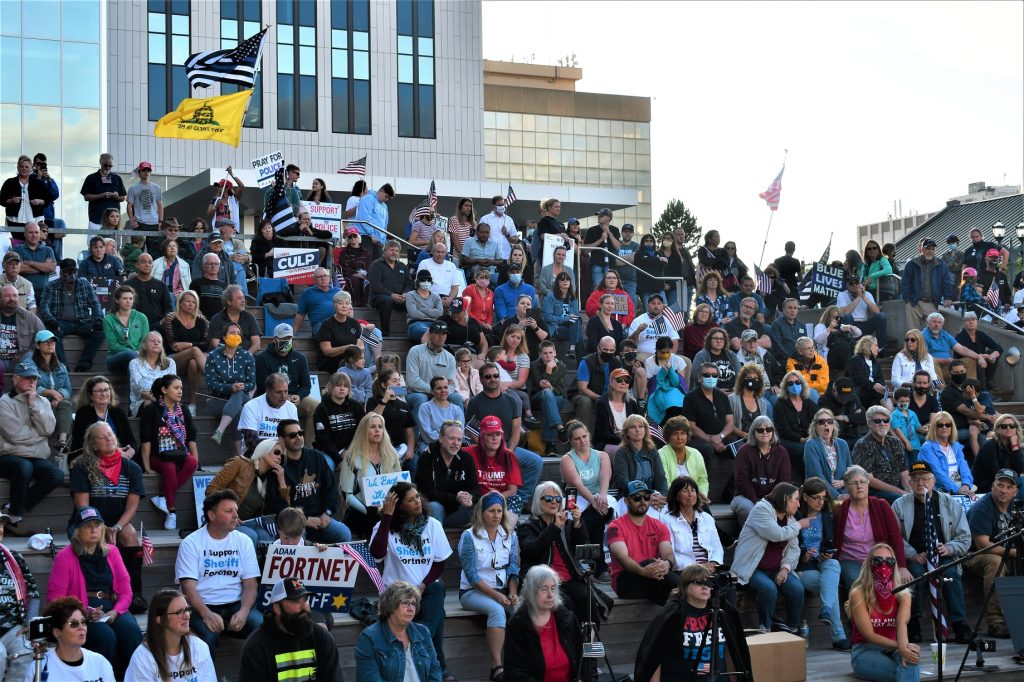 Event organizer, Anita Azariah shared with attendees that efforts are in play to paint law enforcement officers as criminals in order to build momentum to defund police departments across the county which would lead to the transformational change of removing strong leaders.
"Why do we have to divide," Azariah asked the crowd. "As soon as we bring the color, we are already dividing. We do not need our nation divided at this time. We need our nation united."
Azariah continued, "Do not tell me brown lives don't matter, do not tell me white lives do not matter, we are all shades of each other, we should be ashamed of ourselves, when we take one color's name."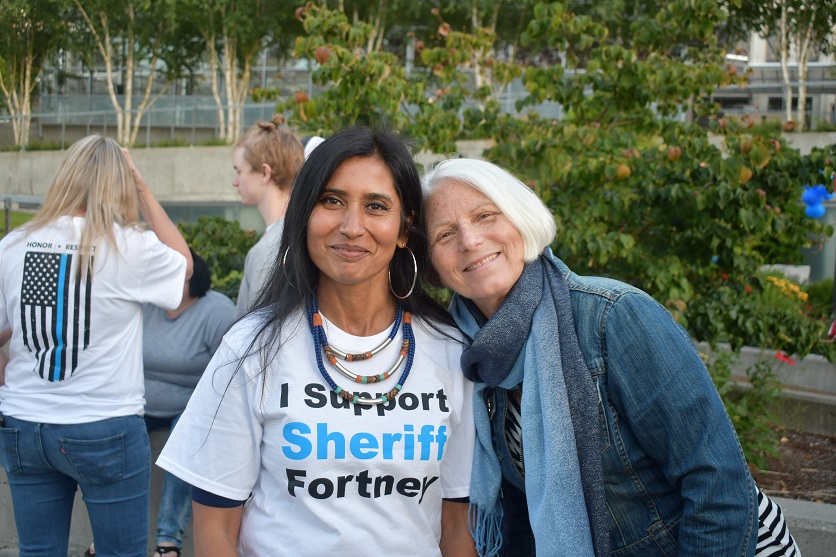 Azariah immigrated to the United States from Pakistan to escape persecution. She is the current Director of Outreach of the Snohomish County Republican Party.
"I come from Pakistan and trust me the police over there is very different. If you stand like this and shout in front of the cops, you get beaten up right away. I have personally experienced police brutality in Pakistan. I am not going to get into that today. Even then I will not say to the Pakistani police to defund them because they protect and do more good than some officers can harm."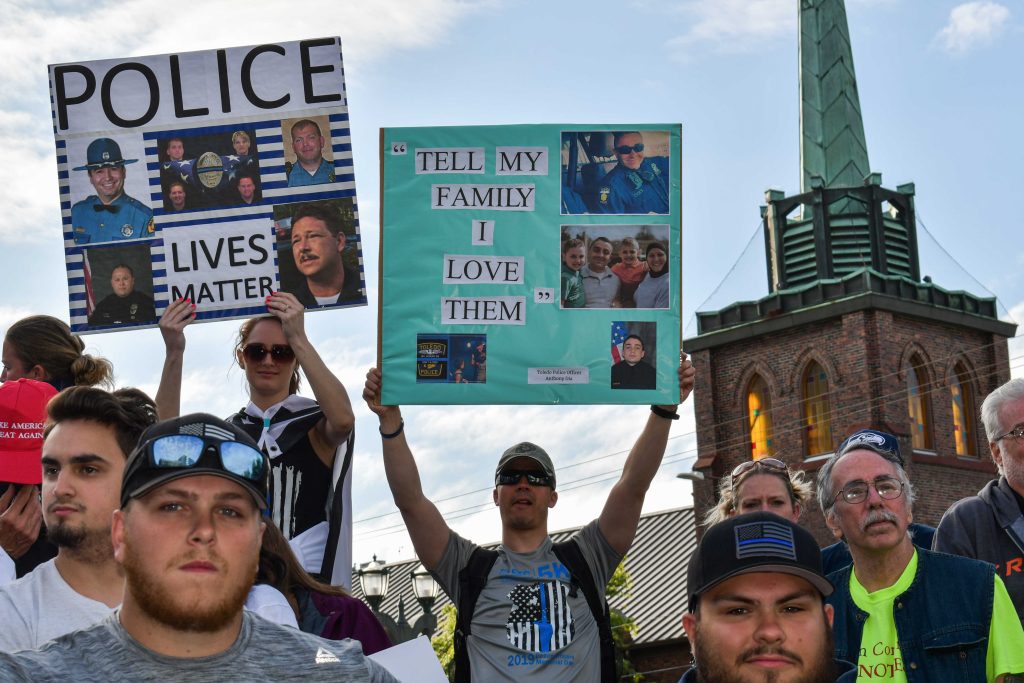 She is critical of efforts to defund police departments across the country, especially in Seattle. "These people are in place for a reason. You don't ask to remove them. You can ask for reform to make it better and that is ok to say, but defunding is not the solution."
Azariah continued, "You cannot blame the actions of a very few minority on the whole department. You cannot do that. You cannot ask to defund them because there is this one person or two people who are miss using their power. Isn't our governor doing the same thing? So, we aren't going to have a governor anymore?"
Video of the Back the Blue event
Speakers for the Back the Blue event are listed below:
Mill Creek Councilman Vince Cavaleri (10 min. 38 sec.)
Shamir Shad (16 min. 54 sec.)
Bernard Moody (22 min. 20 sec.)
Dr. Tony Brooks (32 min. 29 sec.)
Matt Boice (41 min. 50 sec.)
Snohomish County Sheriff Adam Fortney (45 min. 30 sec.).
Cavaleri, a Sheriff Deputy and veteran spoke against both defunding the police and the recall effort against Snohomish County Sheriff Adam Fortney. Shad, a minor, shared his experiences interacting with law enforcement.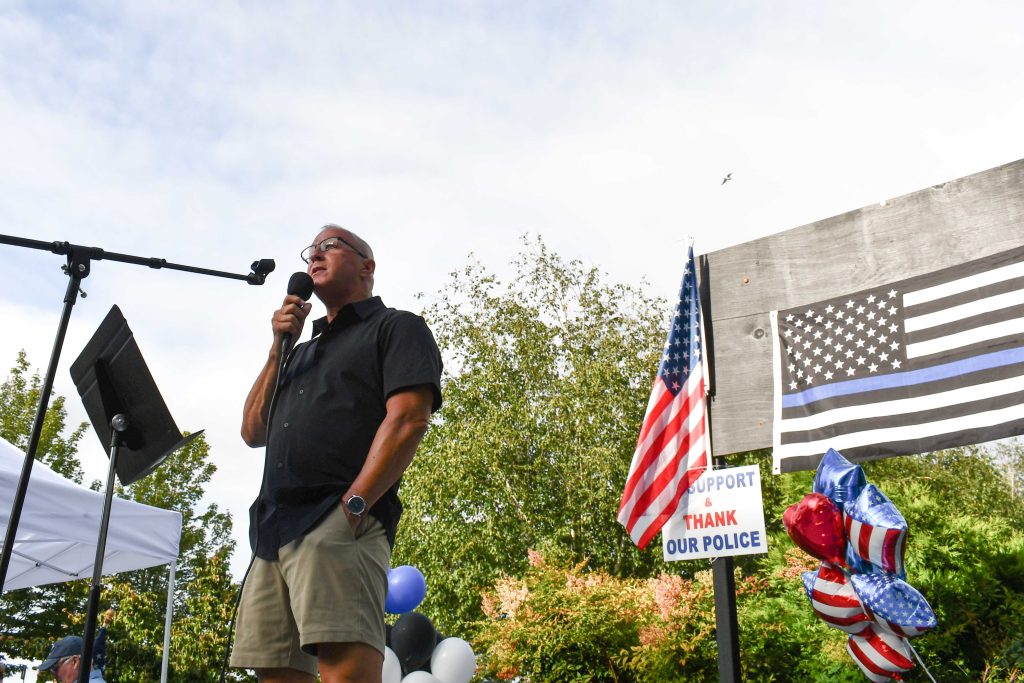 Bernard Moody, a Correction's Sergeant and veteran encouraged the crowd to thank a law enforcement officer for living "under the shadow of their protection." Moody is a State Senate candidate for District 38.
Dr. Tony Brooks, is a former army ranger, owner of Structural Chiropractic, serves on the Board of Hobizbo, former President of the Redmond Rotary club and volunteers for the Redmond Police Foundation. Brooks called on attendees to support their local police foundations and to help against Fortney's recall effort.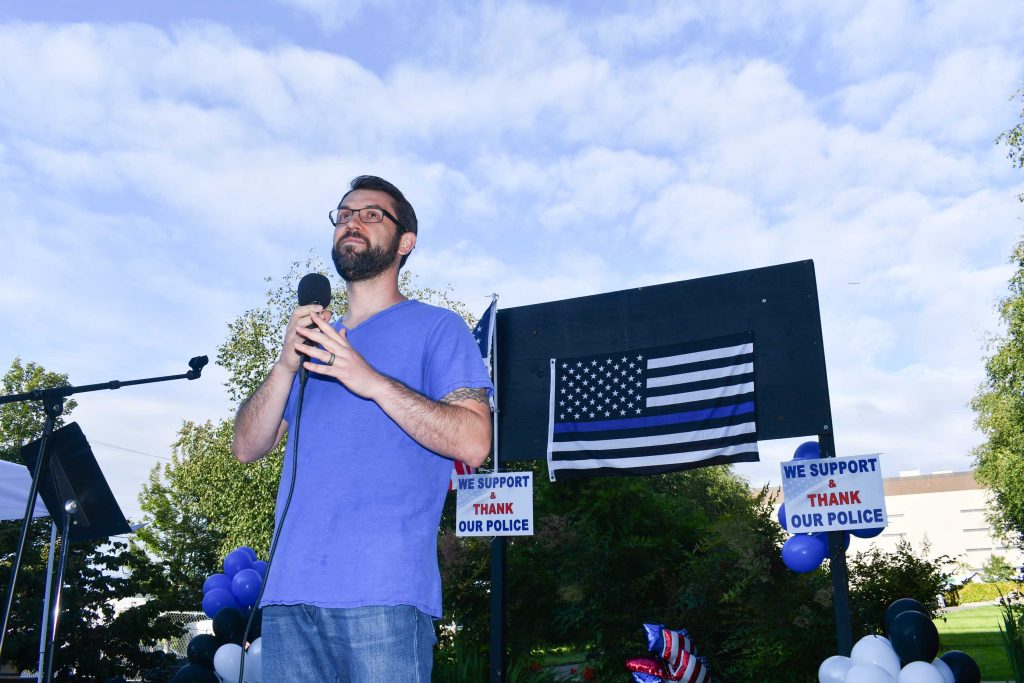 "Use today as your first step forward to supporting the police department," said Brooks. "I want you all to love each other. We need to stop all of this hate. Across the street they are protesting something else, and you know what, there is no reason anyone here can't support all of those causes."
The Lynnwood Times reached out to all of the two dozen Black Lives Matter protesters across the street. None of the protesters would speak with us.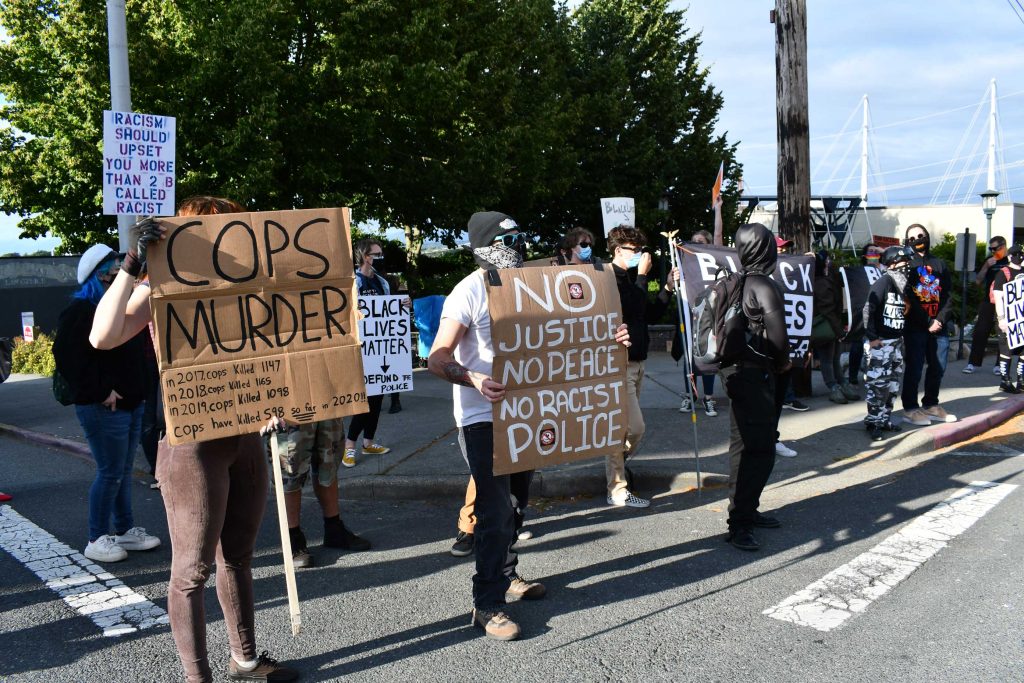 Matt Boice, President of the Snohomish County Deputy Sheriff's Association representing 275 law enforcement officers in the county demanded a call-to-action to stop further budget cuts against the Sheriff's department by the County Council. Boice asked everyone to contact their county council representative and tell him/her not to defund the Sheriff's office.
"Facing a decision from the county government, we have already been hit with a reduction in our budget by a little over 3% this year," said Boice.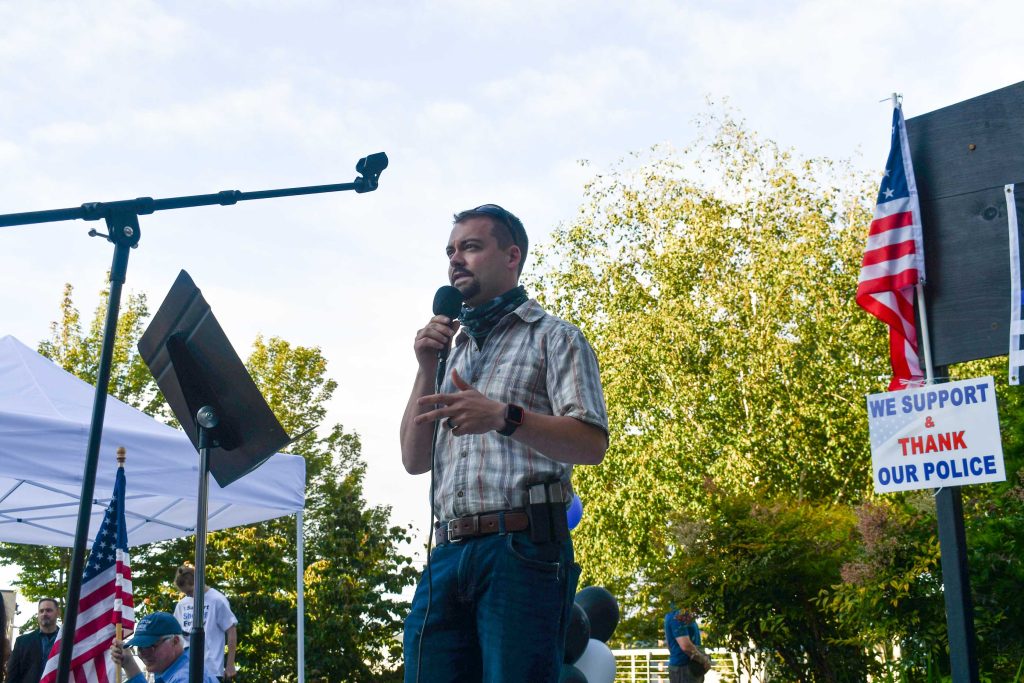 Boice shared that if the County Council were to cut the Sheriff's budget further next year, it will result in a reduction in workforce. He shared that the National ratio of police officers to 1000 people is 3.14. In Snohomish County, that ratio is currently at 1.2 per 1000 people.
"So, if that gets reduced anymore, the resources that we need to provide a service to you will be affected," said Boice.
Sheriff Adam Fortney address to attendees
Sheriff Fortney was overwhelmed by the show of support for law enforcement. "If ever there was a time to have a rally to support the police, it's now," said Fortney.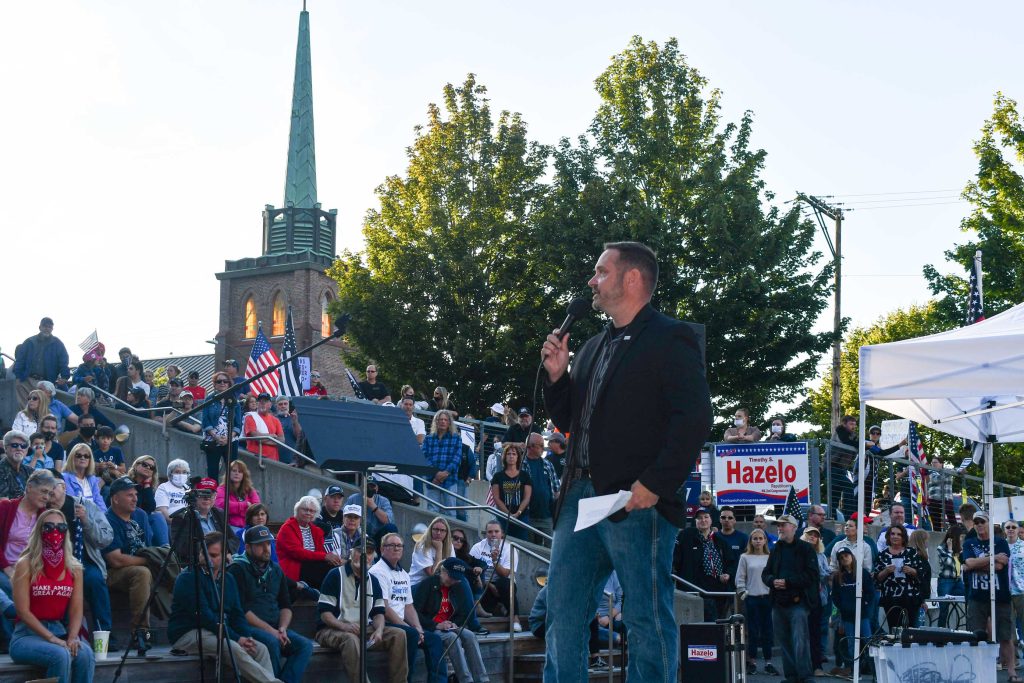 Fortney thanked Azariah for organizing the rally and shared with the crowd that Azariah is an American success story. "She is the American dream," said Fortney.
Attendees at the rally had donated one thousand dollars for the family of slain Bothell Police Officer Jonathan Shoop.
"Officer Jonathan Shoop left behind a mom, fiancé, and brothers," said Fortney. "It is one of those things as law enforcement officers you just don't know when and where. I thank the Lord we don't see it a whole lot up here but when it hits, it hits really hard."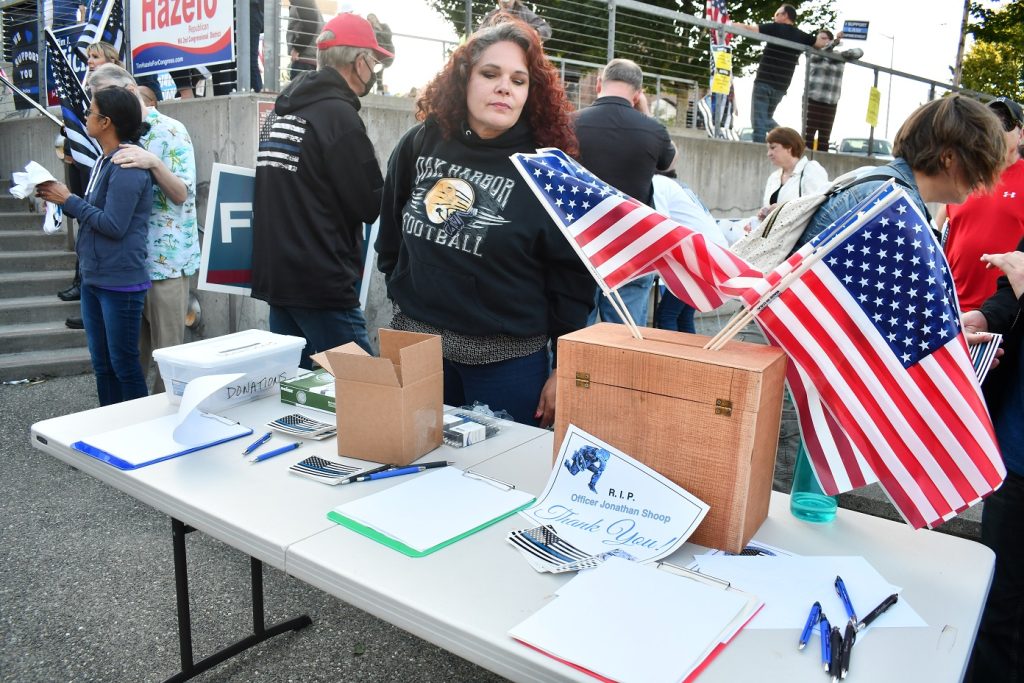 Fortney offered his heartfelt condolences to the family of Shoop and honored Shoop's service to the protection of his community.
"So, I say to Officer Shoop, thank you for your service. Thank you for your sacrifice on behalf of all of us, we got it from here, may you rest in peace sir, thank you."
Fortney gave his support to the men and women of the Seattle Police Department who are facing a possible 50% defund effort supported by a veto proof majority of the Seattle City Council. Members of the Seattle Police Foundation were in attendance.
"I know there are good people in King County and Seattle that support the police, God Bless them," said Fortney. "And I absolutely know there are good men and women working all over the city of Seattle with almost zero support from their city government, so my heart is with you and thank you for being here."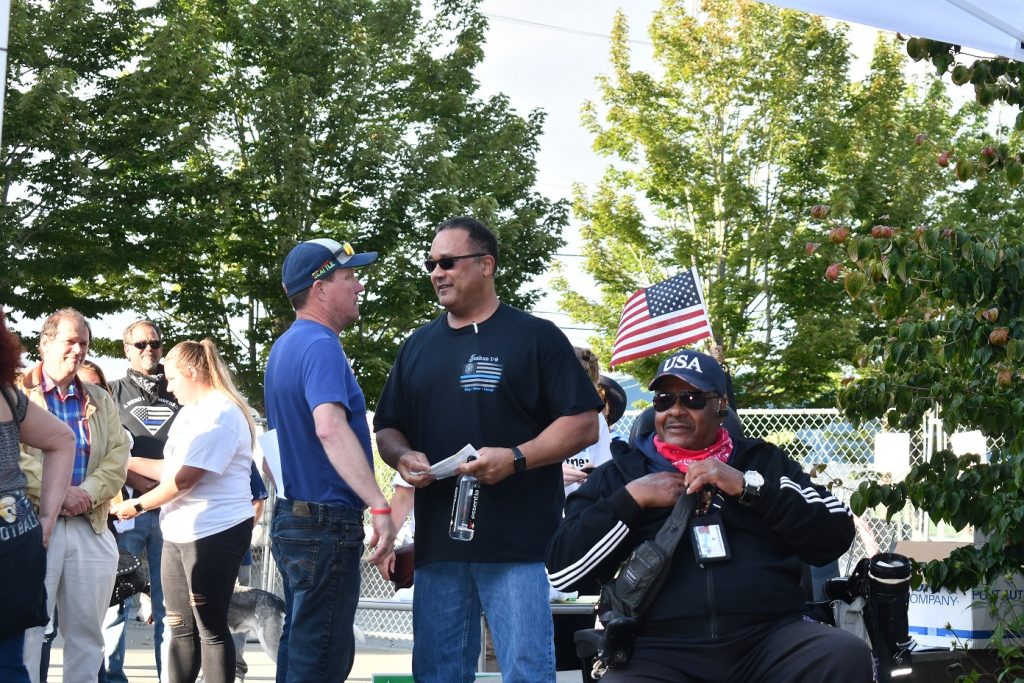 Fortney condemned the actions of the Minneapolis police officers which led to the death of George Floyd. He shared that it is time for a reasonable approach to law enforcement.
"What happened in Minneapolis was reprehensible…I have not heard one police officer, one other human being say otherwise or try to justify it," said Fortney. "There are people we have lost trust in. I will do everything I can to build that back up."
During his address to the crowd, Sheriff Fortney said he is actively listening to communities of color to find better solutions.
"As an elected official in law enforcement, I owe it to them to do that."
Fortney reinforced his commitment to not only communities of color but to all residents of Snohomish County that he is a person of his word.
"If there is something we can do better, if there were mistakes we made in the past, we will fix it and we will move on and we will be better."
"I am not going to be one of those guys… that makes rash decisions that impact the way we provide law enforcement services during a very emotional time," said Fortney. "I am in the listening phase right now and I will hear from everyone in our community… We are not perfect, but we do a good job."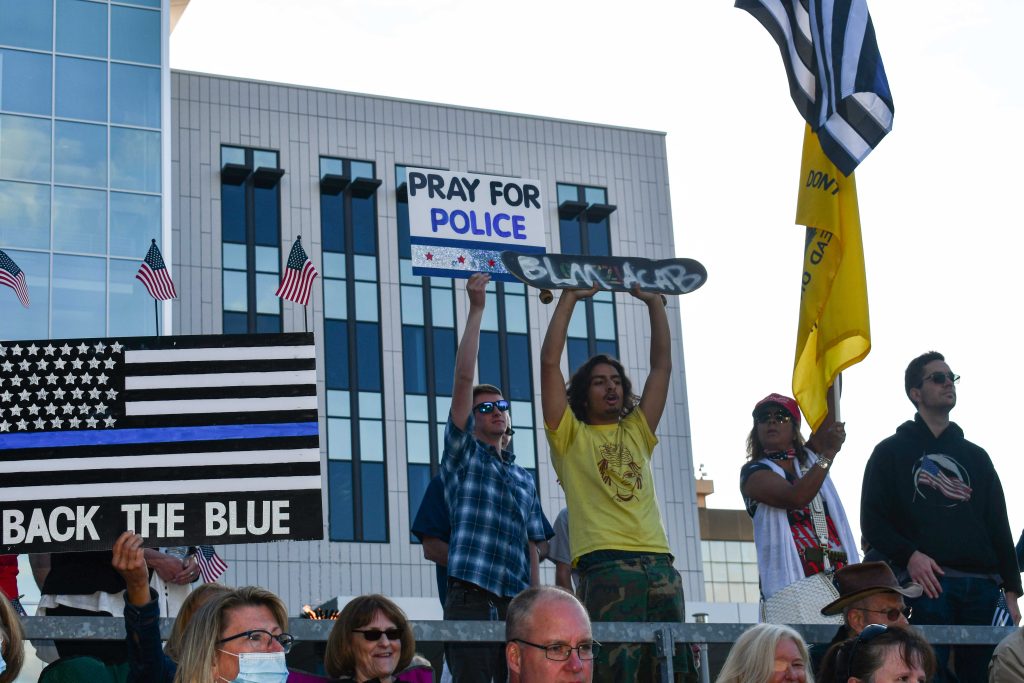 The Snohomish County Sherriff's office has one of the most diverse workforces in the county. Fortney said he is proud to represent the Office and is committed to keeping the office representative of the community of which it serves.
Fortney asked attendees for their support against a recall effort led by the Committee to Recall Snohomish County Sheriff Adam Fortney. The second recall effort is awaiting a judgment to move forward. The court date is scheduled for September 10 with the Washington State Supreme Court.
The second recall effort is led by "a group of attorneys that are relentless" according to Fortney.
"I can post something [on social media] that is feel good and innocuous, and they are on there posting nasty stuff all the time. It wore on me, it wears on my family, and it was too much. So, we are off the social media other than my Sheriff's page to keep you guys all informed."
According to the second petition, Sheriff Fortney refused to enforce Governor Inslee's "Stay Home, Stay Healthy" order, instigated the public to disobey the Governor's order, reinstated deputies who were fired by former Sheriff Ty Trenary, and failed to properly investigate misconduct committed by his deputies.
On April 21, Fortney criticized Governor Jay Inslee's handling of the COVID-19 pandemic.
"I am left to wonder if he even has a plan?" Fortney asked in his April 21 post. "To be quite honest, I wasn't even sure what he was trying to say half of the time. He has no plan. He has no details."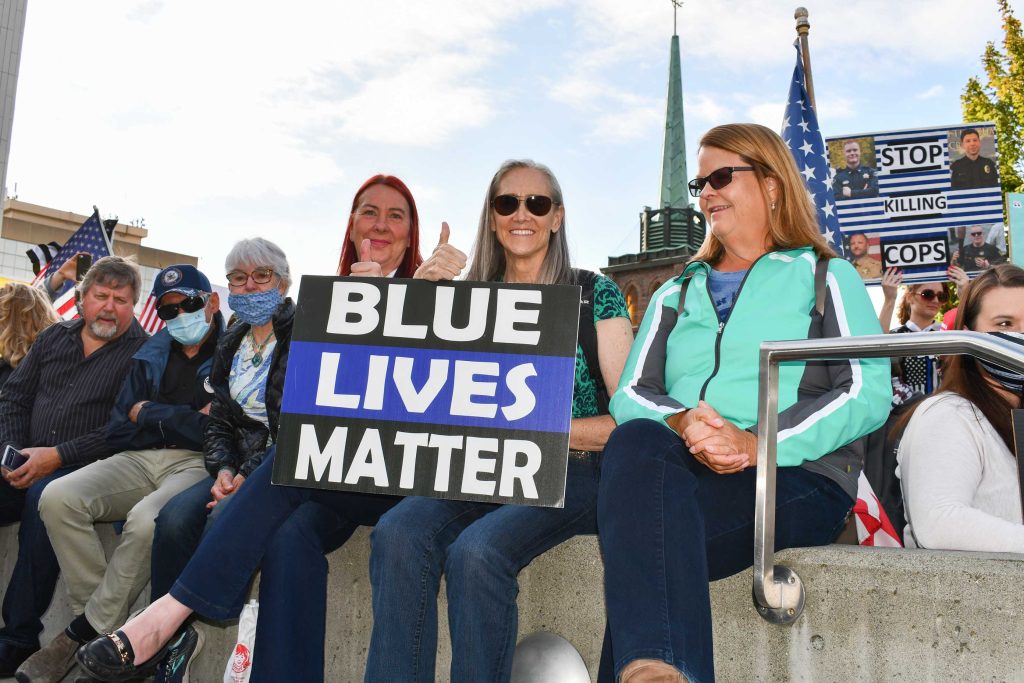 Fortney reiterated the fact that he has not carried out any enforcement for the current stay-at-home order and will continue to proceed in the same fashion.
"As your elected Sheriff I will always put your constitutional rights above politics or popular opinions. We have the right to peaceably assemble. We have the right to keep and bear arms. We have the right to attend church service of any denomination. The impacts of COVID-19 no longer warrant the suspension of our constitutional rights," he continued to say in the post.
At Friday's rally, Fortney reaffirms that he was upholding the U.S. and State constitutions with his Facebook post.
"I said, I'm not locking up citizens in Snohomish County who decided to open up their business or who happen to be outside of their homes when the governor said they couldn't…the only option I have as your Sheriff is to arrest somebody…there is no ticket, there is no in-between – you either arrest or you don't."
Fortney continued, "I have it in writing from the Governor's Office as well that he had no expectation of people being arrested for violating his order and as you have seen, there has not been one sheriff's office or police department in our state that has made an arrest. The difference is that I said it, I verbalized it."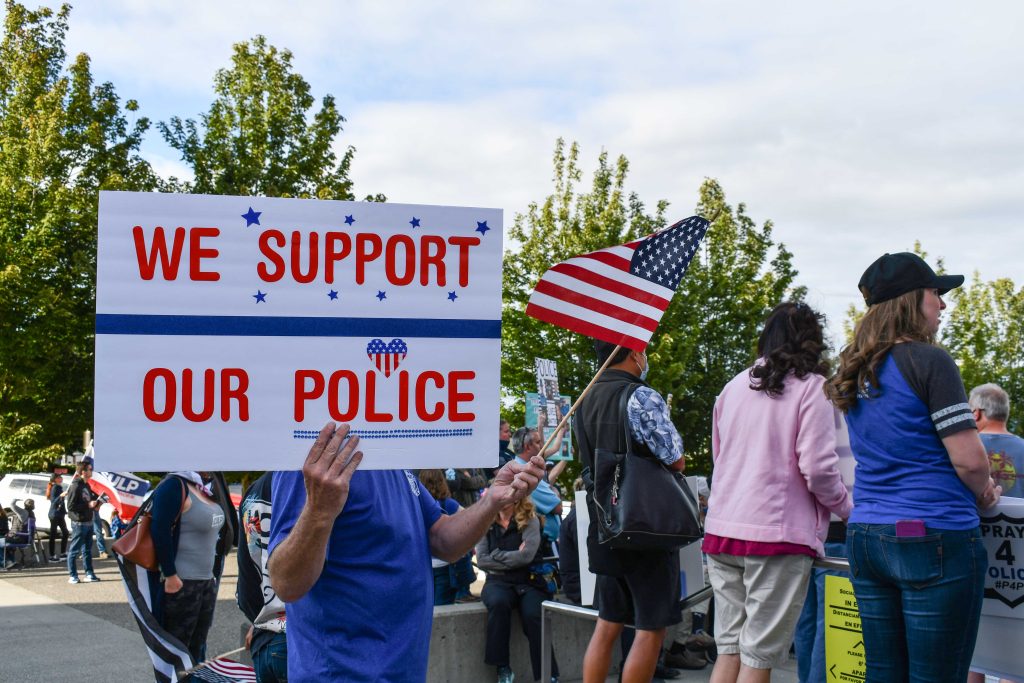 Fortney shared that he believed the second accusation of endangering the lives of residents because of is Facebook post is driven more by politics than principle.
"The same people who called me dangerous… have been completely silent about the protests going all over our country. Thousands of people standing shoulder to shoulder, no masks, no social distancing… criticize it if you want, but you have to be consistent; that is just not fair."
Fortney concluded by thanking everyone for their help with the budget amendment process and for their support to law enforcement.
"A few weeks ago, I asked for your help with the budget amendment process. We got on social media. They [County Council] received over 800 emails about not defunding the police. They have never seen anything like that before… When we start facing this budget battle, I will be asking for your help again."
"It means the world to law enforcement… its been a rough week for law enforcement in our county… You guys are making a difference…Thank you for being here, keep up your support. If you see an officer on the street thank them."