Snohomish County Sheriff moving "full steam ahead" following failed recall efforts
By Erin Freeman | Lynnwood Times Staff
Photo Caption: Snohomish County Sheriff Adam Fortney speaking at the Back the Blue rally in Everett on July 17. Source: Lynnwood Times, Mario Lotmore.
Snohomish County, Wash., March 12, 2021 – The most recent recall petition against Snohomish County Sheriff Adam Fortney is officially over, with the campaign not receiving enough support from county residents before its six-month deadline to put the measure before voters. 
To qualify for the ballot, petitioners would have needed to collect approximately 45,000 signatures by 5 p.m. Tuesday, March 9.
The Committee to Recall Snohomish County Sheriff Adam Fortney, the group behind the latest attempt to remove the elected official, requested Snohomish County Auditor Garth Fell grant the campaign an additional 90 days to collect petition signatures, citing challenges related to direct contact with others during the coronavirus pandemic.
On February 22, Fell denied the request, asserting he lacks the authority only Governor Jay Inslee holds, due to and during the pandemic. Two weeks later, the group contacted the Governor's Office on March 3, who did not immediately respond to their request.
On March 8, Snohomish County Superior Court Judge Jennifer R. Langbehn rejected a request from petitioners to obtain a court order compelling Fell to execute the duty to grant additional time to gather signatures. According to court documents, a March 26 court case is scheduled between the two parties, as the county is now requesting reimbursement for the fees associated with the attempted writ of mandate it is calling "frivolous."
As of March 12, there has been no report of how many signatures were collected. However, Colin McMahon, chair of the Committee to Recall Snohomish County and a public defender told Judge Langbehn that they were "well off the mark."
Following Governor Inslee's emergency proclamation temporarily closing churches, schools, and businesses throughout Washington State, Sheriff Fortney questioned the "Stay Home, Stay Healthy" order in an April 21, 2020, Facebook post, announcing his office would not be enforcing it.
While he did acknowledge the seriousness of the coronavirus in his post, he expressed concern about the shutdown's impact on Washington's economy and its classification of whom fits into the essential and nonessential worker categories.
Sheriff Fortney, who's serving in his first term as sheriff, argued that it shouldn't matter in which sector you work, and preventing some businesses from operating while allowing others to, is an infringement upon one's constitutional rights.
"If the Coronavirus is so lethal and we have shut down our roaring economy to save lives, then it should be all or nothing," Fortney said. "The government should not be picking winners and losers when it comes to being able to make an income for your family… if we are going to allow government contractors and pot shops to continue to make a living for their families, then it is time to open up this freedom for other small business owners who are comfortable operating in the current climate."
Two recall efforts followed suit, the first filed in May of 2020 by Monroe resident Lori Shavlik, arguing that the sheriff "used his position as an elected official to encourage citizens to defy the law and violate the Governor's Emergency Proclamations." Supporters of that campaign did not meet the December 1, 2020, deadline to submit signatures.
A second petition was filed in September 2020 by a group of four attorneys, who formed the Committee to Recall Snohomish County Sheriff Adam Fortney. According to court documents, the group claimed the sheriff "endangered the peace and safety of the community and violated his statutory duties…by inciting the public to violate Governor Inslee's 'Stay Home—State Healthy' proclamation…and….exercised discretion in a manifestly unreasonable manner by rehiring three deputy sheriffs previously discharged following investigation and findings of misconduct."
According to the Public Disclosure Commission, the committees supporting the recall efforts received $86,426.43 in contributions, whereas the committees opposing the recall efforts collected $113,419.
In an exclusive interview with the Lynnwood Times, Sheriff Fortney said there was a weight on his shoulders throughout the recall efforts but stood by his decision to present his position to residents.
"It's not that we lived and breathed this every day, but that stuff weighs on you," he said. "Looking back, there are consequences for talking like that; I've been living them for the past year, but no one was speaking for those people at the time, and I can tentatively say I'm glad that I did."
As the first sheriff in the state to publicly announce he would not be enforcing the Governor's emergency orders, his message went viral on social media, reaching nearly two million people. With an excess of dialogue occurring in unfamiliar territory for many, Fortney maintains that he understands why he received the pushback he did.
"There were repercussions for what I said. It doesn't mean that I don't care, it doesn't mean that I want people to get hurt- it doesn't mean anything like that," he said. "I understand how some people took it, and probably the main problem is that I was the first one… but I didn't get elected to sit back and be safe."
Sheriff Fortney said that the recall efforts are likely to be the most consequential period he'll ever go through, the toughest part being the petitioners' engagement in what he classifies as cancel culture.
"24 years with Snohomish County, answering tens of thousands of calls for help from people in the community, I put my life on the line more than one time for this community, and the most frustrating part is to have these people now dragging your name through the mud," said Fortney. "We can disagree on issues, that is fair game for an elected sheriff, but that is not what the recall people want… they don't want dialogue with you, they want you canceled and that's what they tried to do through the recall effort."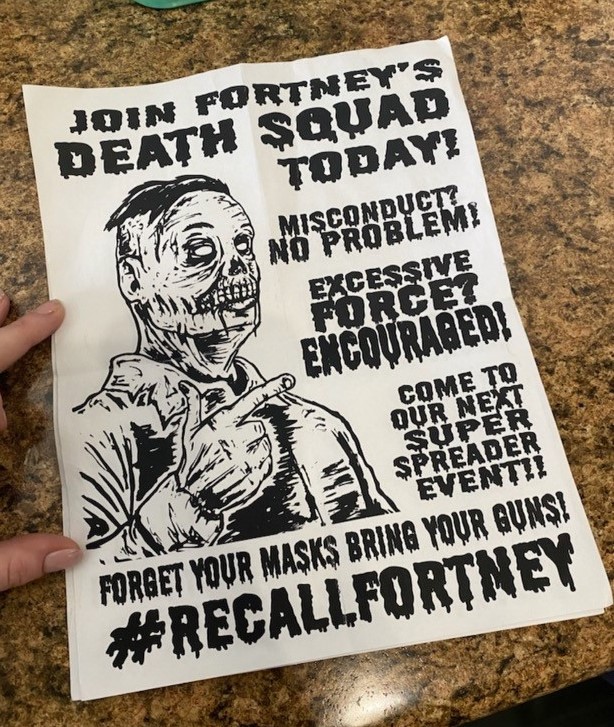 Over the weekend of March 6, flyers depicting a skeleton-like Fortney cartoon caricature surrounded by statements written in a bloody-like font reading, "Join Fortney's death squad today," "Excessive force encouraged" and "Forget your masks bring your guns" appeared throughout the cities of Snohomish and Lake Stevens. The bottom of the flyer reads #Recallfortney.
No individual or group has claimed responsibility for the creation or the disbursement of the flyers as of March 12.
"It's just disgusting…we took it as [a threat]," Fortney said. "Being in law enforcement, I've always felt safe… well, we installed a security camera Tuesday afternoon."
With the recall efforts now behind him, Sheriff Fortney says that he will continue to be transparent with Snohomish County residents but will be increasingly mindful in how he presents those decisions and opinions.
"It was such a negative experience, there was no good to it whatsoever, that's why it's just so good to have it behind us," he said.
"It's going to take more than a group of lawyers to get me down. They caused me a couple of stressful days, I'll give them that, but they are not going to change the course of the Snohomish County Sheriff's Office."
Sheriff Fortney says he and his office are currently planning a series of initiatives intended to serve the community which are set to commence in 2021.
Fueled by a passion for youth, Fortney shared in an exclusive announcement that he is creating a Sheriff's Lead the Way program, concentrated on providing at-risk youth with leadership, encouragement, and direction. Programs will run in two-month increments for one night a week and end with a career-fair and graduation ceremony. Participants will be paired with a mentor and complete a community service project.
The Sheriff's Office will also use the program as a post-charging alternative for youth facing petty crimes.
As of March 9, a first of its kind anti-graffiti program within the Sheriff's Office took effect. Volunteers will clean up vandalized surfaces throughout the community.
A funding proposal for a social justice initiative dubbed 'Cops and Barbers' is in the works as well, which aims to bring together the BIPOC community with law enforcement. The goal of the program will be to strengthen relationships between the communities through engaged conversations in a barbershop setting.
"We are full steam ahead. You can't hide passion, you can tell I'm passionate about this stuff, you can't fake that," Fortney said. "I'm so excited about the upcoming stuff we have- I can't wait."
Related Articles