Food drive aimed at keeping ESD families full and warm throughout the holidays
By Erin Freeman | Lynnwood Times Staff
The Lynnwood community worked to support its local teenager population, donating necessities and gifts at a drive-thru food drive and teen clothing drive at Lynnwood City Hall.
To support vulnerable teen youth through the holiday season, the city of Lynnwood joined the Foundation for Edmonds School District: Nourishing Network and the Holly House on Friday, December 4, hosting the food and teen clothing drive.
City of Lynnwood Healthy Communities Coordinator Marielle Harrington stood outside city hall collecting donations for Nourishing Network, a program offering food and resource assistance to the Edmonds School District's (ESD) homeless youth and their families, for the fourth year in a row.
In the past, the collection has been focused on the city of Lynnwood employees, with departments competing to see which can contribute the largest sum of donations. However, due to this year's coronavirus-induced telecommuting efforts, they opened the drive up to the community, additionally holding a teen clothing drive through partnering for the first year with Holly House, a program providing holiday gifts and necessities to ESD low-income students.
"I do think that people tend to be in more of a giving mindset approaching the holiday, but a lot of people are struggling this year, so not as many people are in the same position they may have been in the past; that's okay," said Harrington. "Every little bit helps- nothing is too small."
Foundation for Edmonds School District Director of Nourishing Network Programs Thame Fuller says that the Nourishing Network has seen a significant increase in demand from ESD families, serving more families than they ever have. They're currently serving 437 families per week through week and weekend meal kits, with an additional 300 on a monthly plan.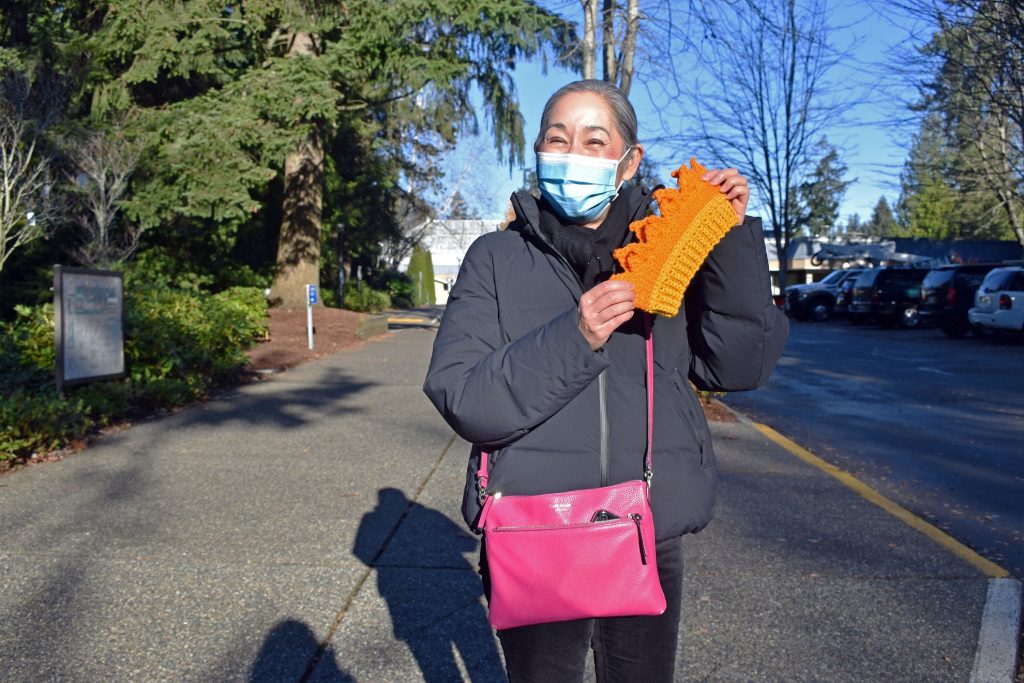 The demand is higher, but the generosity has been greater than ever," he said. "We are so very thankful for everyone who is working together to help out students, our families, our neighbors in need."
Nina, a city of Shoreline resident who works in the Lynnwood area, stopped by the event with a bag of socks and hand crochet beanies to be donated to ESD youth.
"I know kids always need socks and could use some of the crochet things I do," she said. "I also promoted this as an event on my Facebook page. I'm trying to get our community to help out these kids because they can't do anything about what's happening to them."
Free masks were also available for participants, an ongoing offer at events held by the city of Lynnwood throughout the pandemic.