Lynnwood Police looking to identify suspect in Scriber Lake burglary
Lynnwood Police Department | Press Release
LYNNWOOD, Wash., January 19, 2021 – Excellent work by both vigilant neighbors and a vigilant Lynnwood Police Officer— but we still need your help!
Saturday night a homeowner who lives near Scriber Lake Park called 911 to report a suspicious person in the area. When officers arrived they determined the man's behavior wasn't suspicious, however Officer Anthony noticed that— seemingly unrelated to the original call— the front door of a house on the street was open.
It seemed odd so he investigated, and it turns out the home had been burglarized. The family— who had been gone all day— rushed back and a walk-through revealed the loss was substantial and included items with sensitive information.
Without a proactive Neighborhood Watch and an eagle-eyed officer, even more time would have passed before the crime was discovered. As a result of their vigilance, we have this surveillance image of one of two suspects to share with you.
Person of Interest: The person pictured is a black man wearing a dark hoodie, dark pants with white stripes on the side and white headphones.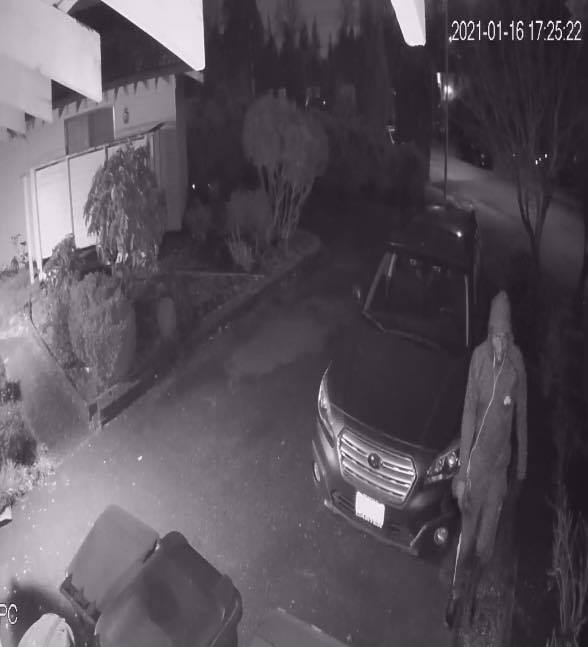 If you recognize him or have any information about this incident, please contact Det. Reorda: 425-670-5622 or breorda@lynnwoodwa.gov.
We also received this appreciative message from a neighbor, and while a "thank you" isn't necessary, it certainly makes us proud to protect and serve you:
"I'm so impressed with [the officers'] ability to recognize something was amiss. There could have been danger (because at the time we didn't know if it was happening or had happened earlier). I feel safer, even though my neighbor's house was broken into, because of how they handled the situation. I know it's probably a tough time to be a police officer, but I was extremely grateful for the Lynnwood PD yesterday."