Making process in the fight against COVID
By Erin Freeman | Lynnwood Times Staff
SNOHOMISH COUNTY, Wash., February 4, 2021 – One year into the coronavirus pandemic, Things are looking a bit brighter in the regional pandemic fight, as the Snohomish Health District (SHD) has begun to see hospitalizations and test positivity rates improve in the region. 
Snohomish County is a part of the Puget Sound Region in partnership with King and Pierce Counties, in wake of Governor Inslee's modification to the state's previous 'Roadmap to Recovery' plan. Now, regions only have to meet three of four key health metrics, to advance phases.
The metrics: a 10% decreasing trend in case of rates over two weeks; a 10% decrease in coronavirus hospital admission rates in that same timeframe; an ICU occupancy rate that's less than 90%; and a test positivity rate of less than 10%.
The Puget Sound Region has met three metrics, moving to phase 2 on Monday, February 1.
As of February 2, the Puget Sound Region has experienced a 16% decrease in hospital admission rates over two weeks, with the ICU occupancy rate at 84%. Test positivity rates are at 9%.
The sole metric the region has yet to meet together, as of February 2, is case trends, with a 4% trend increase in case of rates within two weeks.
According to Snohomish Health District (SHD) data released on February 2 regarding Snohomish County's own COVID-19 activity, case trends are down 3%.
The county has also experienced a 47% decrease in hospital admission rates over a two-week period, with the ICU occupancy rate at 82%. Test positivity rates are at 11%.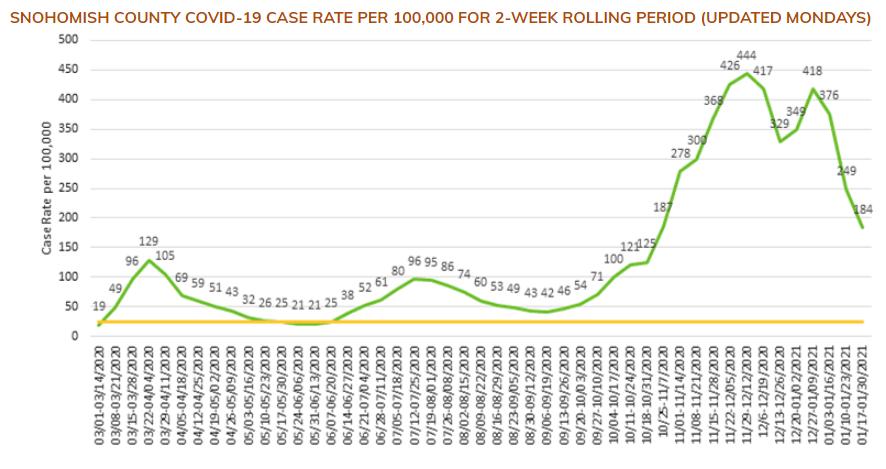 27,121 cases, cumulative since January 2020, have been confirmed in Snohomish County with an additional 1,571 considered probable as of February 2. Forty-four residents are currently hospitalized with seven on ventilators and 477 county residents have died. 
"While case counts and hospital numbers are going down, absolute numbers and rates of cases, deaths, and hospitalization are still at very concerning levels," said Dr. Chris Spitters, Health Officer for the SHD. "We have lost more than 70 residents to COVID since the beginning of the year. We're far from out of the woods and still in a precarious position."
A new strand of the coronavirus has made its way to Washington state, with the first two cases identified within Snohomish County.
On Saturday, January 23, the Washington State Department of Health (DOH), that a new variant of COVID-19, first identified in the United Kingdom, was detected in Snohomish County through laboratory surveillance testing.
While these are the first detected B.1.1.7 variants in the state, it is likely that other cases exist and will come to light through ongoing surveillance, the Snohomish Health District said.
"While cause for concern, there is no need for alarm. It was only a matter of time for one of the variants to emerge here in Washington," Heather Thomas, spokesperson for the SHD, said.
This stand of the coronavirus spreads more easily and quickly than the original variant. The Centers for Disease Control and Prevention forecasts that due to its faster ability to spread, the B.1.1.7 variant may be the dominant strain in the United States within a few months.
Two vaccines – Moderna and Pfizer – are currently being distributed to combat the coronavirus, available to those in Washington most at risk for COVID-19 infection. 
Currently, the state is in Phase 1B, Tier 1, allowing for the vaccination of anyone 65 and older, and all people 50 and older who also live in a multigenerational household. Those covered by Phase 1A including health care workers at high risk for COVID-19 infection, first responders, people who live or work in long-term care facilities, and all other workers in health settings who are at risk of COVID-19 are still eligible.
As of February 1, over 700,000 doses of the first vaccine have been administered throughout Washington state, equating to nearly 8% of the state's population that have started the vaccination process.
In Snohomish County, 42,234 people have received first-dose vaccinations as of January 23, according to the SHD.