Memorial Weekend at the Evergreen Speedway
Memorial Weekend is one of the most popular American holidays of the year, so we're delighted to announce that Evergreen Speedway is holding a spectacular program of events to celebrate this year with racing on both Saturday, May 29 with the designated HCI STEEL BUILDINGS NASCAR Night while on Sunday, May 30 the highlight is the NELSON MOTORSPORTS Sean Peters Memorial Truck Demo Derby and fireworks show!
Memorial Weekend at Evergreen Speedway is always one of the most popular events of the year, and with restrictions still in effect restricting the number of people who can be admitted to the arena, patrons are advised to buy tickets for this spectacular weekend in advance.
It is strongly advised that fans purchase tickets only from Evergreen Speedway and the eTix link on the track's website.
Pit Passes are available for $35 or $20 for a Youth Pass 13 and under with parental waiver. Adult tickets are $20 with Juniors 11-17 $12 and Youth aged 2-10 just $5. Be aware of third party ticket vendors!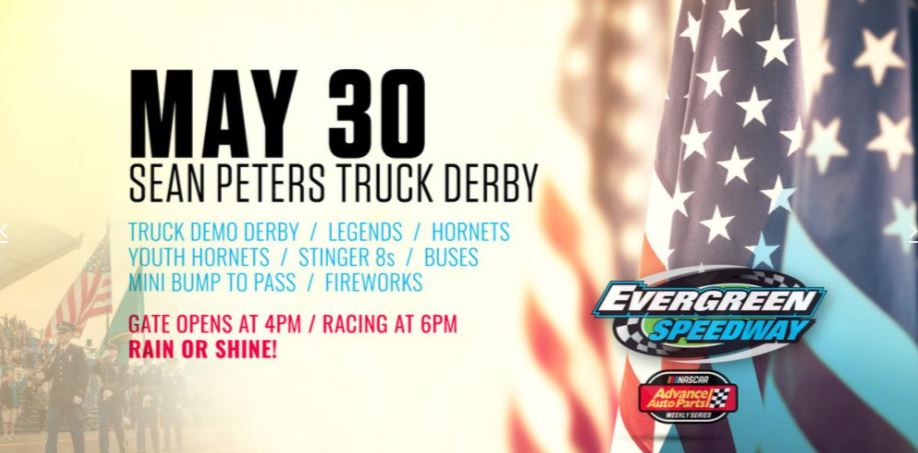 Tickets for Saturday's event are here: https://evergreenspeedway.com/events/may-30th-nascar-night/
Sunday's spectacular Truck Demo here: https://sean-peters-truck-demo.ticketsseattle.net/may-30-2021.php
Full details of the restriction can be downloaded here: https://evergreenspeedway.com/wp-content/uploads/2021/03/FAN-GUIDELINES-2021-update.pdf
---
Evergreen Speedway: Established in 1954, Evergreen Speedway has a rich history in racing.  For 60+ years, amateurs, aspiring professionals and seasoned veterans alike have raced at Evergreen.  The facility hosts over 130 events annually and attracts over 270,000 fans each year.
Evergreen Speedway is home to experiences from motorsports to concerts to rodeos to festivals with covered grandstand seating for up to 7,500 fans rain-or-shine, with additional uncovered seating for 5,000. Proudly the only NASCAR track in the Pacific Northwest, Evergreen Speedway is a gem to the region and deep roots with local communities.
For more information about Evergreen Speedway and to get tickets for upcoming events please visit: https://evergreenspeedway.com/