Mukilteo celebrates the opening of Harbour Reach Corridor
MUKILTEO, Wash. June 26, 2021 – Hundreds gathered on a hot and sunny Saturday to celebrate the opening of the Harbour Reach Corridor Project connecting Harbour Pointe Boulevard and Beverly Park Road.
The Harbour Reach Corridor Project was funded by $15.1 million of Connecting Washington Funds, $2.3 million in Washington State Transportation Improvement Board funding, and $1 million of City transportation impact fees. The project is almost equal to the city's annual budget at the time funding was received back in 2015.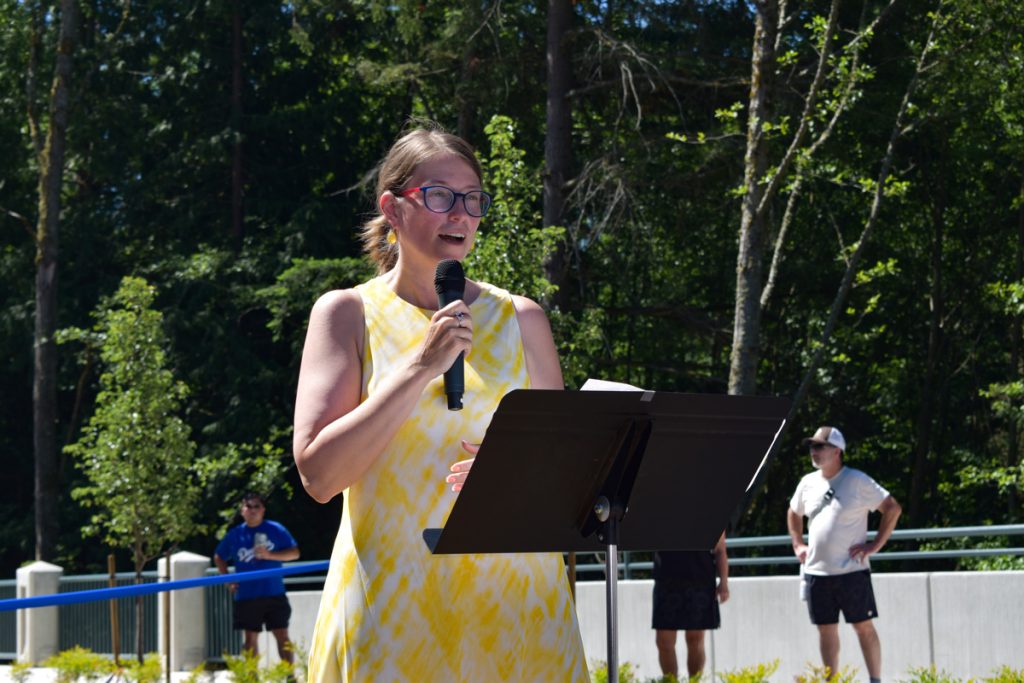 State Route 525 was previously the only north-south connection from the southern City limits to SR 526. This new road adds an alternate north-south route through the City, providing increased capacity for vehicles, and significantly improving emergency response times to the south portion of the City.
It adds a multimodal connection through the community, providing pedestrian and bicycle facilities, streetscape standards, and traffic safety measures such as a roundabout.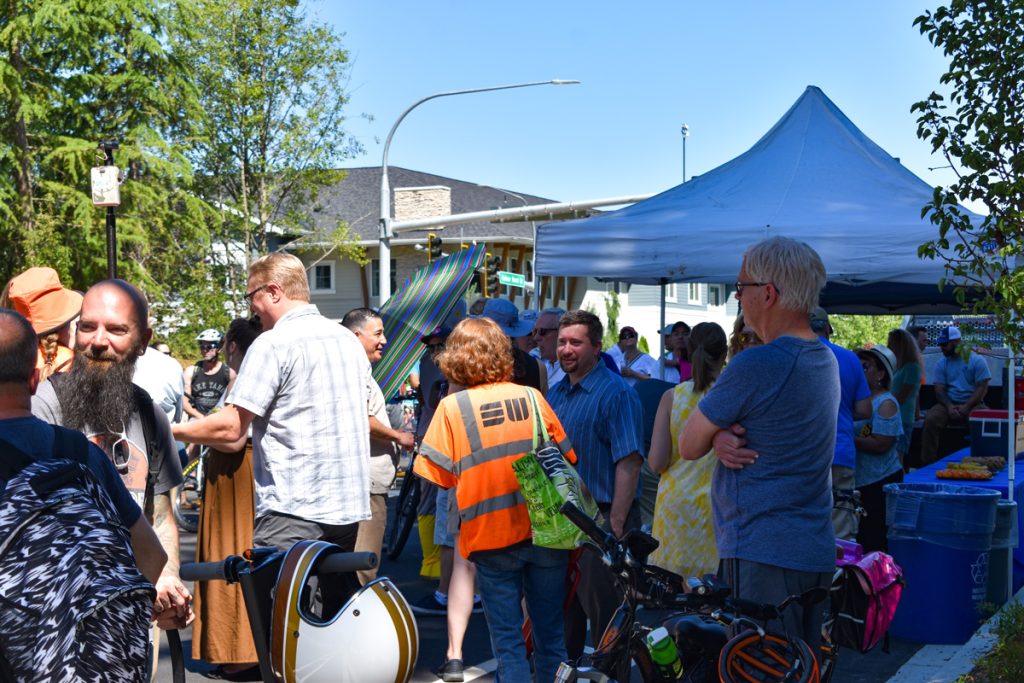 An estimated 250 residents gathered for the ceremony who paraded down the road for the first time ever on either by biking or walking. The road was open to vehicular traffic a little after 12:10 p.m.
"I was very happy that it was a large turnout on a hot day. To me it was just exceptionally well-received," Councilman Bob Champion told the Lynnwood Times.
"I think it will definitely lessen traffic," Alicia, Mukilteo resident of 19 years and ceremony attendee said. "We don't like to take our bikes on the Speedway, so this gives us more of an opportunity to ride our bikes through here and explore more parts of Mukilteo."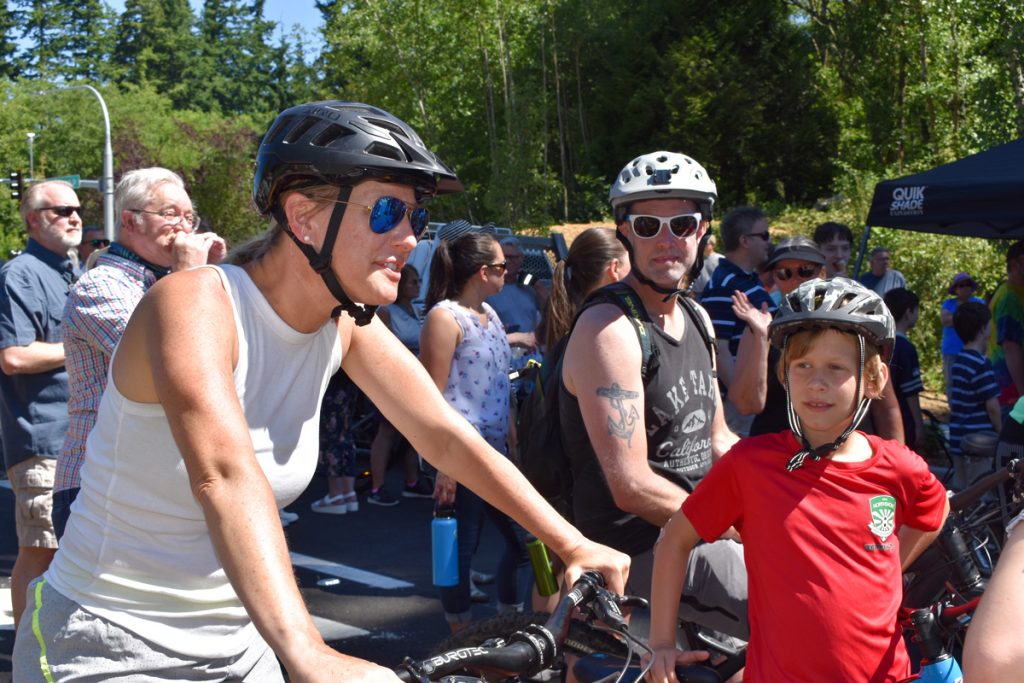 The ceremony kicked off with speakers including Mayor Jennifer Gregerson, Senator Marko Liias (D-21), and Senator Steve Hobbs (D-44), Bill Grady, General Manager of KLB Construction, and Council Vice-President Bob Champion.
"Today we're celebrating a way to make our city feel like one neighborhood," Mayor Jennifer said in her opening speech.
"Our residents on Beverly Park Road can now access our community as conveniently as anybody in Harbour Pointe. Our residents here in Harbour Pointe are going to be able to avoid a congested Speedway or hopefully choose to walk or bike to reach destinations outside the city. We're more connected and safer than ever before."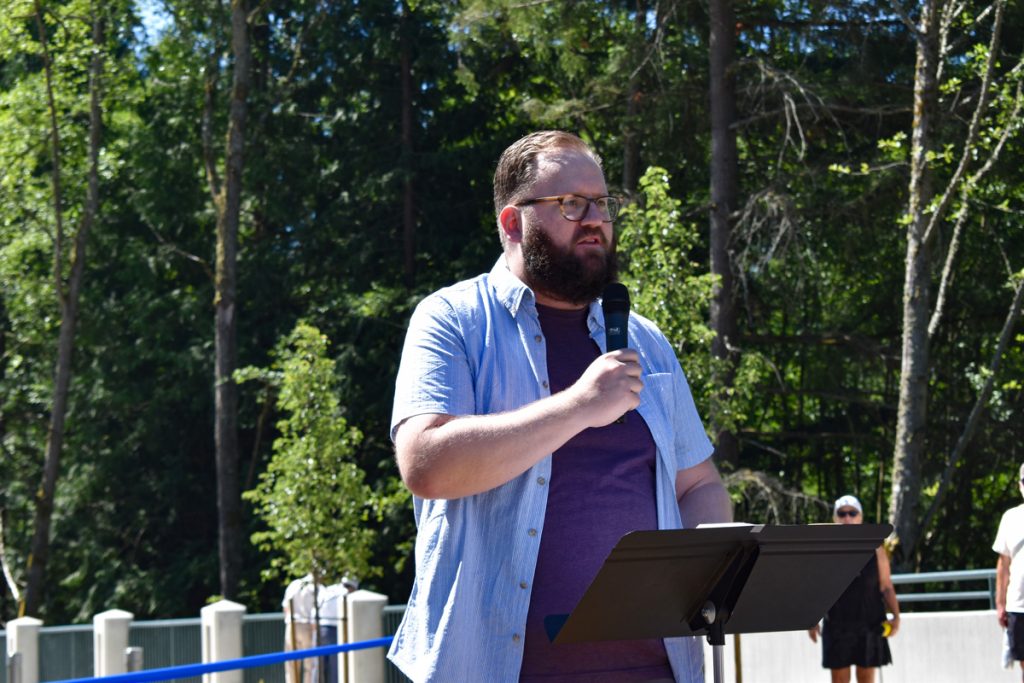 Senator Liias thank Gregerson for her leadership and acknowledged Paine Field and Snohomish County for their contributions to the project.
"This road is special because it does really demonstrate the future of where our transportation system needs to head…it accommodates all kinds of users," Liias said. "If you're walking, if you're biking, if you're driving down the street, if you're in a wheelchair or have a mobility impairment, this corridor is designed to help you move around our community."
Liias shared with attendees that extending the Harbour Reach Corridor to the Mukilteo Speedway is in this year's $17.8 billion transportation package called Forward Washington.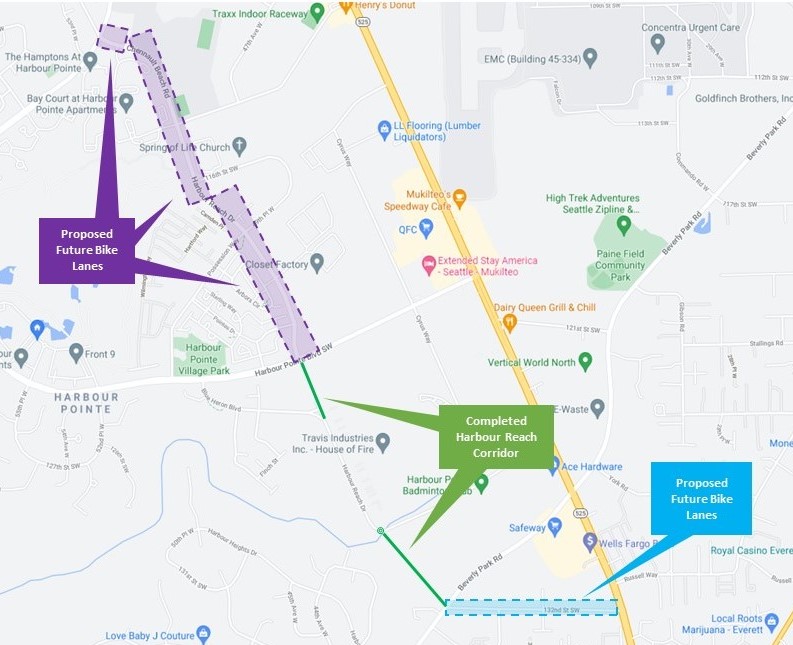 Senator Liias told the Lynnwood Times that the proposed plan in the transportation package is to continue the multimodal connection from Beverly Road through 132nd Street to the Mukilteo Speedway.
Mayor Gregerson shared that her goal is to extend the bike lanes north on Harbour Reach Dr. and Chennault Beach Rd. to the north crossing of Harbour Pointe Blvd.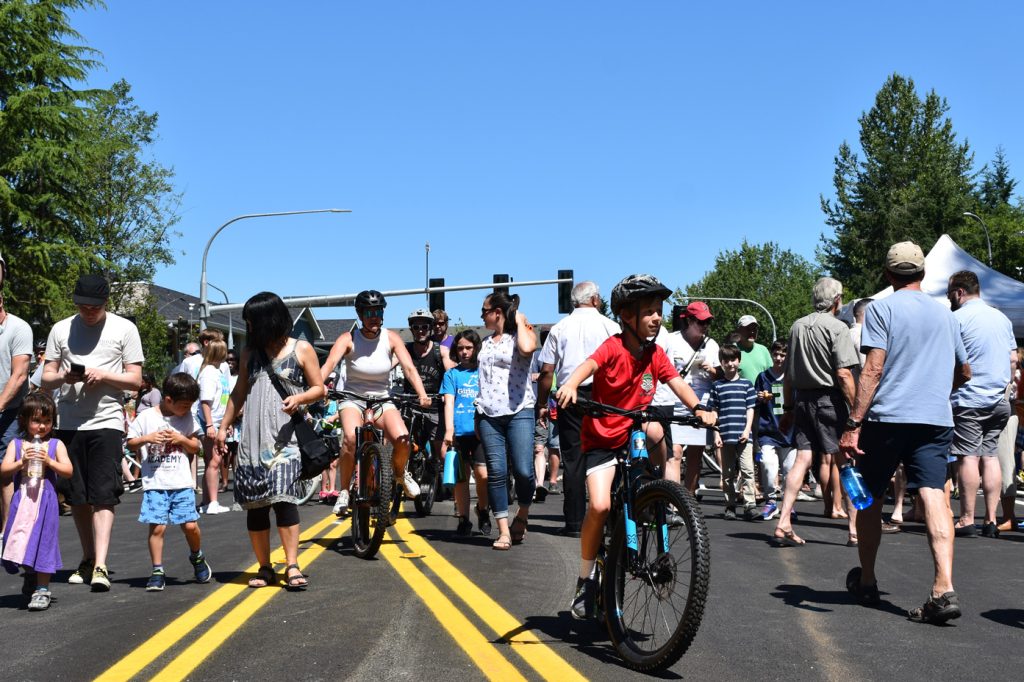 Forward Washington, unveiled by Senate Transportation Committee Chair Steve Hobbs this year, is a 16-year transportation plan to fund projects such as the following:
Removal of the state's fish passage barrier
$1 billion for construction of new ferry vessels
Rebuilding of the US 2 Trestle
Replacement for the I-5 Vancouver Bridge
Transportation investments that benefit people with special needs, rural mobility, bike and pedestrian paths, commute trip reduction, and public transit
Storm water cleanup to remove pollution in the Puget Sound
Forward Washington is partially funded by a cap and invest program in SB 5126. The plan also counts on a 9.8 cent gas tax, a statewide transportation benefit assessment, a shift of the car sales and use tax on EVs/Hybrids (starting in 2026), and other vehicle and licensing fees.
The last transportation package was Connecting Washington, passed in 2015, which raised the state gas tax by 11.9 cents per gallon and funds $16 billion in projects, including the Harbour Reach Corridor Project.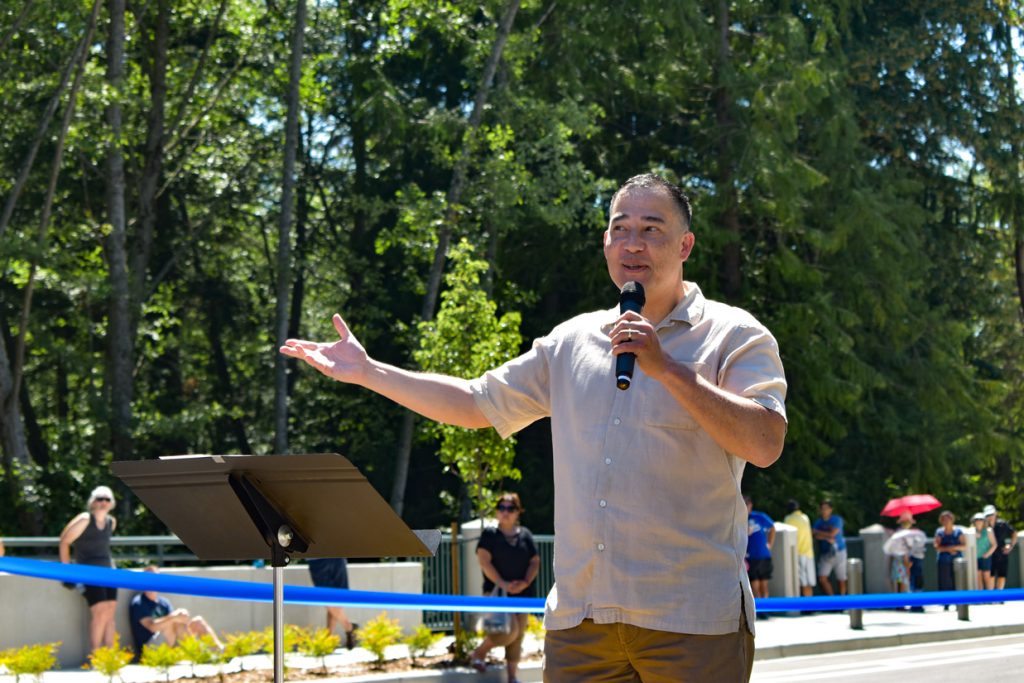 "What a love about projects like this is it transcends the political animosity that happens from both sides of the aisle," Senator Hobbs told residents just before the ribbon cutting. "This is a classic example of good government bipartisanship and community advocacy…Projects like this gives back to the community."
Bill Grady, General Manager for KLB Construction, shared the company's commitment to providing a safe working environment for its employees.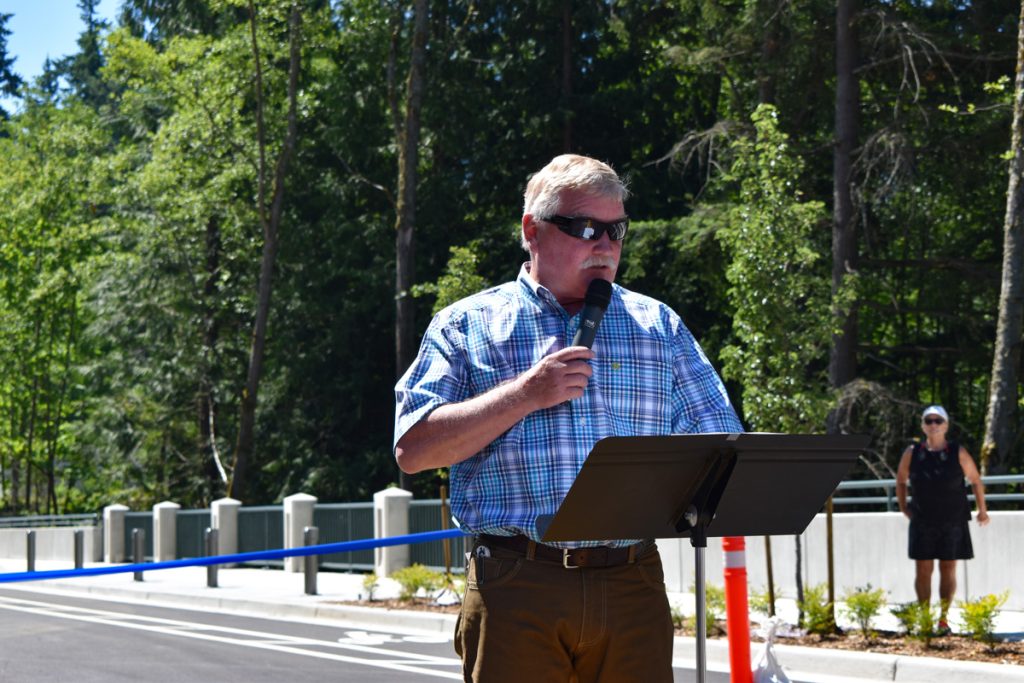 "At this job we had over 40,000 safe-hours. We have over 100 employees that came in and out of here with virtually no incidents and that is near and dear to us – think safe, be safe."
Former Mukilteo Mayor Joe Marine, shared with the Lynnwood Times his thoughts on the opening of the corridor.
"The turnout was great. It just shows really how excited the community is this. It's rare; there's street widening a lot of times, some improvements but to have a whole new road put in to alleviate traffic. Mukilteo is interesting in that we're one-mile wide, six-miles long, and the speedway is really the only north-south arterial. So, to alleviate some of that with a road like Harbour Reach Extension is great."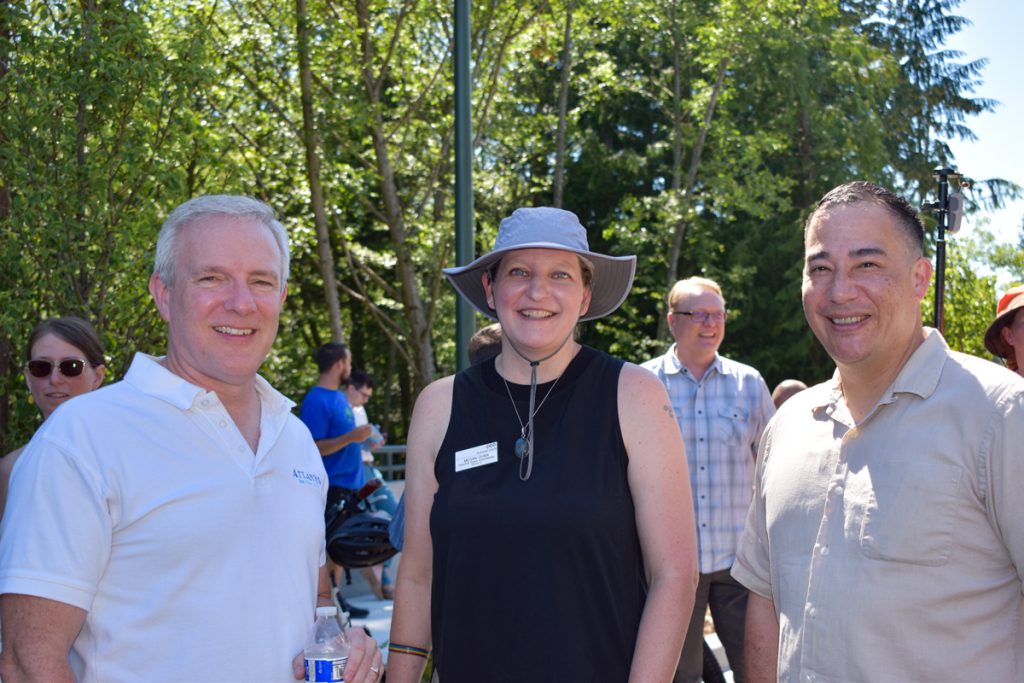 County Councilwoman Megan Dunn told the Lynnwood Times it was great to see so many attendees and for many of them to be on bike for their maiden trek on the new road.
"I think it's a great turnout, it's really exciting right now to have this neighborhood corridor and it was great to see so many people just coming from the different neighborhoods, riding their bikes, walking getting here," Dunn told the Lynnwood Times. "This is a really important connector so it's great to see all the neighborhood excitement."