EDMONDS, Wash. – South Snohomish and North King County residents in need of specialty and subspecialty lung and esophageal surgery – including minimally invasive robotic and endoscopic approaches – now have more convenient access to those services.
Starting July 6, Joel Sternbach, MD, began seeing patients for pre- and post-procedural care at Virginia Mason Edmonds Family Medicine (7315 212th St. S.W.) the first, third and fifth Tuesday of each month.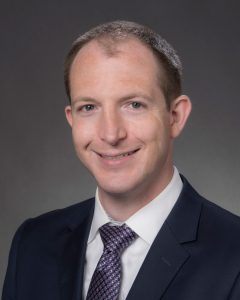 He has been practicing at Virginia Mason Medical Center on Seattle's First Hill since September 2020.
Dr. Sternbach specializes in minimally invasive treatment of benign and malignant conditions of the lung, esophagus, mediastinum, pleura and chest wall, esophageal motility disorders and gastroesophageal reflux disease (GERD), as well as robotic- and video-assisted thoracoscopic surgery (VATS).
Dr Sternbach's expertise allows him to treat dozens of conditions with an array of leading-edge techniques.
After earning a medical degree from Tufts University School of Medicine in Boston, Dr. Sternbach completed a residency in general surgery at McGaw Medical Center of Northwestern University in Chicago followed by a fellowship in cardiothoracic surgery at University of Washington Medical Center.
Among his professional accolades, Dr. Sternbach is certified by the American Board of Surgery, was a Bechily-Hodes Fellow in Esophagology (2014-2016), a member of the American Society of Metabolic and Bariatric Surgery (2014-2016) and a research grant award recipient.
---
About Virginia Mason Franciscan Health brings together two leading health systems in Washington state – CHI Franciscan and Virginia Mason – into one integrated health system with the most patient access points in western Washington.
With a team of 18,000 team members and staff, and nearly 5,000 employed physicians and affiliated providers, Virginia Mason Franciscan Health provides expert, compassionate medical care at 11 hospitals and nearly 300 sites of care throughout the Puget Sound region.
The integrated health system has nearly 1,500 hospital beds and also includes Bailey-Boushay House, the first skilled-nursing and outpatient chronic care management program in the United States designed specifically to meet the needs of people with HIV/AIDS; Benaroya Research Institute, which is internationally recognized for autoimmune disease research; and Virginia Mason Institute, which trains health care professionals and others around the world in the Virginia Mason Production System, an innovative management method for improving quality and safety.
Virginia Mason Franciscan Health includes hospitals throughout Washington, including Virginia Mason Hospital, Seattle; St. Anthony Hospital, Gig Harbor; St. Clare Hospital, Lakewood; St. Elizabeth Hospital, Enumclaw; St. Francis Hospital, Federal Way; St. Joseph Medical Center, Tacoma; St. Michael Medical Center, Silverdale and Bremerton; St. Anne Hospital, Burien; Rehabilitation Hospital, Tacoma; and Wellfound Behavioral Health Hospital, Tacoma.
Virginia Mason Franciscan Health is committed to caring for the most vulnerable in our communities, including the poor and underserved, providing nearly $200 million in community benefit – free, subsidized and reduced-cost health care and programs.
Virginia Mason Franciscan Health is affiliated with CommonSpirit Health.