Op-Ed: Central Washington University President Jim Wohlpart
Welcome. This simple word describes the way in which Central Washington University embraces its students as they join a vibrant and caring intellectual community. But it also describes the city of Ellensburg and the surrounding Kittitas County and how it has embraced me and my wife, Sasha, since we arrived in June. We already love living here and truly feel Ellensburg is home.
In talking to Central's students and employees, a common reason they give for why they came to Ellensburg is that they were attracted by the educational opportunities that inspire curiosity and lifelong learning, the community's shaded, tree-lined streets, the picturesque Kittitas Valley surrounded by towering, snow-capped mountains, and the boundless recreational opportunities that draw us all outside. While I was attracted to the university by its mission of providing access to a wide range of students, the opportunity to live and work in this wonderful community was also an obvious benefit.
Central has been a part of Ellensburg since 1891. In fact, no Ellensburg institution has been around longer. CWU was here more than three decades before the first Ellensburg Rodeo was held and 28 years before the original Ellensburg library opened.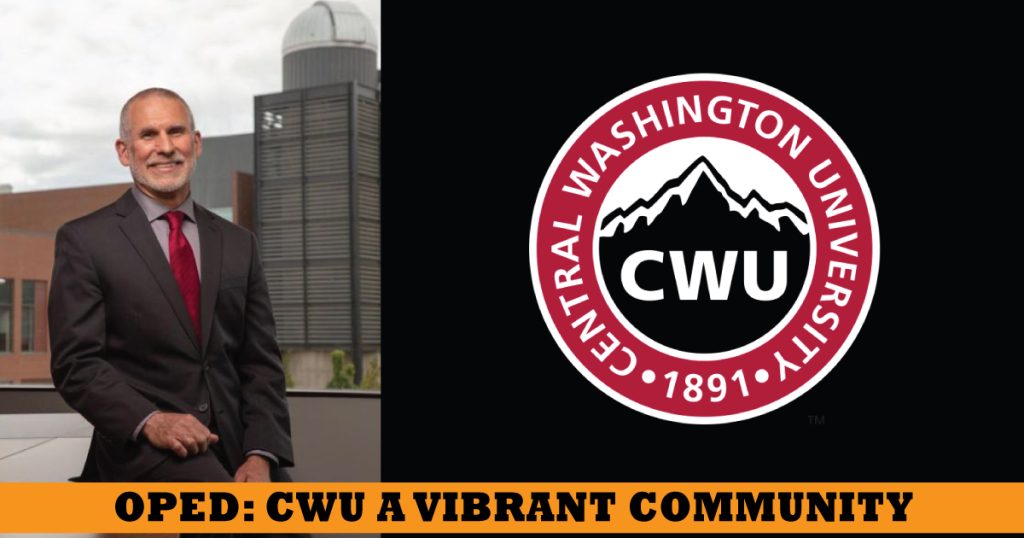 The commitment that this remarkable community has shown in supporting and advancing public higher education, and CWU in particular, was another reason I was drawn to Ellensburg. Central boasts leading academic programs and scholars. We have a campus unmatched for beauty and modern facilities. Our students, faculty, staff, and alumni are creative, innovative, and motivated. When I walk around the campus, I see a level of enthusiasm and energy that is both infectious and inspiring, and I feel deeply honored to have joined this community.
I also have been impressed with the innovative and committed community leaders I have met, and am thankful for their support. Central is well known for having the most welcoming campus in the state and I am not surprised. One of the university's core values is to reach out to students from all walks of life and from all corners of the state, the nation, and the globe. The result is a rich, diverse, and exciting learning environment situated in one of Washington's most historic and friendly towns.
I am looking forward to being able to meet with many of you in the coming months, to share my vision and goals for Central. CWU has a responsibility to aid not just the community, but the country in the challenges that it faces. As a university and as a community, we need to address issues such as climate change, racial injustice, and the fraying of our democracy, and imbed them into the teaching and learning experience.
The tradition of collaboration and cooperation in our community has been a hallmark for our collective successes. I want to build on that close relationship so that together we can aspire and achieve even more.
---
Source: Central Washington University Press release