A Tacoma university leaks names of unvaccinated students
TACOMA, Wash., September 3, 2021 — Pacific Lutheran University (PLU) leaked the names of their unvaccinated students. An email sent to individuals who qualified for vaccination exemptions included the names and email addresses of all other recipients of the same email. The identities of more than 160 unvaccinated students were publicly shared. 
The email sent to unvaccinated students of PLU detailed the exemption requirements for the coming semester and included a Google meeting invitation. Seemingly unbeknownst to the school, the names and emails of students who received the invitation were visibly listed for recipients.
"Dear Lute, You are receiving this communication because you are one of the Lutes in our community with a COVID vaccine exemption," the email reads. Instructions for students to schedule weekly testing for the entire semester followed. The email ends with resources for students who encounter any test scheduling difficulties.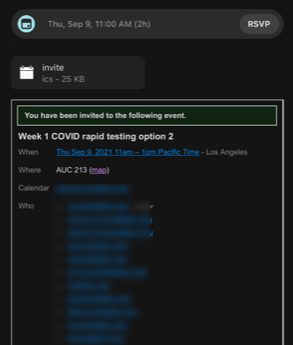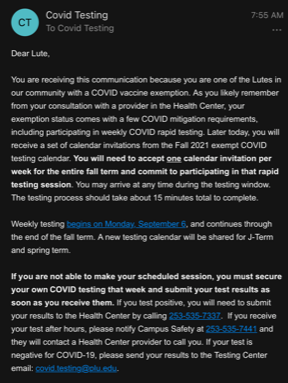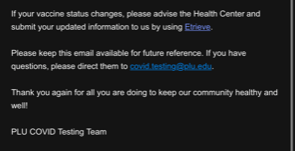 Upon realizing the mistake, the university sent out an email the following day. Acknowledging the error, the email reads,  "While we triple checked that the invitation guest list was hidden, we have come to understand that the guest list that included the names and emails of students that were invited to testing was visible to some in the invited group."
The email emphasized the extent of information that was shared, stating, "Please be assured that this invitation came on behalf of the PLU COVID Testing Team and only included these two specific pieces of information and invitations were limited to only the group participating in testing this fall."
An apology was then issued, which reads, "our apologies that […] we may have created additional stress for you and that you also may have experienced additional impact." The message then notes how all the testing invitation and associated email notices were deleted "to avoid any additional information sharing."
Finally, the statement reiterates the testing scheduling requirements for students. Its conclusion reads, "thank you again for all that you are doing to care for each other and the well being of our community. PLU Testing Team."