EVERETT, Wash., September 15, 2021 — Below is a statement from Snohomish County Executive Dave Somers on the passing of Snohomish County Superior Court Judge Eric Lucas.
It was with great sadness I learned of Superior Court Judge Eric Lucas' passing over the weekend. Judge Lucas was not just an excellent judge, he was an extraordinary leader and an inspiration to many.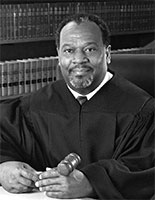 Judge Lucas was a graduate of Harvard University and the first Black Superior Court Judge in Snohomish County. He wrote, taught, and otherwise gave of himself to help the next generation. Judge Lucas was an active and engaged member of Snohomish County NAACP and spent much of his time outside the halls of justice working with youth. He led the NAACP's Annual Prodigies of Peace Essay Contest, helping the next generation understand their role in leading community change. Recently, Judge Lucas had been instrumental in engaging with the Marysville School District, when Black students' lives were threatened.
Judge Lucas will be sorely missed. He was a bright light in Snohomish County and an engaging personality for all who met him. My deepest condolences go out to his family and friends for this significant loss.
Background of Judge Eric Lucas
Judge Lucas passed away at the age of 67. He officially retired on January 1, 2021. Snohomish County Superior Court Judge Cassandra Lopez-Shaw now occupies his seat.
He is survived by his wife, Beth and their four sons, Joel, Jared, Ben and Peter, and grandchildren. Judge Lucas graduated from Mariner High School in 1972 and earned his Juris Doctor degree from Harvard Law School in 1986 after receiving his Bachelors degree from the University of Washington.
The Everett Herald wrote a wonderful article on Judge Lucas' career and his thoughts on various topics throughout the years.