Everett civilian launches into space for children's cancer research
CAPE CANAVERAL, Fla., September 29, 2021 – Inspiration4, the first orbital spaceflight consisting of only private citizens, successfully returned to Earth September 18 – a small step for the four first-time space goers, and one giant leap for space tourism.
The mission launched the Crew Dragon Resilience on September 16 at 00:02:56 UTC (Universal Time Coordinated) from Florida's Kennedy Space Center's Launch Complex 39A atop a Falcon 9 launch vehicle. The Dragon capsule was placed into low orbit for two days, twenty-three hours, and three minutes before returning to Earth on September 18, where it splashed down in the Atlantic Ocean at 23:06:49 UTC.
In addition to being the world's first successful civilian orbit, the SpaceX-operated mission was part of a charitable effort for St. Jude Children's Research Hospital, raising $113 million to help children defeat cancer and life-threatening diseases.
The team of amateur astronauts consisted of Mission Commander and Shift4 Payments CEO Jared Isaacman, Pilot Sian Proctor, Medical Officer Hayley Arceneaux, and Everett's own Mission Specialist Christopher Sembroski.
Sembroski brought Snohomish County to the stars after an anonymous friend transferred him his winning seat from a special fundraiser for St. Jude Children's Research Hospital, for which there were nearly 72,000 entries. Sembroski is a U.S. Air Force veteran and a data engineer for Lockheed Martin.
"Although I've been fortunate to have spent years in the aerospace industry, I never imagined having the opportunity to reach the stars, especially through something as simple as supporting St. Jude," Sembroski told St. Jude in a March news release. "I am honored to occupy the Generosity seat and look forward to using this platform to encourage everyone to be generous to others in whatever ways they are able."
Aside from Sembroski working in the aerospace industry, he has had a longtime interest in space being an amateur astronomer and rocketeer. While attending college, he volunteered for ProSpace, a nonprofit organization advocating for private spaceflight, and was a counselor at Space Camp, a government-funded educational camp in Huntsville, Alabama, which promotes science, technology, engineering, and math to children and adolescents. He served in the U.S. Air Force as an Electro-Mechanical Technician stationed at Malmstrom Air Force Base in Great Falls, Montana.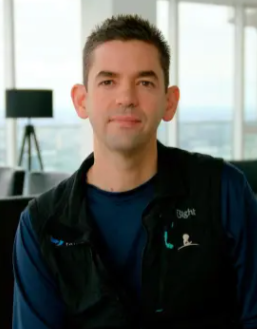 Inspiration4 was led by billionaire Jared Isaacman who procured the flight and its four seats from SpaceX, donating two seats to St. Jude which raffled them off as part of its fundraising effort. Along with Sembroski, Hayley Arceneaux, a physician assistant at St. Jude and bone cancer survivor, was selected by the hospital to join.
Sian Proctor was selected by Shift4 Payments following a Shark Tank-style competition involving panelists presenting business ideas to make use of Shift4's commerce solutions.
The panelists in the competition included Salesforce CEO Marc Benioff, Fast Company editor Stephanie Mehta, former NASA engineer Mark Rober, and Bar Rescue host Jon Taffer.
Together, the four crew members received commercial astronaut training by SpaceX including lessons in orbital mechanics, operating in a microgravity environment, stress testing, emergency preparedness training, and mission simulations. Despite the crew's lack of space experience, the mission ran mostly smooth apart from an alarm sounding, which CNN reported September 25 to be a non-jeopardizing toilet malfunction.
Inspiration4 was the second flight of Resilience following its use for Crew-1. The spacecraft's docking adaptor, normally used to dock at the International Space Station, was replaced with a single multi-layered dome window, inspired by the Cupola Module, that allowed space travelers 360-degree views of space from the Resilience's nose. The window was protected during launch and reentry by a retractable nosecone, which also included a custom camera allowing photography during flight. The craft has four Draco Thrusters on its nose and four heat shield tiles on the cupola's exterior which protect the plexiglass dome from engine exhaust during propulsive maneuvers. The cost of a seat on one of these vessels is about $55 million each, space.com reported.
SpaceX Inspiration4 Launch
Space Exploration Technologies Corp. (SpaceX) is an American aerospace manufacturer, a space transportation service, and a communications company. The company was founded by Elon Musk in 2002 to reduce space transportation costs and to enable the colonization of Mars. The Hawthorne, a California-based company, manufactures SpaceX's Falcon 9 and Falcon Heavy launch vehicles, rocket engines, Dragon cargo, crew spacecraft, and Starlink communication satellites.
SpaceX's accomplishments include the first privately-funded liquid propellant rocket to reach orbit in 2008, the first private company to successfully launch, orbit, and recover a spacecraft (the Dragon in 2010), the first private company to send a spacecraft to the International Space Station (the Dragon in 2012), the first vertical take-off and vertical propulsion landing for an orbital rocket (the Falcon 9 in 2015), and the first reuse of an orbital rocket (the Falcon 9 in 2017).
St. Jude Children's Research Hospital
St. Jude's Children's Research Hospital opened in 1962, the same year an American orbited in space for the first time. The mission of St. Jude Children's Research Hospital is to advance cures and the means of prevention for pediatric catastrophic diseases through research and treatment. Located in Memphis, Tennessee, the hospital treats infants, children, adolescents, and young adults up to 21 for diseases, particularly leukemia and other cancers. The nonprofit cost about $2.8 million to run but does not charge patients for their care.
Inspiration4 has raised $61,422,890 plus $100 million from Jared Isaacman that could help fund 3,803 major surgical procedures, 231,784 red blood cell transfusions, 5,272 days of inpatient care, and 2,047,429 days of meals for St. Jude families.
To donate or learn more about this cause, visit https://www.stjude.org/get-involved/other-ways/inspiration4.html.
---
Cover Photo Credit: Cape Canaveral Space Center