Mayor Smith and Lynnwood City Council present Honoring Excellence Awards
LYNNWOOD, Wash., November 30, 2021 – Yesterday, during its regular Work Session, Lynnwood City Council and Mayor Nicola Smith presented three Honoring Excellence Awards. These awards recognize city employees, businesses, and community members who contribute to the health and well-being of the city.
This year's staff member recipient is Recreational Supervisor Kelly Schudde. The Business Award was given to Harvy's Bike Shop (Harvy and Hany Massoud), and Phong Nguyen of Anna's Home Furnishings was this year's community recipient.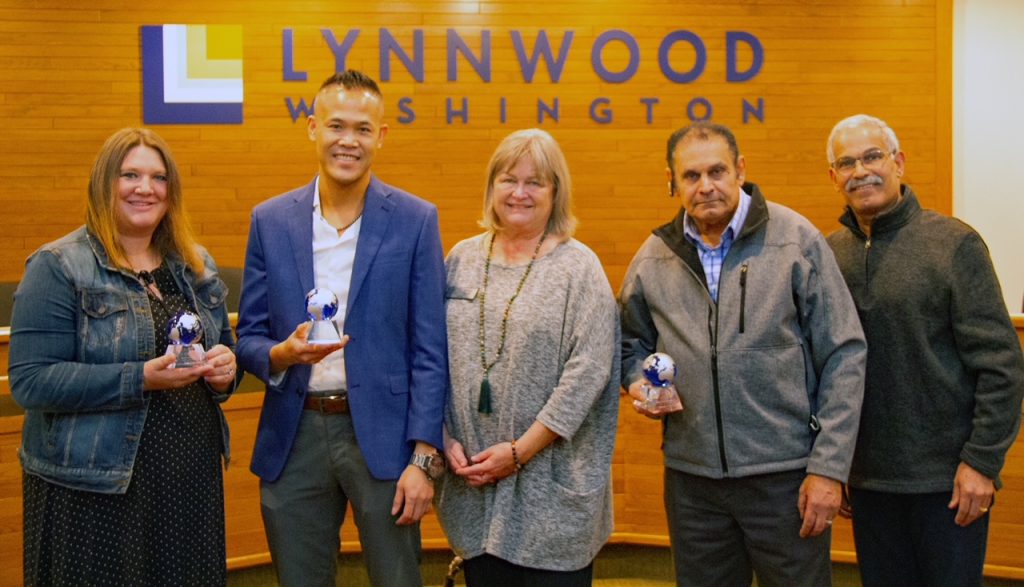 Kelly Schudde has worked for the city for 20 years and was promoted to Recreation Supervisor for Recreation Programs in 2011. Since taking on this role, Schudde has been responsible for Preschool, Youth, Teens, and Adult classes, including Fitness, Athletics, and Family Events programming.
The city has chosen to recognize Schudde because of how quickly and effectively she adapted said programs to new pandemic guidelines. As the Lynnwood City Council's proclamation reads, "during the COVID-19 public health crisis, Kelly quickly reimagined childcare and recreation programming. Her creative solutions allowed the City to continue to meet the needs of the community while following State-mandated guidelines."
Recognizing her professional excellence, the proclamation continues, "Kelly's commitment to providing quality health, education and recreation programs to individuals and families places her in high regard among City staff and members of the community."
This year's Honoring Excellence in Business Award was given to Harvy's Bike Shop on Highway 99. Harvey Massoud repaired bikes out of his apartment free of charge for 21 years. Since he and his brother, Hany, opened their shop in 1999, they have offered exceptional customer service while continuously giving back to their community.
Of the business-owning brothers, the City's proclamation states that "customer satisfaction is at the heart of Harvy and Hany's business practices. Each customer receives their core values of honesty, integrity, kindness, and patience."
"Harvy and Hany give back to the community by refurbishing and donating used bikes. The refurbished bikes are raffled off to raise funds for charities such as the Nick of Time Foundation," the proclamation continued, noting their devotion to charity.
The Mayor, along with the Council, sincerely thanked the Massoud brothers for "their giving spirit and their contributions to making Lynnwood a welcoming and vibrant community."
Phong Nguyen and his family have lived in Lynnwood for over 25 years. Serving on the Police Chief's Advisory Committee, as a Citizen's Patrol board member, as a business sponsor for Lynnwood's Adopt-a-Street program, and as a member of the Corporate Advisory Council, Nguyen has made outstanding contributions to the community.
A business owner himself (owner of Anna's Home Furnishings), Nguyen also formed the Lynnwood Business Consortium. In the City's proclamation, the consortium is described as "a network of business owners who partner with community stakeholders, developers, and city officials to promote successful business ownership and a sustainable and vibrant community." 
Nguyen also participates in Business Roundtable discussions with the city council, wherein city officials connect with business owners.
The Mayor and council members collectively thanked Nguyen for his community contributions. As the proclamation reads, "His love for Lynnwood is evident in his extensive involvement in the community."
"It's a great honor to receive this award," Nguyen said during yesterday's meeting. "I've met so many amazing people along the way."
"I love our city, and no matter how much time, energy, or money I put into our community, Lynnwood always gives me back more than what I put into it," he continued. "So, for me, that's the most rewarding part."
After Nguyen's comments, Mayor Smith recounted how just recently, she spoke with him on the phone asking if he knew of anyone who could give her a discount on mattresses for incoming Afghan families. "And within minutes, he said, 'I'll do it,'" Mayor Smith recounted before thanking Nguyen and Anna's Home Furnishing for donating 12 twin-size beds.
Council members also discussed the process for allocating the city's ARPA funds and reviewed Mid-Biennium Budget Modifications during yesterday's work session. To view the recorded zoom meeting and Work Session agenda, click here.