Which Snohomish County cities allow New Year's Eve fireworks
SNOHOMISH COUNTY, Wash., December 31, 2021 – New for this New Year's Eve, all fireworks use is banned in unincorporated areas of southwest Snohomish County. All cities served by South County Fire now ban fireworks every day of the year: Brier, Edmonds, Lynnwood and Mountlake Terrace. 
According to the Snohomish County Sheriff's Office, residents can legally discharge fireworks on New Year's Eve in the following cities:
It is always illegal to discharge fireworks on private property without permission, and to discharge fireworks from private property onto public property.
Fireworks Ban Area Map
On New Year's Eve, fireworks are illegal throughout south Snohomish County, in both cities and unincorporated areas. Find out where using Snohomish Regional Fire & Rescue's interactive map. Enter your house number in the box at the upper left corner of the page. If your address falls within an orange-shaded area, fireworks are banned there.
All consumer fireworks use is banned year-round in all shaded areas of the map (light and dark) including unincorporated south Snohomish County. However, professional fireworks shows are allowed in compliance with local regulations and requirements.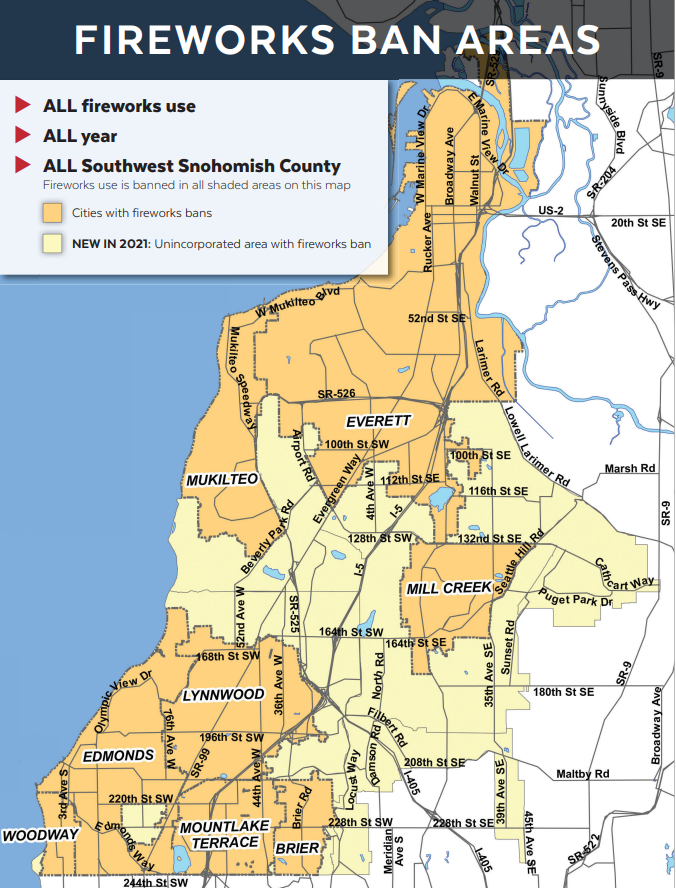 The county ban applies to the densely populated unincorporated areas within the Southwest Urban Growth Area. The Snohomish County Council unanimously approved this ban to begin in 2021 after voters weighed in on the issue in a 2019 advisory vote.
"More than 59% of the ballots cast in the South County Fire service area supported banning fireworks. We ask residents to respect the will of the voters, your neighbors, and the ban this Fourth of July," said South County Fire Chief Thad Hovis.
People who violate the ban will face a fine up to $500 (depending on city) and their fireworks may also be confiscated by law enforcement.
Fireworks banned in most Snohomish County cities
For public safety, most cities in Snohomish County ban fireworks completely, even on private property. It is illegal to set off fireworks at any time in the following cities:
Arlington
Bothell (except for July 4th)
Brier
Edmonds
Everett
Gold Bar
Index
Lake Stevens (except for July 4th)
Lynnwood
Marysville (effective January 2017)
Mill Creek
Mountlake Terrace
Mukilteo
Woodway
Washington State Parks
Snohomish County Parks
Federal land, including those managed by the Department of Natural Resources and the U.S. Forest Service
Prohibited locations
You are never allowed to use fireworks in or on:
Public property, including schools, parking lots, streets or sidewalks
Snohomish County parks
State parks or land managed by the Department of Natural Resources
Federal land, including U.S. Forest Service land
To report noise complaints or illegal use with no fire, no injury, and no immediate threat, call the Snohomish County 911 non-emergency line, 425-407-3999. Call 911 for emergencies when there is an immediate threat to life or property, including a fire or injuries.
Fireworks complaints, concerns
The 911 call centers normally see an increase in firework-related complaints in the dates surrounding the Fourth of July.
For complaints related to noise or illegal fireworks, please call the Snohomish County non-emergency number at 425-407-3999. Only call 911 for an emergency where there is an immediate threat to life or property.
Fireworks stand permits
Fireworks may legally be sold in unincorporated Snohomish County between noon on June 28 and noon on July 5 of each year. A fireworks permit from the Snohomish County Fire Marshal's Office is required to operate a fireworks stand.
Illegal fireworks
At no time may you possess or discharge illegal fireworks such as firecrackers, bottle rockets, M-80s, dynamite, or homemade fireworks. Many fireworks sold on tribal land can only be legally set off on the reservation.
To report the illegal discharge of fireworks, call 425-407-3999. Only call 911 if there is an immediate threat to life or property.
Tips on the safe use of fireworks
Be prepared…before you light fireworks:
Use legal fireworks, available at licensed outlets
Store fireworks out of children's reach
Keep pets safe indoors
Always keep water handy
Be Responsible… after you finish:
Soak used fireworks in water
Be considerate – clean up used fireworks
Keep matches and lighters away from children
Be prepared. Only use legal firework available at licensed outlets.
REMEMBER: Fireworks and alcohol and/or marijuana don't mix! If you are in a jurisdiction where firework discharge is legal and you plan to partake, please assign a designated "shooter" who stays sober and unimpaired.