Over the decades, many pan-ethnic labels describing those who trace their roots to Spain or Latin America have been introduced. Recently Latinx, a new, gender-neutral, pan-ethnic label, has emerged as an alternative used by media outlets, corporations, governments, and universities coinciding with a global movement to introduce gender-neutral nouns and pronouns into languages whose grammar traditionally uses male and female constructions. 
However, according to a nationally representative bilingual survey of U.S. Hispanic adults conducted in December 2019 by the Pew Research Center, only one in four U.S. Hispanics are familiar with the term Latinx, and only 3% prefer to use it, primarily females aged 18 to 29.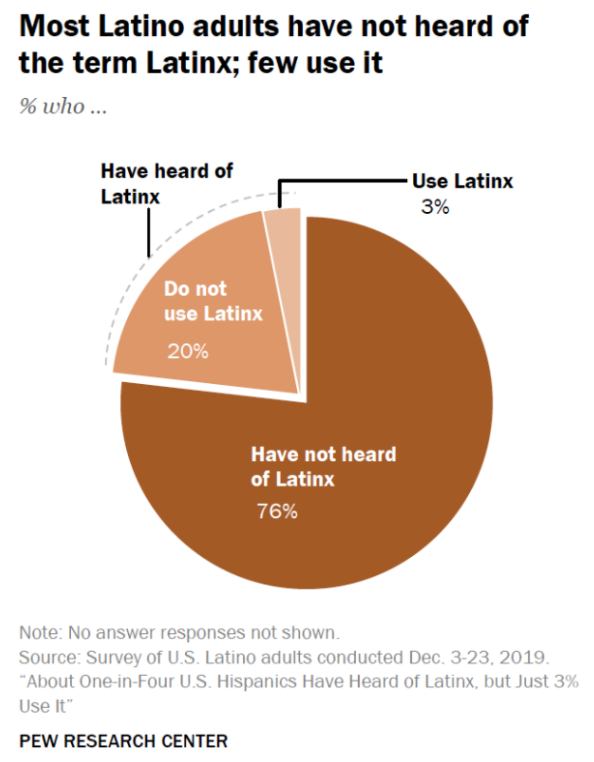 The study found that the majority within the Hispanic culture (61%) said they prefer "Hispanic" as a pan-ethnic term to describe themselves in the U.S. compared to just 4% preferring Latinx. The remaining 29% preferred the term "Latino." 
Additionally, the study found that U.S.-born Hispanics are more likely to be aware of the term, and predominantly English speakers or bilinguals are more likely to be aware of it than those who speak mainly Spanish (29% to 7%). 
"Hispanic" typically refers to Spanish-speaking people in general, including those in Spain, while "Latino" refers to people in Latin America, including Portuguese-speaking countries such as Brazil. 
The first usage of the term "Latinx" appeared in the U.S. more than a decade ago but was first introduced to an English dictionary in 2018, exemplifying its widely accepted use.
The term "Latinx" has generated debate surrounding its appropriateness in a gendered language like Spanish, where masculine and feminine nouns are traditionally used. For example, "friends" in Spanish, when referring to males is "amigos" and "amigas" when referring to females. When referring to a group of mixed-gendered friends, the masculine "amigos" is used. 
Giancarlo Sopa, an opinion contributor for USA Today, wrote that the term Latinx is "an absurd Anglicization of a language that generations struggled to conserve," adding the term implies that the way Hispanic families speak is "fundamentally inadequate for the United States and progressive American culture."
In that same opinion piece, Alejandrina Gonzalez, a Mexican-American Stanford University student, is quoted as saying, "Millennials who view Latinx as liberating have it backwards. Changing our language is the opposite of empowering." 
In 2018 the Real Academia Española, the official body of linguists that preserves the Spanish language's integrity, formally rejected the term in the first chapter of its first style manual. 
In 2015 the National Center for Transgender Equality and the TransLatin Coalition published a report surveying 1,473 people who identify as transgender and of Latino/a descent of which 35% identified as non-binary. In their research, the term "Latinx" is not used to describe non-binary people but "Latino/a." However, their report is seven years old and may no longer be an accurate representation of their use of "Latinx" to refer to non-binary identifying Latinos. 
The Lynnwood Times reached out to the TransLatin Coalition to ask if their use of the term Latinx has changed since publishing their report, but they did not reply before publication of this article. 
Snohomish County Latino Coalition's Perspective
The first time Karina Gasperin, Snohomish County Latino Coalition, heard the term "Latinx" it made her feel uncomfortable. 
"I tried to get used to the term because I saw a lot of organizations using it, but I didn't feel included in that term. I originally thought it may be a generational thing, but I spoke to my two daughters about its use and they didn't like it either," Gasperin, a native Spanish speaker originally from Veracruz, Mexico, told the Lynnwood Times. "They refer to themselves as 'Latina.'"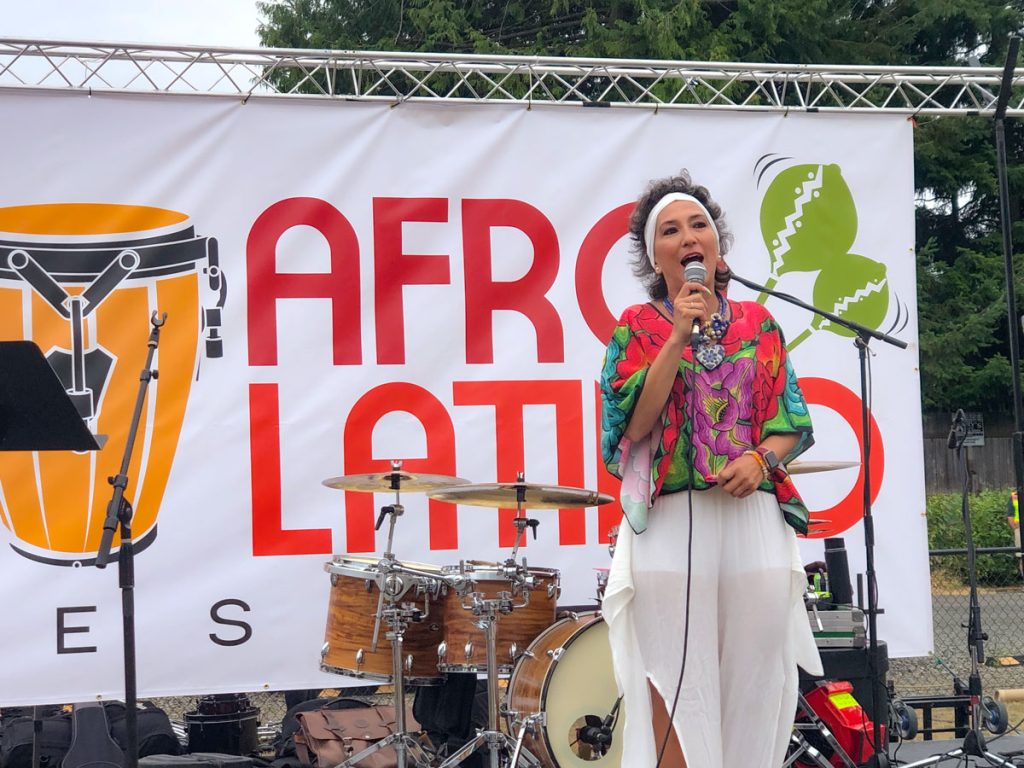 In Gasperin's 20 years of working with Latino communities in Snohomish County, as a leader of Snohomish County Latino Coalition, Co-Founder of Washington Hispanic Media Association (WAHMA), Founder and Director of the Afrolatino Festival, and television host for the local program Actidad Latina, she has never met a single Latino who preferred the use of the term "Latinx." In an attempt to gather other perspectives, she conducted a survey last year asking Latinos in her community whether or not they prefer to adopt the term. According to Gasperin, 100% of the survey participants were against its usage. 
"To me, 'Latinos' includes everyone. It doesn't matter if you are non-binary – you are Latino," Gasperin told the Lynnwood Times. "We don't agree with that term in our community."
When asked who she believes are the main users of the term Latinx, Gasperin told the Lynnwood Times she believes they may be mostly non-native Spanish speakers who don't "fully identify as Latino." 
Gasperin shared with the Lynnwood Times that she believes every generation changes a language and she understands the term "Latinx" attempts to be inclusive; but to her, the term makes herself and other Latinos feel excluded. 
"We are inclusive in the way that we talk. We don't need the 'x' because we use 'o,'" Gasperin told the Lynnwood Times.