Mayor Nehring delivers State of the City address in Marysville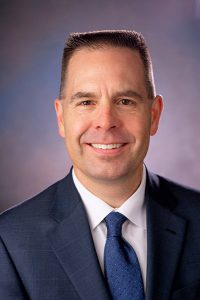 MARYSVILLE, February 2, 2022 — Yesterday, Mayor Jon Nehring delivered the annual "State of the City" address at the Opera House in Marysville, WA. During his presentation, Nehring covered City Finances, Public Safety, and other highlights, including future development plans.
Year in Review and Marysville's snapshot
The State of the City address began with a "2021 Year in Review" video, which highlighted different events that took place in Marysville last year, such as the construction of the city's Civic Center, the grand opening of Olympic View Park, and the Sounds of Summer Children's concert.
A snapshot of the city's stats was also presented, which noted Marysville's population of over 71.5k residents, making it the second-largest city in the county after Everett and the 18th largest in the state.
City Finances
Mayor Nehring shared a summary of the city's operating budget. For its 2022 revenue sources, Marysville has $56 million in its General Fund and $70 million in its Enterprise Fund.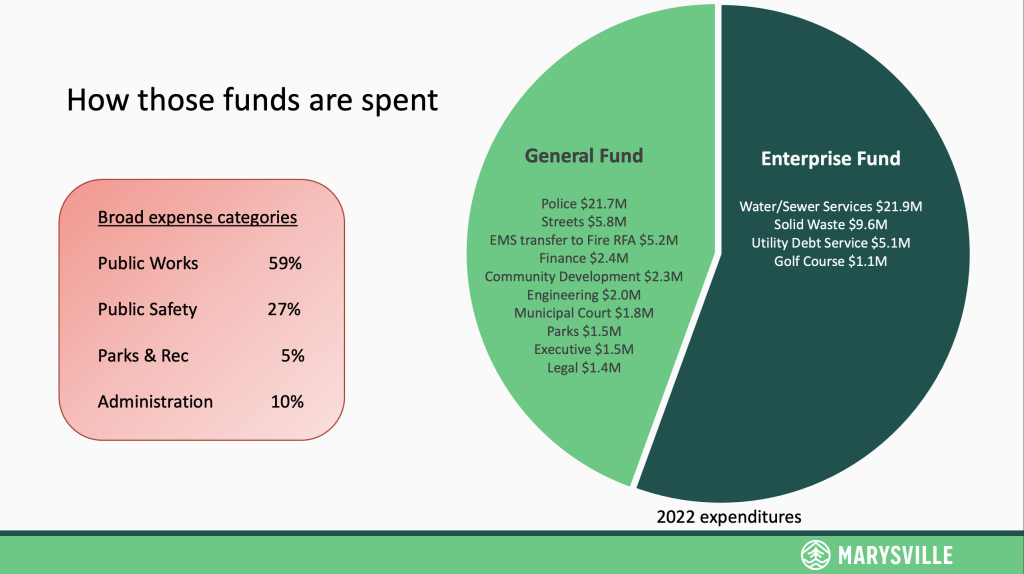 "Our City Finance Department has a stellar reputation for excellence. We're proud to have 14 years of consecutive clean financial audits," Mayor Nehring said, noting the city's upgraded bond rating to AA++.
"We're saving taxpayers' dollars because we have such a sound fiscal house right now," he added.
Breaking down how the city anticipates spending its funds this year, 59% goes to Public Works, 27% to Public Safety, 5% to Parks and Rec, and 10% to Administration.
Mayor Nehring also explained how the COVID-related financial assistance was used last year, saying, "the city distributed $1.8 million in COVID-related grant funds to Marysville residents and businesses."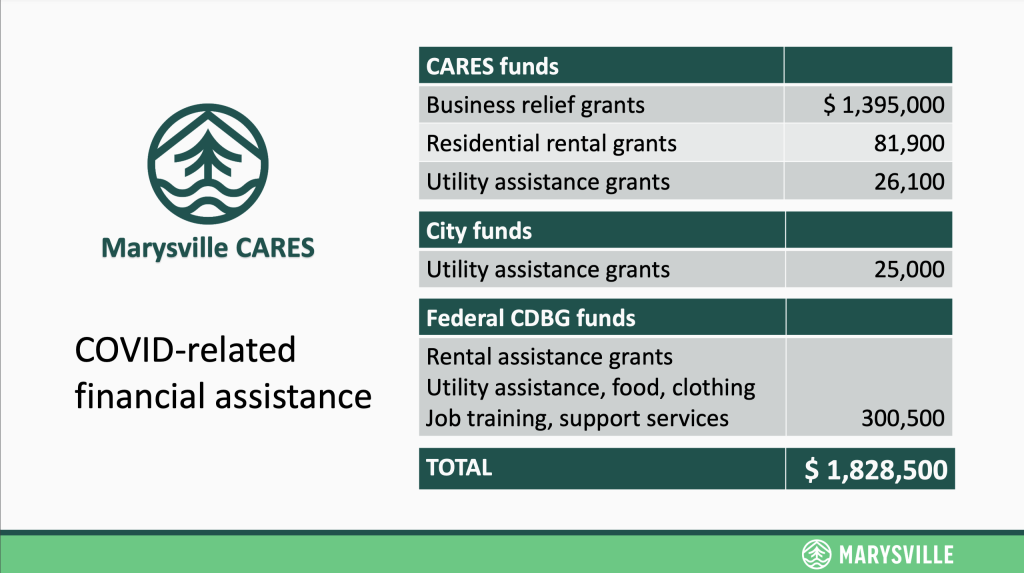 Noting the nearly $1.4 million of those funds that went to small businesses last year, Nehring said, "I think the shutdowns were overly harsh on our small businesses last year, so we wanted to be sure that they got the help they needed."
Public Safety
Looking at crime rates over the years, Nehring mentioned how he meets with the police chief once a week to discuss crime rates in Marysville. While there was an increase in crime last year, Nehring compared this rise to the abnormality that was 2020, as crime dropped significantly during the COVID-19 lockdown. Overall, the mayor summarized that Marysville is still experiencing a steady decrease in crime.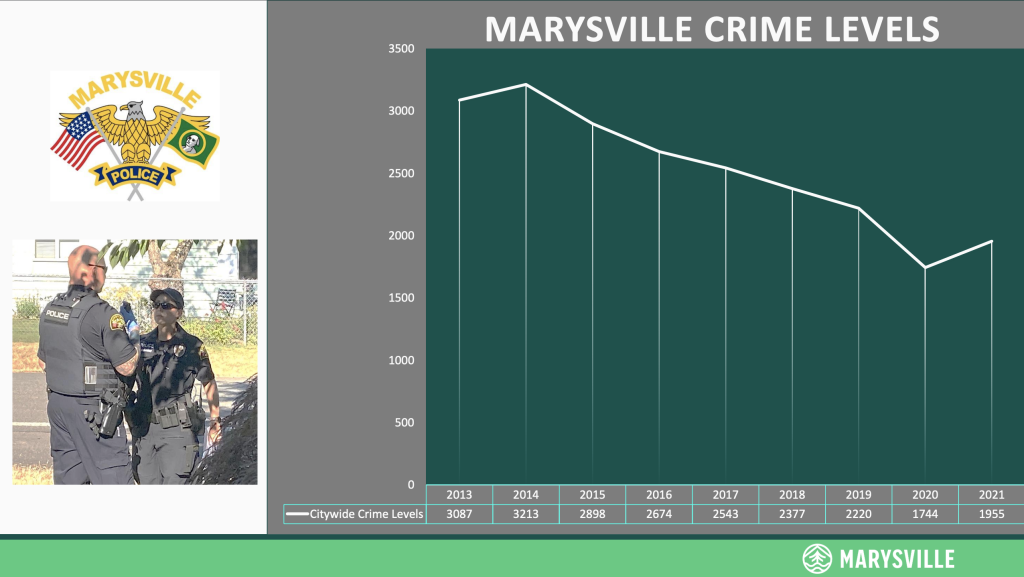 Of the crime statistics in Marysville, Nehring pointed out that "most of the crime is drug-related" and that recent legislation has made a "step-backward" on the issue. He later elaborated this remark, explaining how in many instances, officers' "hands are tied."
He also stated that it's often "what's behind door two," referring to jail, that convinces people who struggle with drug addiction to accept help and that without that ultimatum, many are not taking steps towards improvement.
According to the mayor, the public's top three issues of concern in 2021 were vehicle prowls, home burglaries/thefts, and homelessness and transient-related issues.
Regarding homelessness, the police department's embedded social work team helped 57 people secure housing last year and helped 46 clients graduate from substance abuse treatment programs. The social work team is currently serving more than 1700 clients in Marysville.
Speaking of houseless individuals who commit crime and the programs available to them, the mayor said, "if they say no and won't accept that help we offer, then we will prosecute them."
"There are consequences in Marysville," he added.
Police Department and Fire District
The Marysville Police officers earned favorable ratings from residents in 2021. By using a surveying system called "SPIDR TECH," the city found that 94% of callers were satisfied with their interaction with its police department. The surveying system also revealed that 97% of 911 callers were satisfied with the police officer's professionalism.
The Marysville Fire District reportedly responded to more than 14,000 calls last year, 86% of which were medical-related. During his address, Mayor Nehring acknowledged the critical role firefighters played in the initial COVID-19 vaccine rollout.
According to Nehring, the firefighters helped organize drive-through vaccine clinics and administered vaccines to thousands of community members. They also partnered with other fire agencies across Snohomish County "to ensure every firefighter had adequate personal protective equipment, tools, and safety protocols to prioritize public health," the mayor said.
Other Highlights
Mayor Nehring also highlighted the city's 2022 legislative priorities, a pavement preservation program, the opening of new businesses, and the development of a Downtown Master Plan. He ended by thanking all the 299 city employees in Marysville for their excellent work and noted that there are many available, already budgeted city positions the city is looking to fill.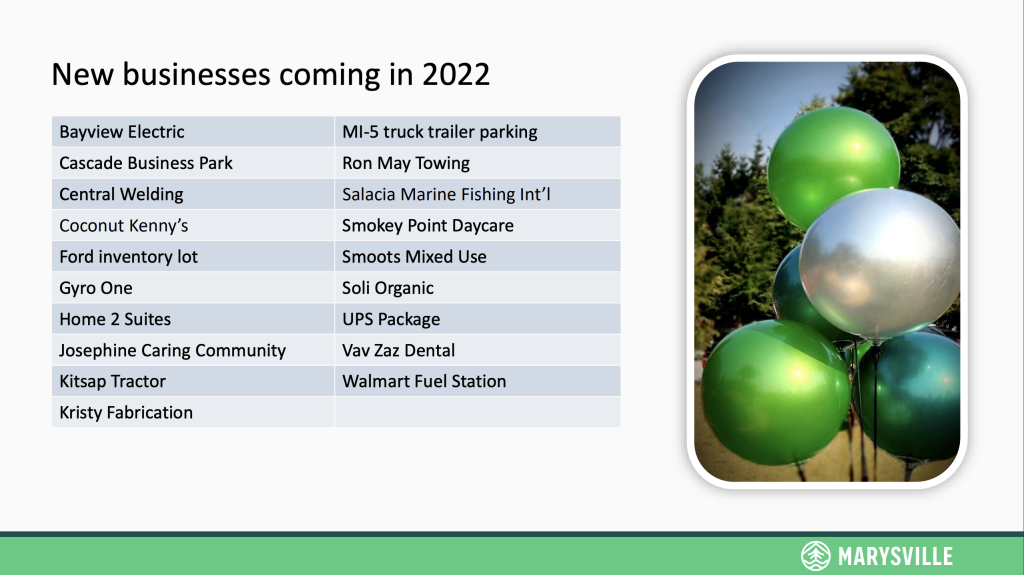 To view the State of the City address in its entirety, including the Q & A portion, click here.