Insurgence of potholes: Where did they come from and what is the Snohomish County doing about it?
SNOHOMISH COUNTY., Wash., March 14, 2022 – It may come as no surprise to motorists that there seems to be a recent increase in potholes on Snohomish County roads this year compared to the past.
However, even based on reports and patrols, it is difficult to pinpoint exactly how many potholes the county has seen this year since potholes typically do not show up all at once. Snohomish County Public Works informed the Lynnwood Times there have been at least "a few hundred."
The Lynnwood Times reached out to Doug McCormick, Snohomish County Public Works Deputy Director and County Engineer, to understand where this insurgence is coming from and how the county is dealing with the issue.
What causes a pothole?
According to McCormick, extreme weather conditions are a major cause, and due to climate change, weather conditions are only going to get worse. With colder, wetter winters, moisture gets trapped beneath the layers of asphalt and freezes, delaminating the first layer as it expands, resulting in the many potholes found around the county.
"We've had more extreme weather recently. Climate Change is a real thing and it affects the roadways as well as other things in our environment," McCormick said. "It is those extended cold and freezing temperatures that will genuinely cause more potholes."
In more extreme circumstances, there could be unsuitable material or moisture that gets into the subgrade (below the asphalt surface), resulting in larger, deeper potholes that pose a bigger threat to the roadway system.
The extreme weather conditions McCormick referenced are not limited to the winter months, however. In extreme heat conditions, such as last summer's heatwaves, roadways become distressed which compromises its infrastructure, cycling back to the winter when freezing water can crack the surface more easily.
The integrity of the roadways can also be compromised, McCormick added, by the "wear and tear" caused by heavy trucks and machinery.
How are potholes repaired?
Snohomish County Public Works repairs potholes with roadway preservation, whether it be chip seal overlays, crack sealing, or whatever can prevent moisture from getting in between the layers of asphalt.
The first thing the department does after receiving notice of a pothole is to verify its location. After that, the department sends out a crew immediately and the potholes are repaired within weeks.
McCormick emphasized the importance of repairing potholes as quickly as possible to prevent more serious and expensive infrastructure damages like alligator cracking.
"A lot of potholes are just a nuisance, but left unattended they could become a worse situation," McCormick said. "You could get more delamination, you could get more depth into it, so we try to hit those as quickly as possible."
This time of year many crews working in the field carry around a supply of what's called a "cold mix" or "cold patch," which is a premixed crushed rock and asphalt binder material. While out in the field doing other work, if work crews come across a pothole, they can immediately repair the road with this mix on hand. This is a temporary solution that, during warmer weather, will be replaced by hot mix patching, which removes the cold mix and replaces it with a more permanent patch, hot mix asphalt.
This is subject to hot asphalt plants operating, of course, many of which are shut down this time of year.
Depending on what caused the pothole and the depth beneath the roadway surface, some repairs might even require cutting out and replacing segments of the road.
These repair operations are mostly funded through the local county road fund, but some money from the state's recently passed transportation package will also be allocated to larger preservation projects.
Since potholes come in all shapes and sizes and are repaired under various circumstances including traffic volume, subgrade conditions, and crew size, the costs for repairing a pothole vary. Temporary repairs (using cold mix) for an average pothole range from $30-$50 each. A permanent repair (using the hot mix) ranges from $80-120 each for the average pothole.
This price can increase depending on size, the material needed, and the location as it may require a larger crew to respond and provide appropriate traffic control, according to Meghan Jordan, Snohomish County Public Works Communications Specialist.
Because Public Works keeps a good supply of cold mix on hand, it has not been affected by recent supply chain shortages, McCormick said. But he expects that with the rising cost of oil, the department will see asphalt prices rise, too, as they get into the construction season this summer, which also affects other road maintenance such as paving, patching, and replacing culverts.
According to Mortenson's construction cost index for the fourth quarter of 2021, the Seattle area experienced a 26.1% increase in construction costs within the last year.
Preparing for potholes in the future
The Lynnwood Times asked McCormick what can the county do to set roads up for future defense as environmental changes theoretically get worse.
"I think it, again, comes down to preservation. We're actually pretty proud of Snohomish County because we have the highest PCI in the state, as far as county roads, and we have a pretty active program every year where we do preservation overlays, mostly done with county road funds and money from the gas tax where we get it through the county administration board, which is usually in the range of three to four million dollars per year," McCormick said.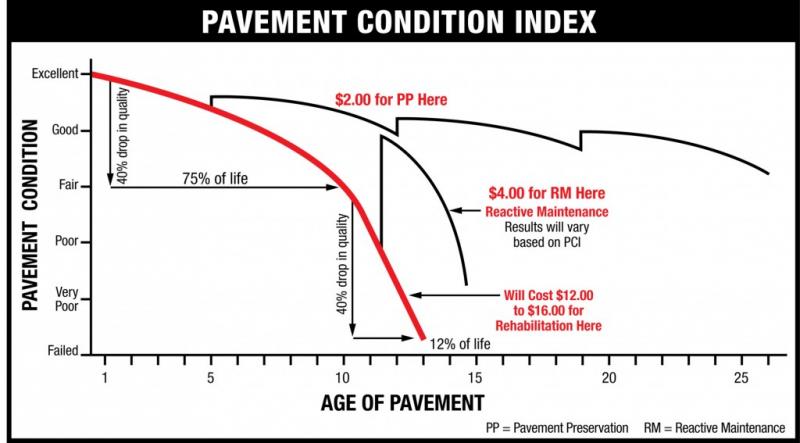 A PCI (or Pavement Condition Index) is a numerical index usually between 0-100 which is used to indicate the general condition of a pavement section.
In addition to these preservation efforts, Public Works has a "chip seal program," within their own internal road maintenance crews. Chip seals cost about a third of an overlay, making it an extremely affordable way to extend the life of the pavement.
How to report a pothole and get reimbursed for damages
In a recent example of the effectiveness of the county's pothole report and reimbursement services, Mukilteo resident Tonya Marie shared with the Lynnwood Times a personal pothole experience she had a few weeks ago.
On February 20, Marie popped her tires while driving over a large pothole in the Mukilteo QFC parking lot. Her new tires were ruined and cost over $100 at Les Schwab to repair, which she paid out of pocket.
After venting her frustrations in the Mukilteo Community Facebook group, another resident who had a similar issue referred her to the claims department of the insurance agency who handles the QFC property, where she filed a claim. Within a few days, she was reimbursed.
Although this incident took place on private property, similar claims can be made on county roads.
If you come across a pothole, you can report it by calling 425-388-7500, which connects directly with the Public Works Road Maintenance Shop in Cathcart to address the issue. You can also use this link: https://snohomishcountywa.gov/3861.
If a driver has damages done to their vehicle as a result of potholes, Snohomish County Public Works has a claims process through their Risk Management Department. You can submit a damage claim here: https://snohomishcountywa.gov/385.
Editor's Note: Claims on private property such as shopping centers or the mall cannot be made to Snohomish County. The county is only responsible for County Roads.