Hope Grows Where Light is Given: Unveiling Muradyan's Seed of Hope at Esperance Park
EDMONDS, Wash., March 15, 2022 – Esperance in French means "hope," so it was only appropriate that the sun was shining and mask mandates were lifted Saturday, March 12, when Tsovinar Muradyan unveiled her latest art installation, Hope Grows Where Light is Given, at Edmond's Esperance Park.
After a few words shared by Conservation and Natural Resources Director Tom Teigen, Vice Chair of the Arts Commission Kate McKenzie, and local artist Tsovinar herself, a green cloth, held by Muradyan and Teigen, uncovered the statue for the first time.
Event's attendees included elected officials County Council President Meghan Dunn, County Councilwoman Stephanie Wright, and Edmonds City Council President Vivian Olson.
"I think the seed of hope falling on the same day as the mask mandates being lifted. It just feels poetic that this was the day," Kate McKenzie, Snohomish County Arts Commission said.
Muradyan's piece stands directly in the center of Esperance Park's eight-pointed star where morning sun shines through a small portal carved in the stone, illuminating a tiny bronze sprout, and conveying Muradyan's message of instilling hope in all who pass by. 
There were three factors that attracted Tsovinar to the park before applying to the Art Commission for consideration. The first was the name of the park, the second was where the installation would be placed – in the middle of where five pathways intersect. The third was that she "met the sun" during one of her many trips to the park prior to designing her sculpture.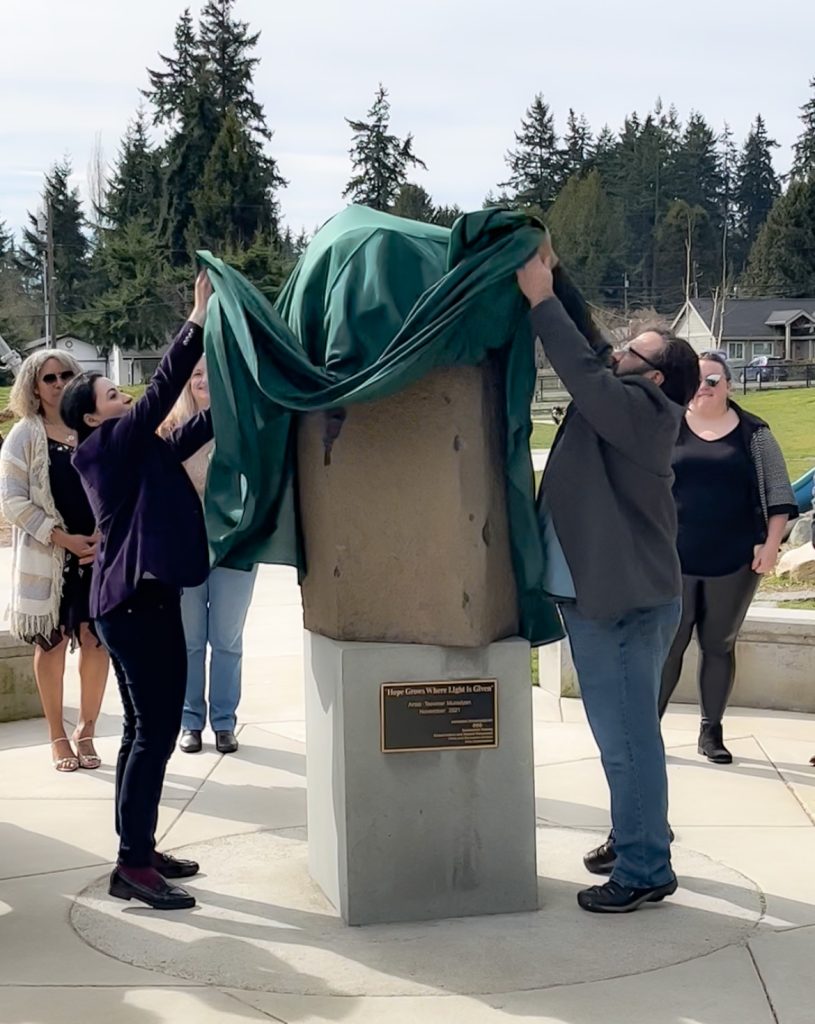 "When I was here I met the sun and the idea came to me that hope is like a seed. So many things need the sun to grow and we as human beings need to grow to move forward, toward the light," Muradyan told the Lynnwood Times.
A few years ago, Commissioner Keith Garrick, who lives nearby, was taking one of his regular walks through Esperance Park and stopped at the eight-pointed star. He contacted the Parks and Recreation Department and said "there needs to be a piece of art in the middle of this."
The Arts Commission, who by code holds the ability for art to be installed in any open public space, agreed with Garrick and put out a call for local artists. Before the call even went out, Parks and Recreation, working alongside the Arts Commission, created a scoring mechanism based on what was being envisioned for the space. The applicant's visions were then applied to this criterion until an artist was selected.
According to Jeremy Husby, County Parks and Recreation Division Director, Tsovinar Muradyan was the unanimous choice from the get-go.
"We had concepts that were very well done. There were multiple artists that came out – Tsovinar did eight or twelve concepts for this park and it was really her written word that was extremely inspiring – that she wanted to plant this seed of hope in everybody," Husby told the Lynnwood Times. "You can be walking by and you feel like it's just a rock, but if you're the right person on the right day you catch this experience, that little bit of sunlight and catching that seed, it just sparks that hope in humanity."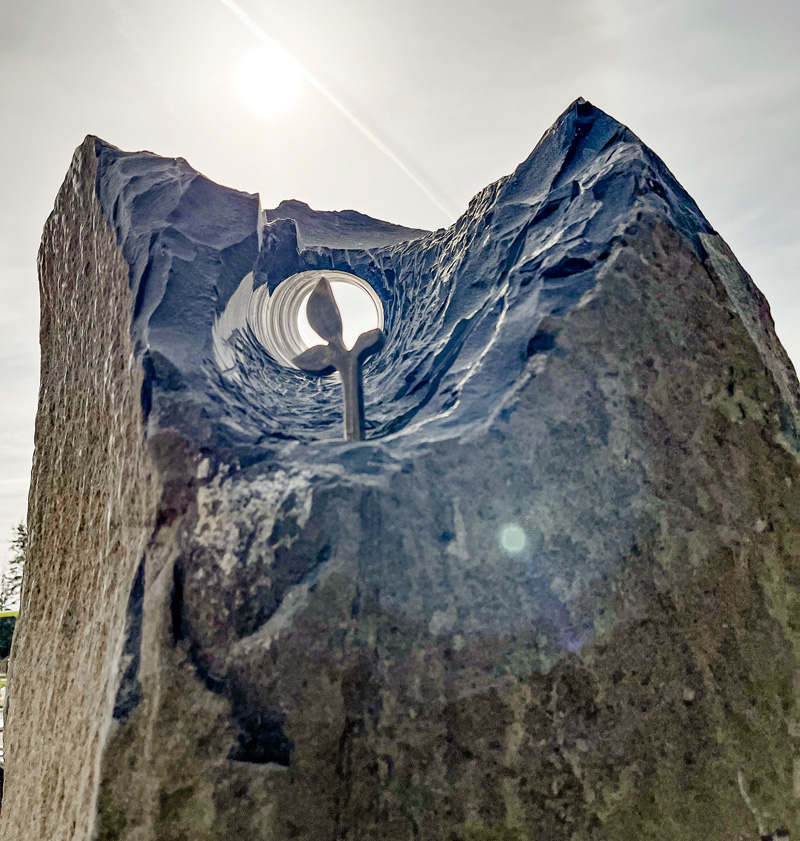 Tsovinar's sculpture took over a year to complete and cost around $15,000 paid for from the county's 1% For the Arts funds, set aside from county construction projects.
An additional $700 was paid to Muradyan to recast the sculpture's base after an incident of vandalism took place after installation.
According to Husby, Tsovinar was a "pleasure to work with" going "above and beyond" to ensure the sculpture was safe and was "very quick" to come back with a stronger alloy piece in order to defend against future vandalism efforts.
Tsovinar Muradyan, an architect by trade, informed the Lynnwood Times that her background in architecture helps tremendously in her artwork because, in architecture, it's important to consider the composition from different points of view.
During the design of her sculpture Muradyan shared she was going through a "very hard time," which added an additional, personal, layer to the message of her installment.
"This sculpture and this park is really important to me. It really helps me a lot. It says you need to have hope, you need to move forward, despite what other feelings you have…and people really need it. Light takes us from the darkness, from despair, and this sculpture reminds people that they need to go to that light," Muradyan said.
About the artist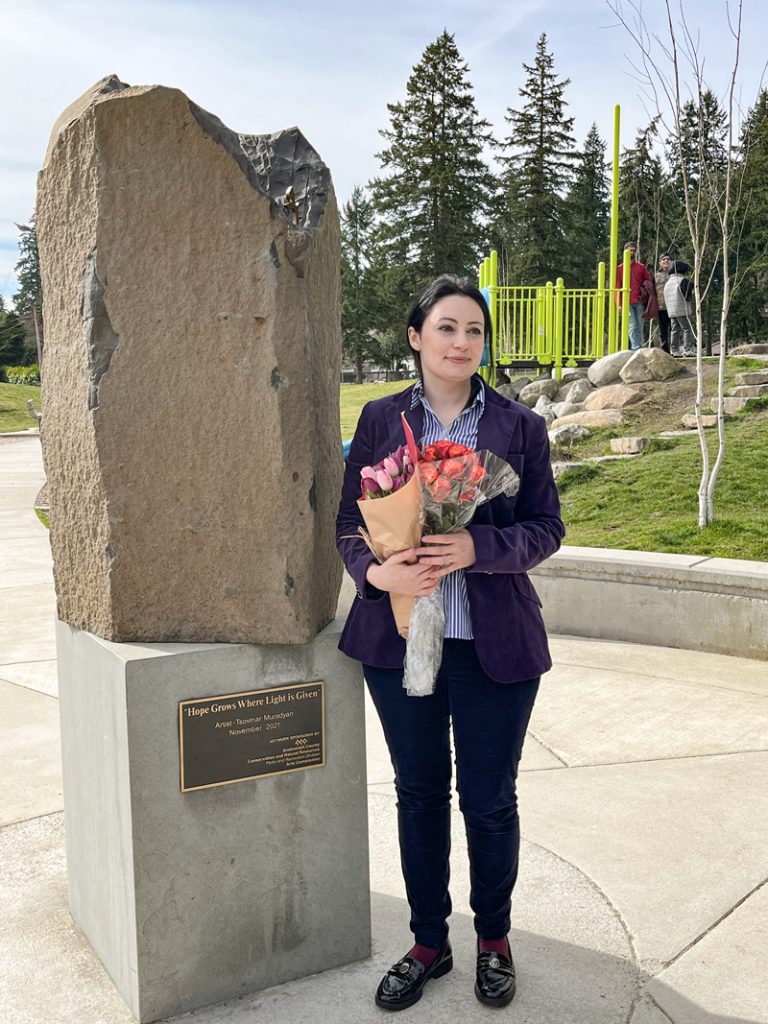 Based out of Seattle, Tsovinar Muradyan aims to build art that brings joy, excitement, pleasure and beauty to people's lives. There are four design lines that she spends her time for developing each one.
Muradyan has had several of her art pieces displayed in art shows including personal exhibitions in Redmond, WA and downtown Seattle, WA as well as in New Milford, NJ.
Tsovinar's works are highly valued by art critics and by art professionals and are included in any private collections.
As an architectural designer, she has over 10 years of experience working in the architecture, interior and graphic design industry holding a M.S. in Architecture and a PhD. in Sustainable Architecture from National University of Architecture and Construction of Armenia. She has also worked as an Associate Professor, has conducted special courses for post-graduate students on the topic of Green Roofs, Rain Gardens and Pollinator Habitats.
Muradyan is also the author of around ten publications and has supervised seminars and made presentations on the subject of Sustainable Architecture.
Esperance Park
Esperance Park is one of 121 Snohomish County Parks, originally 9.6 acres and formally owned by the Edmonds School District. In the late 1980's it was to be surplussed for housing development. The community came together and formed the Action County for Esperance (ACE), successfully petitioning to acquire the site for a neighborhood park. Renovations and upgrades continued throughout the years, including a major surface water retrofit placing water vaults beneath the park that store water overflow due to flooding.
In 2016 the city acquired the 3.4 acres that was adjacent from the Edmonds School District and final renovation was completed May 2020. With the $1.4 million invested, 1% was reserved for the arts which was used to install Muradyan's work and others like it throughout the county.