Edmonds murder suspect released, other in custody
ARTICLE UPDATE 7:53 PM, April 8, 2022: Victorya Foulkes, was released from Snohomish County Jail today, April 8, at 2:37 p.m. and is now in the Washington Corrections Center for Women in Gig Harbour.
EDMONDS, Wash., April 8, 2022 – Victorya Foulkes, 27, who admitted she and her boyfriend were involved in the murder of an Edmonds 7-Eleven employee back in 2020, was released from jail today, April 8, although the judge found probable cause for murder and attempted robbery. Foulkes will reappear in court at a later date.
On February 21, 2020, Edmonds resident Shawn Martin entered the 7-Eleven on 8101 238th St SW at about 5:00 a.m. for coffee on his walk to work. As he approached the store, he saw one of the employees, 64 year-old Nagendiram Kandasamy, on the floor by the slurpee machine gripping his abdomen. Martin entered the store and walked over to see if he was ok but, as he grew closer, realized Kandasamy was bleeding and in need of medical attention.
Martin called 9-11 and stayed until the Edmonds Police showed up. Despite lifesaving efforts by officers and paramedics, Kandasamy died on the scene.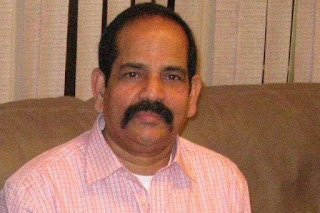 Edmonds Police Detectives Tryker, Morrison, and Mehl responded to the crime scene processed by the Washington State Patrol Crime Scene Response Team led by Forensic Scientist Jennifer Hayden. The team found shoe prints on the west end of the counter, a single shell casing, and a fired bullet belonging to a .45 caliber semi-automatic pistol.
During Kandasamy's subsequent autopsy it was found that the cause of death was a single gunshot wound and the manner of death was homicide.
Through the convenience store's video surveillance Detective Mehl observed that the suspect was wearing a red and black jacket with a hood over their head, a light-colored mask, dark pants, and black gloves. The shoe prints found at the crime scene indicated he was wearing Air Jordans.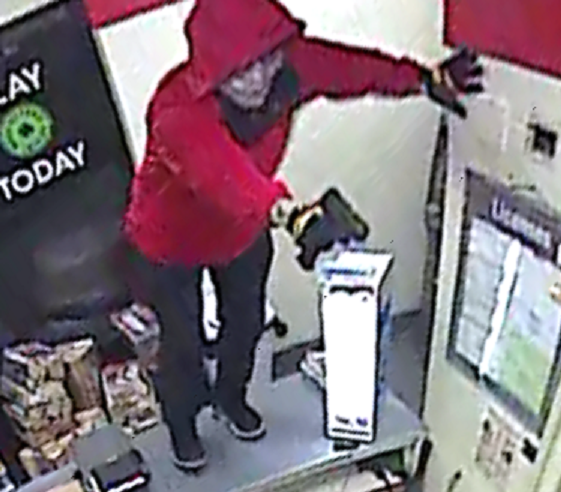 The footage showed the suspect quickly entered the store and immediately jumped up onto the west end of the counter. Kandasamy was seated on a step stool about 20 feet away and picked up the stool and placed it in front of him for defense. After a couple attempts at swinging the stool at the suspect, Kandasamy was shot and fell to the floor.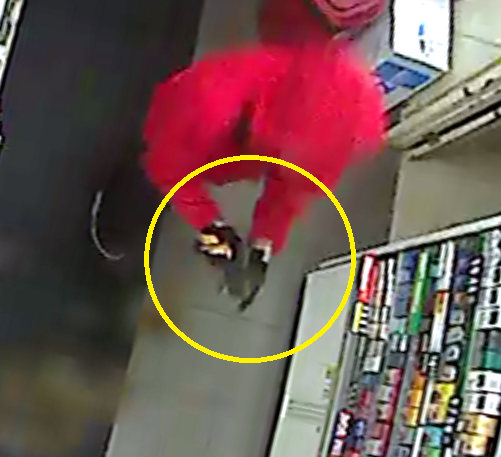 The suspect fled without taking any of the convenience store's property, including cash from the register. The entire incident took place in about 20 seconds.
Apprehension of two suspects in 2020
On March 11, 2020, Detective Mehl received a call from the Edmonds Police Department with an anonymous tip by a resident claiming she knew the identities of the shooters – a Joseph Leonard, 25, the alleged shooter and a Victorya Foulkes, 26, the alleged driver. Both of the Muckleshoot Indian Tribe.

Both Leonard and Foulkes were on active Department of Corrections supervision and had been in warrant status for failing to comply with their community custody conditions. Foulkes also had a felony conviction for robbery in the first degree, obstructing a Law Enforcement Officer, Theft, and Minor in possession of alcohol.
Leonard had felony convictions for Escape in the first degree, Robbery in the second degree, Unlawful possession of a Firearm in the second degree, Burglary, Theft, Identity Theft, Retail Theft with Extenuating Circumstances, and Taking Motor Vehicle without Permission. He also had misdemeanor convictions for theft and the use of drug paraphernalia (heroin).
After an investigation led Detectives to where Foulkes and Leonard were known to live, they were arrested March 15, following a five-hour standoff.
Air Jordan shoe boxes and .45 caliber magazines and ammunition were found at the house pursuant of a search warrant. Foulkes and Leonard's DNA were also found on the steering wheel of a white Nissan Sentra that was seen leaving the murder scene through various surveillance cameras.
Victorya Foulkes denied having any involvement with the 7-Eleven shooting when interviewed by Detective Mehl at the Washington Corrections Center for Women November 18, 2020.
Victorya confesses her involvement in the murder of Kandasamy
Almost a year-and-a-half years later, Victorya Foulkes was arrested by the Auburn Police Department and transported to the Edmonds Police Department. She then admitted to Detective Mehl that she and her boyfriend Joseph Leonard were involved in Kandasamy's murder.

Foulkes told Detective Mehl at the time that when she and Leonard arrived at the Edmonds 7-Eleven in 2020, Leonard stopped the vehicle, a white Nissan Sentra, got out of the driver's seat and told Foulkes to take the seat. Foulkes told police she refused and stayed in the passenger's seat, Leonard entered the 7-Eleven, and returned to the driver's seat then drove away.
Foulkes told Detective Mehl she observed Leonard carrying a gun and wearing a face mask; she stated, "I know he was trying to rob something."
According to a witness, Leonard was observed entering the backseat of the vehicle when he exited the 7-Eleven and Lisa Collins, DNA Supervisor for the Marysville Crime Lab, found both Leonard and Foulkes' DNA on the steering wheel cover as well as trace DNA that could be a third person's or "background noise." It could not be determined which was the case and no comparison could be made.
On Friday, April 1, Foulkes appeared before a judge in Snohomish County and prosecutors said she drove the getaway car. However, her lawyer argued that she was not involved in the crime.
Foulkes was released at 2:37 p.m. Friday, April 8. Prosecutor Michael Helm informed the Lynnwood Times there was not substantial enough evidence to keep her in jail.
Statement from Snohomish County Prosecutor's Office
"At [Foulkes'] hearing, the court found probable cause. The standard of probable cause, which is required to set bail, is lesser than the standard required to file charges. Based on my office's understanding from the Edmonds Police Department that the investigation is ongoing, but that it was unlikely additional information would be received within the next 72 hours – the time period in which we would have to file charges into District Court – we did not object to the release of the suspect," Adam Cornell, Prosecutor for Snohomish County, told the Lynnwood Times.
Detectives will also recommend charges of first-degree murder, attempted first-degree robbery and unlawful possession of a firearm for Leonard who is currently in custody on unrelated charges at the Pierce County Jail.