A parent's worst nightmare: Alleged child molester hired as babysitter
LYNNWOOD, Wash., April 13, 2022 – New reports obtained by the Lynnwood Times show that Evan Root, 21, who was arrested for rape of a child and child molestation February 10, had allegedly groomed his 6-year-old victim for years with toys, candy, and even led the child to believe they were in a romantic relationship.
Please be advised that due to the sensitive and graphic nature involving a minor, much of the details of these accounts have been either redacted or summarized from the acquired police documents.
The victim's mother first met Root through care.com in search of a nanny to watch her two children. Root responded to her ad, had a clear background check, extensive references and when the two met it "seemed to go well" the mother told police during a February 22, 2022, interview.
In September of 2019, Root was hired as a babysitter to watch the two children five days a week until he got a job at Kindering daycare. After that, he would still watch the children on weekends and was considered a friend by the family who invited him over for barbecues and referred to him as "uncle Evan."
Prior to his employment at Kindering, Root worked in the Children's Ministry of Mill Creek Foursquare church in Lynnwood. He also worked at the following employers:
Kids Foundation Academy, Edmonds, Lead Preschool Teacher, started Aug. 2021
Kyo, Mountlake Terrace, Behavioral Therapist, May 2021 – Aug. 2021
MeBe, Seattle, Behavioral Technician, Mar. 2021 – May 2021
Autism Spectrum Therapies, Lynnwood, Behavioral Technician, Dec. 2019 – Mar 2021
Last summer Root spent the night at the victim's home, sleeping on the couch, because it was easier to work the back-to-back babysitting shifts, according to documents.
The mother's boyfriend, who will be referred to as "Z", joked about Root practically living with the family. Root took the joke seriously and began staying with the family, sleeping on their couch every weekend until he moved out of his grandmother's house and got an apartment of his own in Lynnwood.
Z's son, who lived with them, later told police that Root's victim would sometimes sneak out of her bed at night to sleep with him on the couch.
As Root continued to watch the children on weekends, the victim's mother noticing "yellow flags."
It began with Evan Root giving the kids "lots of treats" and taking them to Chuck-E-Cheese on Fridays. The victim's mother told police that she felt Root was spoiling the kids. She also shared how these generous actions made the children excited when going to Root's apartment on the weekends. At one point, Root even gifted the 6-year-old girl an iPad tablet.
The victim told police that she was always excited to go to Evan's house because he had "lots of toys and candy." She told police about a two-bedroom house Root said he would purchase so that her and her brother could live with him. She shared that Root would jokingly refer to himself as her husband.
Documents revealed that Root had kissed the six-year-old juvenile on the lips on several occasions prompting the victim's mother to tell both of them it was inappropriate behavior.
The mother became further suspicious when her daughter began referring to Root as her "boyfriend." The victim then divulged to her mother that on multiple occasions Root checked her private parts for redness.
When confronted, Root explained that he had training changing diapers and was simply applying ointment for a rash. Root confessed to police that he checked the juvenile's private area and further admitted doing so without the parent's knowledge.
The victim graphically described to police how Root would ask her to apply lotion on his genitals which the juvenile thought was "gross" but because she "trusted him," complied. Evan Root denied these accusations when questioned by the police.
A medical examination of the victim at Dawson Place found no trauma. However, the registered nurse noted in the documentation that the presence of a physical finding does not preclude the possibility of sexual assault.
According to witness statements by the mother's boyfriend's son, Root would occasionally take the victim into the mother's bedroom and close the door so that he could "talk to her." However, when he listened through the door, he could not hear anyone talking.
After the victim exited the room with Root, she would look sad and didn't want to talk about what happened, according to Z's son. He also told police that he had the feeling something "bad was going on" in the room.
The child-witness share with officers that Root showed a lot of attention to his victim by having her sit on his lap during movie nights and on several occasions, even taking her to the park leaving him home.
"When he wasn't around, we would say it's a little strange how jazzed he is to hang around kids," the mother told police. "I wonder[ed] why he didn't have any friends his own age."
The mother thought it was a "weird thing to say" when Root shared that he loved the kids and would sign court documents to pay child support, according to the police report.
After reading pamphlets on grooming and looking back on the situation, the victim's mother realized that Root was grooming both her and her boyfriend just as much as he was the children.
Although Root had no academic criteria in child psychology, he would sit the parents down and pretend to be a leader in the field, according to the mother's statement. He allegedly told the mother that her daughter's love for him is not going to go away.
The mother told police it seemed that Root was "lavishing" in the affection he was given and was attempting to "undermine the actual father figure" in the family – her boyfriend. Root allegedly did this by contradicting parental decisions.
These "yellow flags" were first reported to Child Protective Services (CPS) on January 21, 2022. CPS then referred the case to law enforcement to pursue a criminal investigation.
The Sheriff's Office Special Investigation Unit (SIU) detectives began investigating the case and learned the suspect was actively employed for three months at Kindering daycare center in Lynnwood. His employment there was terminated due to this active criminal investigation.
Root was employed by Kindering daycare until he self-reported the ongoing CPS investigation.
With assistance of Child Interview Specialists and medical providers at Dawson Place, SIU detectives conducted an investigation and developed probable cause to arrest the 21-year-old suspect for first-degree child rape and first-degree child molestation.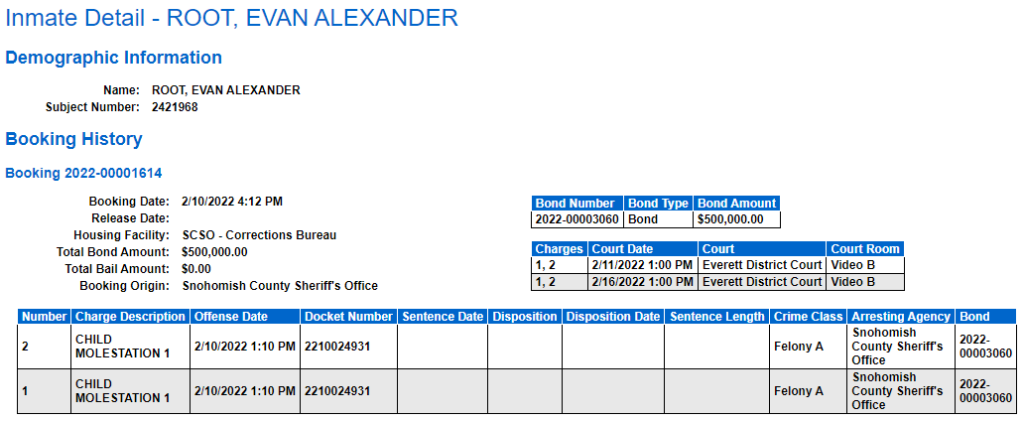 On February 10, 21-year-old Evan Root was arrested at his Lynnwood residence without incident. He was transported and booked into the Snohomish County Jail and then later charged with two counts of Child Molestation in the first degree, both Class A felonies. Root is currently in custody at the Snohomish County Jail with a bond of $500.000.
Class A felonies, which are the most serious, are punishable by prison sentences which can include life, as well as fines of up to $50,000. If convicted, Root would be a lifetime registrant on the sex offender list.
If you suspect your child may have come in contact with Evan Root, please contact the Snohomish County Sheriff's Office at 425-388-3393.