Lynnwood plants 18 native trees in honor of Arbor Day
LYNNWOOD, Wash., April 14, 2022 – Lynnwood Mayor Christine Frizzell, joined by Councilwoman Shirley Sutton, Director Lynn Sordel of Parks and Recreation, Edmonds Community College students, and Village Community Service volunteers planted 18 native trees at Scriber Lake Park, Wednesday, April 13, in honor of Washington State Arbor Day.
Just a day before, on Monday, the Lynnwood city council signed a proclamation recognizing Arbor Day and urging all Lynnwood citizens to join in protecting the city's trees and woodlands.
Out of the 18 trees planted, six were Douglas fir, six were western red cedars, and six were flowering currants – all native species to the state of Washington.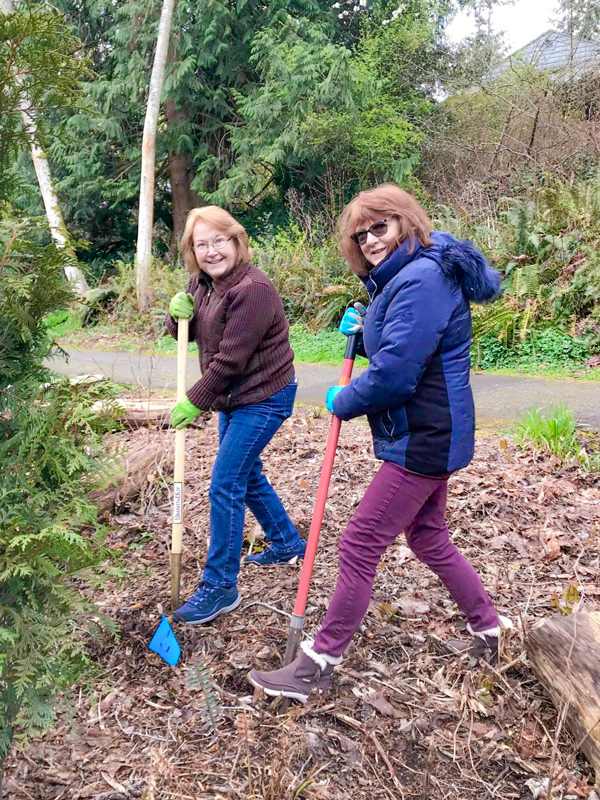 "Lynnwood is honored to be selected and celebrate its 23rd year as an official Tree City USA.  Lynnwood recognizes the importance of an urban tree canopy and the improved care of vital city trees.  Trees are essential not only to the health of the environment but to the health of the community," Julie Moore, Manager of Communications and Public Affairs, told the Lynnwood Times.
Started in 1976, Tree City USA is one of the Arbor Day Foundation's oldest programs who's founders had a vision for a greener, healthier America, and hoped the initiative would inspire change on a nationwide level.
The first Tree City USA cohort was comprised of 42 communities in 16 states. Today, the program includes more than 3,600 communities from all 50 states, Washington D.C., and Puerto Rico.
"Trees offer so many benefits including improving air quality, reducing stress, moderating climate, filtering and recycling water, harboring wildlife, adding beauty, and so much more," Moore said.
Lynnwood residents can get free trees through the City's Tree Voucher Program.
History of Arbor Day
On January 4, 1872, Nebraska newspaper editor J. Sterling Morton, who had an enthusiasm for trees and strongly advocated for civic groups and individuals to plant them, proposed a tree planting holiday called Arbor Day at a State Board of Agriculture meeting.
The celebration date was set for April 10, 1872. Prizes were offered to counties and individuals for the largest number of properly planted trees on that day. It was estimated that more than 1 million trees were planted in Nebraska on the first Arbor Day.
Arbor Day was officially proclaimed in 1874 by Nebraska's Governor, Robert W. Furnas, and the day was observed April 10 that year. In 1885, Arbor Day was named a legal state holiday in Nebraska, and April 22 was selected as the date for its permanent annual observance.
Many other states also passed legislation to observe Arbor Day each year. By 1920, more than 45 states and territories were celebrating Arbor Day. And the tree planting tradition became prominent in schools across the nation in 1882, with schoolchildren learning about the importance of trees as well as receiving a tree to plant in their own yard.
Today Arbor Day is celebrated in all 50 states. The most common date for the state observance is the last Friday in April — National Arbor Day — but a number of state Arbor Days are at other times to coincide with the best tree planting weather, from January and February in the south to May in the far north.
Lynnwood upcoming Earth Day drive through event
On Saturday, April 23, from 9 a.m. to noon, the city of Lynnwood will be holding a drive through Earth Day event at the Lynnwood Operations and Maintenance Center providing a shred truck, free compost, and rain barrels for purchase at $55 plus tax.
The repurposed food safe barrels are 36 inches tall, with a 24-inch diameter, and holds up to 55 gallons of rain water. Quantities are limited and orders are limited to one per Lynnwood household. To purchase your rain barrel for pickup visit https://snohomishcd.org/rain-barrel-order/rain-barrel-lynnwood-2022.  
The Earth Day event is for Lynnwood residents only.