Verizon workers in Everett form union after landslide vote
EVERETT, Wash, April 16, 2022 – Verizon employees in Everett, WA, officially unionized in a landslide vote on Friday. The employees who work between two locations in Lynnwood and Everett will be joining 30,000 other Verizon workers who have voted to unionize in recent years and are part of the larger wave of union victories across the states.
The Verizon employees began voting via mail-in ballots on March 25. On Friday, The National Labor Relations Board tallied the votes via ZOOM just after 1 p.m. as the employees held a tailgate party in a parking lot near the Everett location.
Verizon Employees and Communications Workers of America (CWA) Labor Union associates gathered around a cell phone in the parking lot as each employee's ballot was reviewed. Even though three of the 15 Verizon employees' votes were challenged, the effort to unionize was officially victorious with an 11 to 1 vote.
"I'm totally pumped!" says Verizon employee Austin Hitch just after the votes were counted. "I mean, I knew we were going to win, but it feels good to actually win."
"You are the company"
Hitch was one of the employees who spearheaded the effort to unionize back in February when he and his coworkers decided to take action amidst increasing workloads and decreasing wages.
When asked if there was anything he'd like to share with fellow retail workers across the states who are considering unionizing, Hitch said:
"Don't let the corporation you work for just take you for granted. They can't run without you. We're not against Verizon; we are Verizon. Just like the Starbucks workers say—they're not against Starbucks; they are Starbucks. Howard Schultz can't make everybody's macchiato espresso, and Hans Vestberg isn't going to sell you a phone. So stand up. You are the company."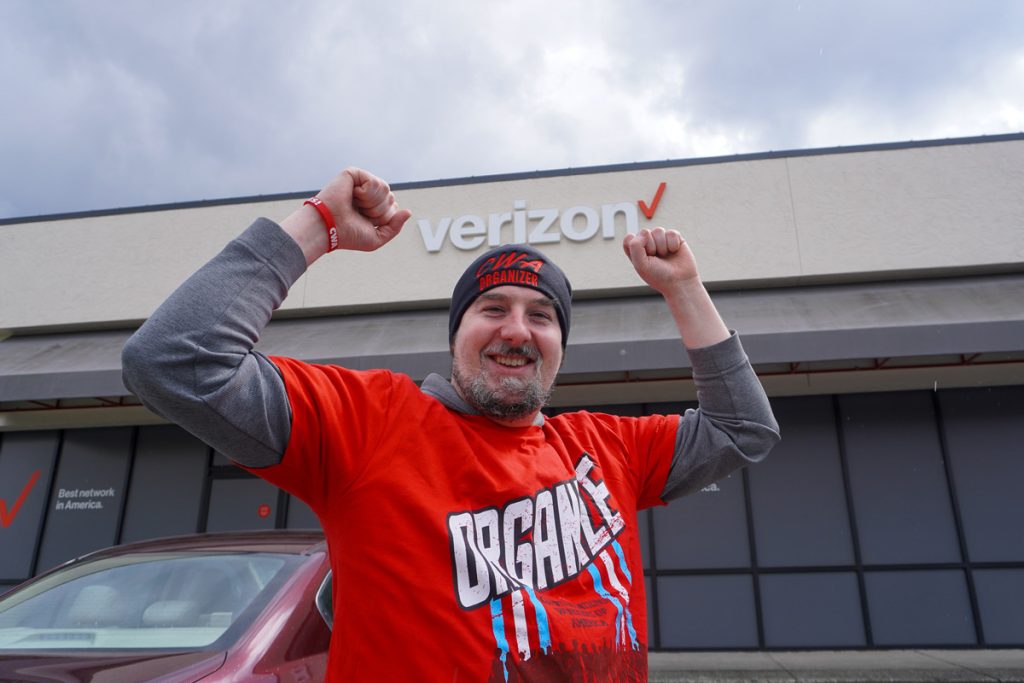 Strategizing from Brooklyn to Everett
Friday's victory was in large part thanks to the employees' strategic organizing. They not only requested Verizon's CEO recognize their union voluntarily in March but anticipated the arrival of Verizon's union-busting team the very next day.
The Everett Verizon crew was able to organize so effectively thanks to their contacts at a Verizon store in Brooklyn, New York, who unionized back in 2014 and were familiar with Verizon's union-busting tactics.
One of the employees from the Brooklyn store, Collin Hull, showed up to support the Everett Verizon crew on Friday.
"Today, I'm here to support these guys at Verizon Wireless that are standing up for better workplace conditions—to improve the standard of living for all themselves and for all their families," said Hull who now works for CWA.
Hull was a part of the communication between the stores. Recalling the Brooklyn employees' advice, he said, "The conversation was all about how to stick together as a unit [and] some of the tactics that the company was going to use, whether that was lies or manipulation. We were able to give that information so that they were ready and knew what was coming."
Verizon's union-busting efforts
Natalia D'aigle had only worked at the Everett-Lynnwood location for a couple of weeks when Verizon's union-busting team arrived. "It was very intense," she said. "The vibe definitely shifted in the whole store."
"They sent two people in, and then they kept sending more people in," D'aigle continued. "They would take us into their office and kind of isolate us from everyone and talk with us for over an hour at some points. And they would tell you that they're telling you the facts about the union and that they're not here to union bust, but they obviously were."
On one occasion, Verizon's union-busters attempted to scare D'aigle out of unionizing. "They would use information that you gave them against you in future dates," she explained. "I told them that I was about to get my first apartment, and they told me that I might not be able to pay rent in a union because they're gonna make us go on strike, and [asked] what's my back up if we go on strike for rent? It was a lot."
Fighting for fair wages
But for D'aigle and most of her coworkers, the union-busting pressure wasn't enough to sway them from seeking fair wages and a work-life balance. One of her coworkers, Steve Yu, has been with Verizon for 22 years and has worked at the Everett and Lynnwood locations for the last decade. For Yu, seeing how Verizon's restructured commission rates affected his paycheck prompted him to take action.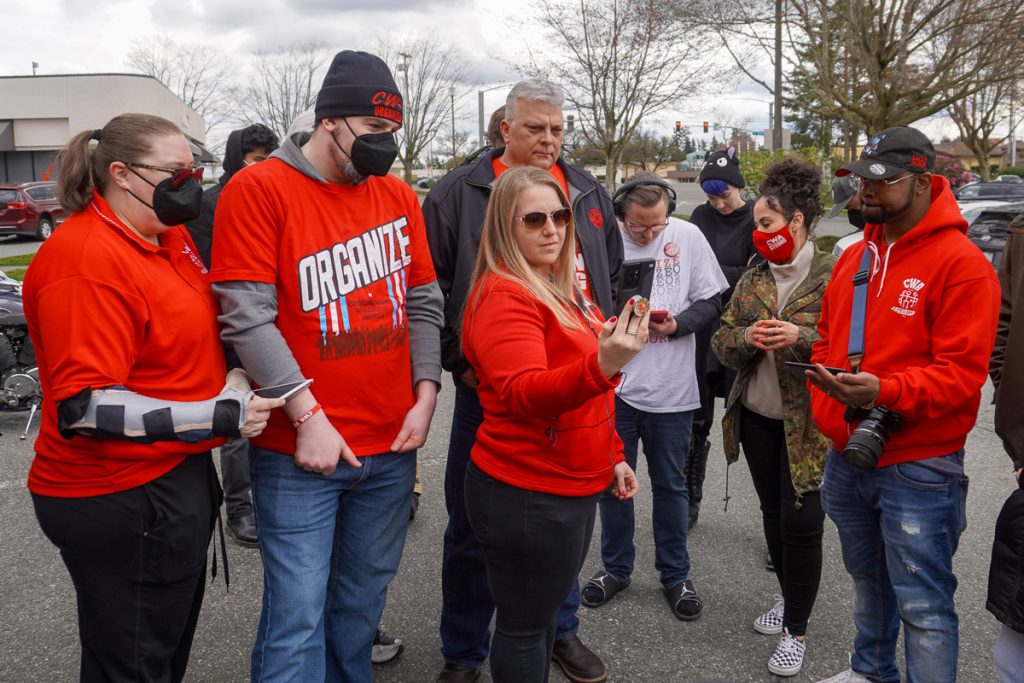 "Our pay has obviously suffered," said Yu. "Not only that, they've increased our duties, so that made work more difficult. The main thing that made me want to look into [unionizing] was because Verizon has been taking money from our commission checks based on a simple factor of customer surveys. So if you have one bad survey, you could lose ten percent of your commission check, and that's not just for me; that would be for the whole store. So it just doesn't seem fair."
"I really hope that Verizon listens and kind of understands that the employees are not—we're not rats in a maze," Yu continued. "We're trying to do things that are better for everybody; for us along with our customers. Just stop taking things away from us."
Workers uniting
After wrapping up their tailgate party, some of the Verizon employees headed to a nearby Starbucks to visit with the employees there who recently formed a union. Austin Hitch shared with the Lynnwood Times at the beginning of the month how he's felt inspired by the recent string of union victories for Starbucks employees.
Each employee who spoke with the Lynnwood Times voiced their hopes that other retail workers would share their enthusiasm for making their voices heard in the workplace.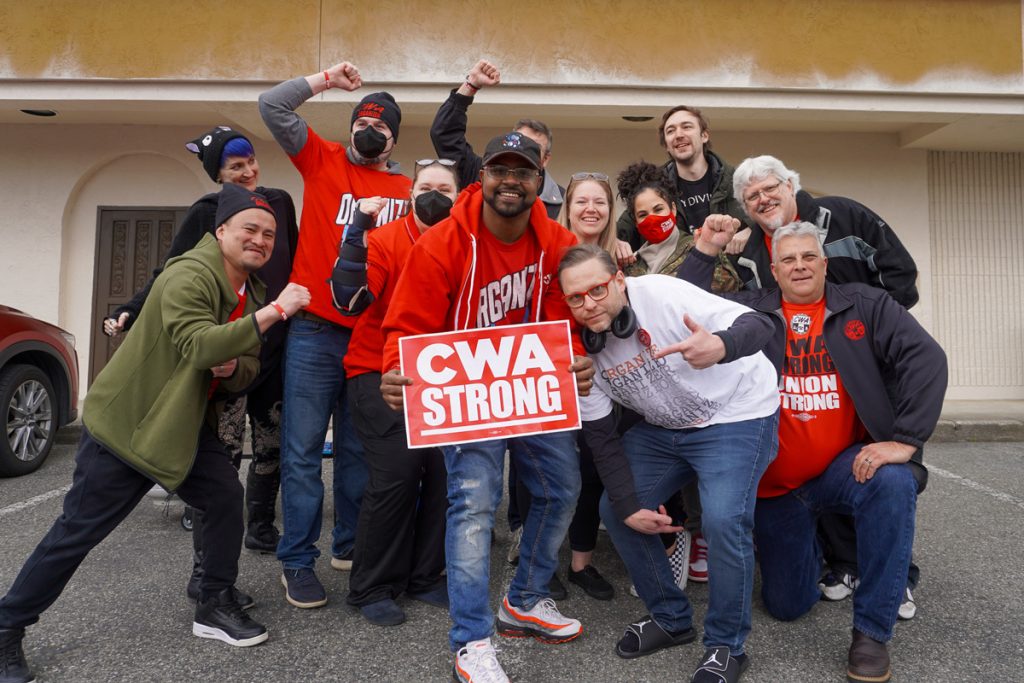 "I think a union is for everyone, whether you're blue-collar white-collar—whatever you want to call it," Collin Hull said. "I believe in that because us, as workers, we have the power to be able to hold these companies accountable, and we do so by collective action. And I want to empower people to know that they have rights at work and can use those rights to be able to come collectively to negotiate better standards and better wages at work and just overall a better work environment so that they can support their families, and just be able to live."