Exciting projects in development at Marysville's Public Works Department
MARYSVILLE, Wash., June 20, 2022 – With 70,000 residents and counting, Marysville is the second largest city in Snohomish County. Integral to the City's development is its Public Works Department, led by Jeffrey Laycock (seen in featured image). Having been with Marysville for 15 years, Public Works Director Laycock has seen the City transform. Today, he oversees a team of over 120 employees and is dedicated to making Marysville an even better place to live, work, and play.
"There's a lot going on up here in the north and Snohomish County, so it's exciting to see all the growth taking place and how Marysville is really vetting that growth and making sure we're developing our areas to really make Marysville a great place," says Director Laycock.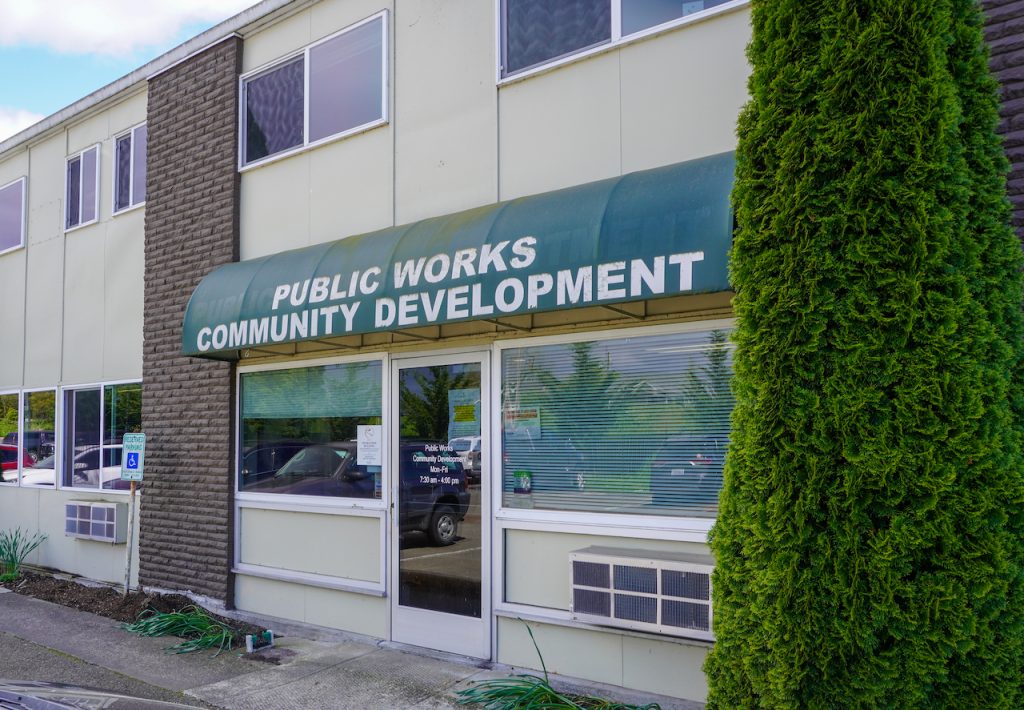 Marysville is a full-service city, meaning its Public Works Department oversees all the infrastructure that serves citizens' basic needs. Like public works departments in other cities, Marysville's oversees traffic infrastructure, road maintenance, municipal buildings, and even parks. But Marysville is one of the few in the county that collects solid waste and provides water and sewer services. Smaller cities, like Lake Stevens and Mukilteo, rely on districts for such services.
The City's Public Works Department's regular operations also include everything from maintaining and constructing sewer, water lines, and storm drain systems to maintaining traffic signals and street signs; and providing mapping services and routine upkeep of City vehicles and facilities. Of course, the list goes on. Needless to say, there's always something for the department to do.
"There's a lot of everything that we do," says Laycock. "Providing those types of services to our businesses and our residential community makes it an active place to work."
While Marysville has several projects in the works, Laycock highlights the Strawberry Fields improvements, the widening of the State Avenue Corridor, and the Downtown Stormwater Treatment project.
Strawberry Fields improvements
On March 28th, the City of Marysville entered an interlocal agreement with Snohomish County to fund a little more than a facelift for the City's Strawberry Fields Athletic Complex, a 72-acre regional sports field facility in North Marysville, that first opened in 2005. ​​The update includes converting one of the area's natural turf soccer fields to synthetic turf and other improvements to the playground, bleachers, and trails.
The total price tag for these improvements amounts to $1.7 million (approx. $1.1m for the turf and $600k for the other upgrades). The City will be covering around $560k of the expenses, thanks to the Snohomish County Council agreeing to cover $1 million and Amazon donating another $140k to the project.
"Our public works department also includes engineering, so our engineering staff work on these types of projects which will include turfing that field," Laycock explains. "So we oversee, in public works with our engineering department, the overall design of that project and oversee the construction."
The project is expected to be completed in Summer 2023.
Widening the State Avenue Corridor
One of the largest projects in the works right now, according to Laycock, is the widening of the State Avenue corridor between 100th St. NE and 116th St NE from a 3-lane to a 5-lane highway. It was initially expected to be completed by the end of last year but has been delayed due to the pandemic.
Even though the timeline was pushed back, Director Laycock says it's only one of a few projects that were affected by the pandemic. "For the city, we really continued our projects moving forward. There was never really too much of a slowdown other than, yes, you're in the pandemic."
Laycock says the "hiccups" that slowed the corridor project were labor shortages, supply chain issues, and COVID-19 cases among staff, but that the pandemic also meant fewer cars on the road. "So we were able to shut down a pretty significant section of our roadway and take advantage of that."
"But really where we're at now, it seems like we're busier than ever," Laycock continues. "And it's almost harder to keep up now because I still think we're dealing with some of the labor shortages supply chain issues."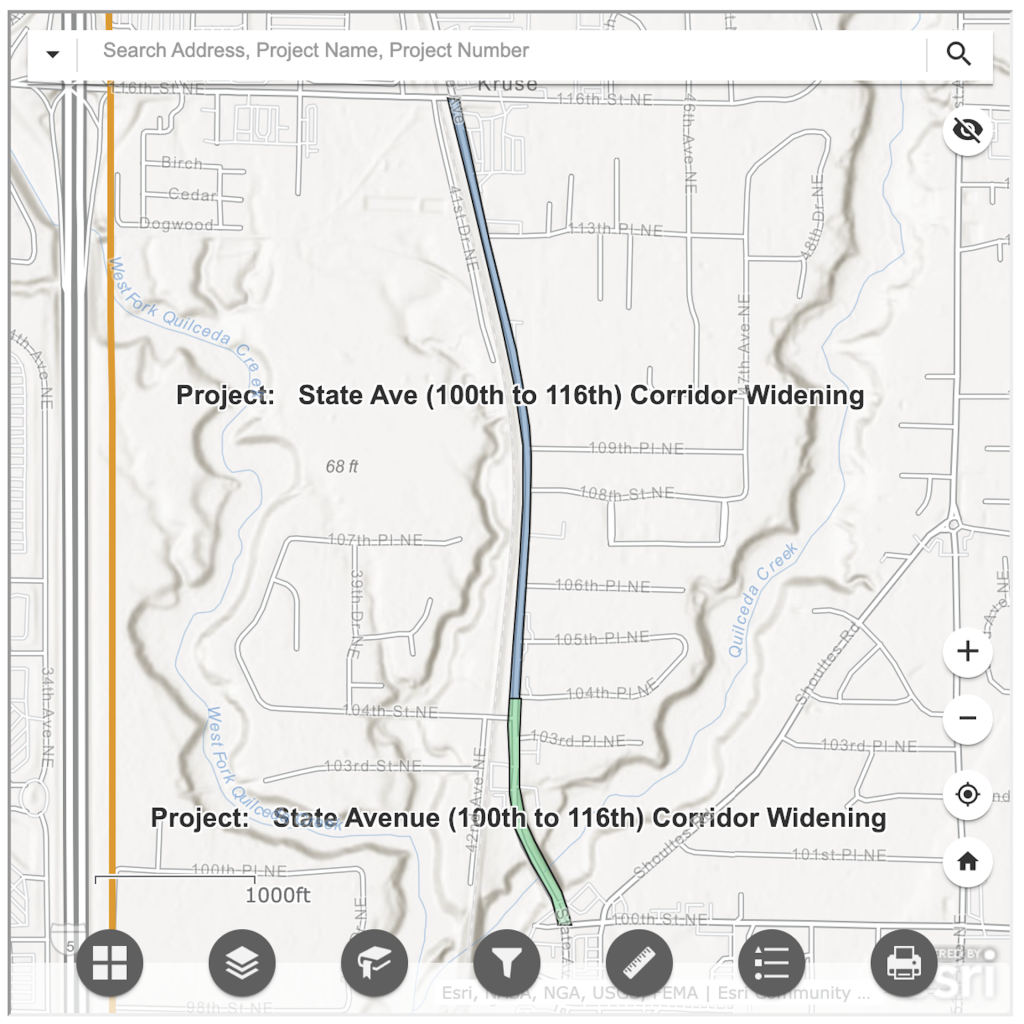 Phase one of the State Avenue project, which includes constructing a new bridge across Quilceda Creek (100th to 104th), will be complete by the end of summer and has a $12 million price tag. In 2018, the Transportation Improvement Board (TIB) awarded a $6.3 million grant for this first phase.
Phase two, which will widen State Avenue from 104th to 116th, is expected to be complete by the end of 2023 and will cost $9 million. ​​The City obtained a $4 million grant from the TIB for this second phase. During his State of the City address in February, Marysville Mayor Jon Nehring said that a "plan to go out to bid on the final segment of the State Avenue widening project" will take place this fall.
Downtown Stormwater Treatment
Looking forward to the rejuvenation of Marysville's historic Downtown, Laycock says that one of the key projects for the area is the Downtown Stormwater Treatment project. Though stormwater treatment may not sound all that exhilarating, it's simply the first step to expanding Ebey Waterfront Park.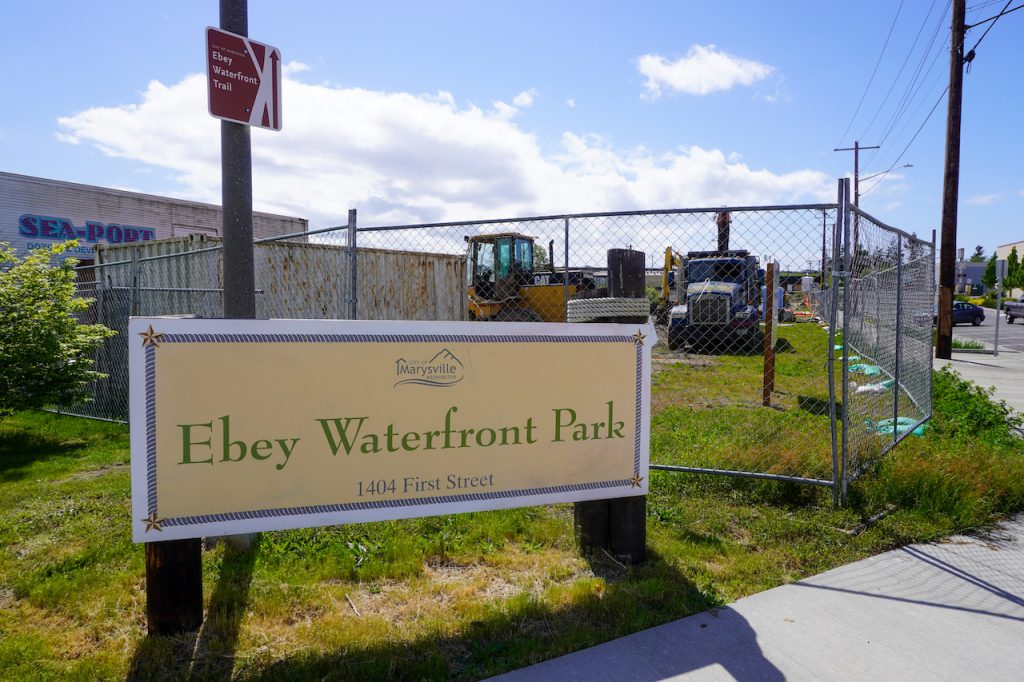 "Currently, much of the City's Downtown stormwater (460 acres) directly discharges to Ebey Slough, a tributary of the Snohomish River, and to the Puget Sound. Most of the stormwater is untreated," Laycock explains.
"This project will treat the stormwater to current requirements by the Department of Ecology (DOE). This improves water quality and the environment. The project will also provide a few additional benefits, such as community education and engagement, and it is located where the Ebey Waterfront Park is planned to expand."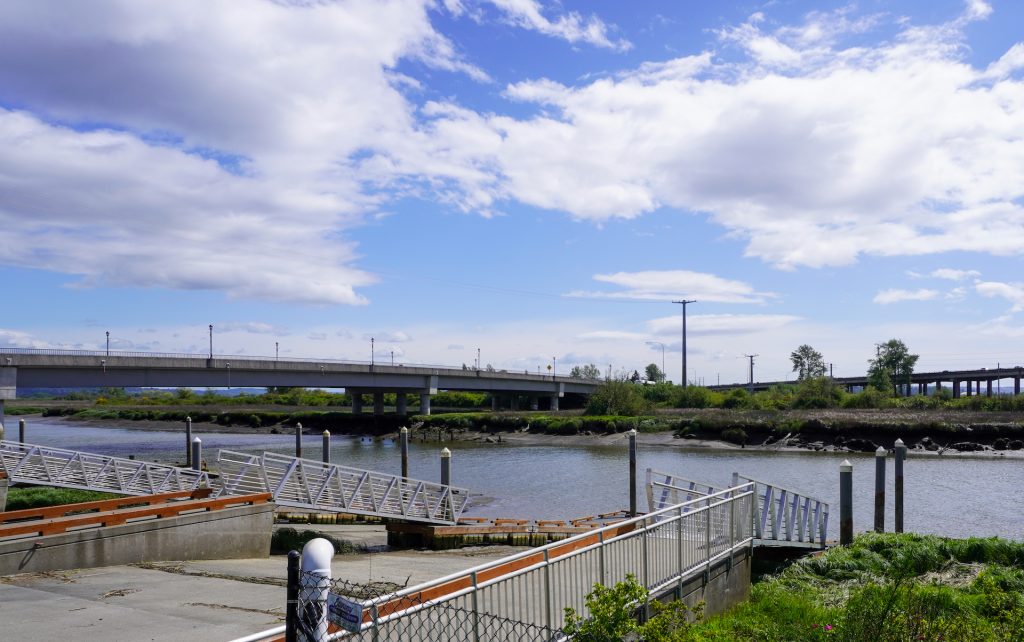 The total costs for the project amount to $11.5 million, and the City was awarded a $6.6 million grant from the DOE to fund it. "It's exciting to see a lot of these projects in downtown happening to kind of rejuvenate our historic downtown here," Laycock added.
The new Civic Center
Of course, one of the most exciting and expensive projects in Marysville has been the construction of the new Civic Center, located right by Comefored Park and Marysville's iconic water tower. The new center will house multiple city departments, including Police, Jail, Municipal Court, City Council chambers, City Hall, Community Development, and Public Works Engineering offices.
As the Marysville Police Department has already moved in, the project is nearing completion and is expected to be fully functional by the end of summer.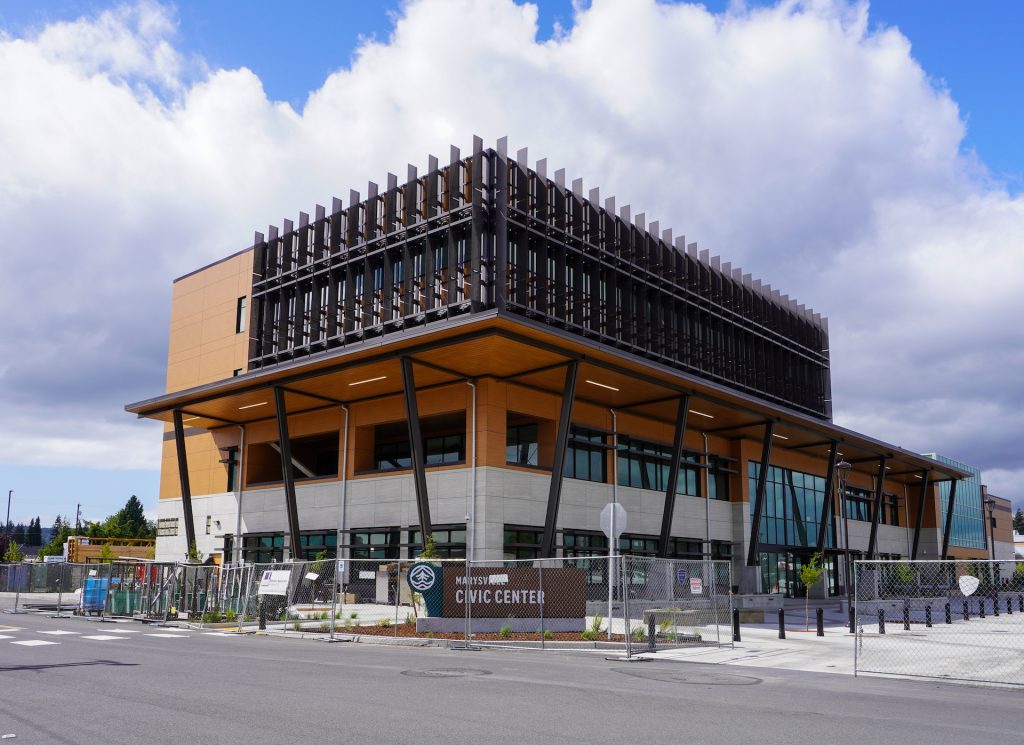 Construction of the Civic Center, however, is not a Public Works project but is overseen by the Executive Department under the direction of the City's project manager, Bryan Milligan. The first phase of the center's construction cost around $50 million, not including land acquisition. According to Milligan, the facility is intended to be a "one-stop shop for everything" city-related.
Just across from the new center, Comeford Park has been closed due to the Public Works department working to repair some piping issues and construct new public restroom facilities. A portion of the park will reopen as early as next week, though it could still be a month or so until the new restrooms are functional.
Public Works recognition
May 15 – 21 was National Public Works Week this year, a time to recognize the men and women dedicated to improving the quality of life in America's cities. Though the official week of recognition has passed, Laycock said it was "a good time really to think about know what our staff does and especially operational staff—they're making sure you're getting your water to your faucet, that it's being carried away and treated properly and you know, we're doing what's necessary for the environment."
"A lot of selflessness goes into the job," he continued. "But our guys and gals take a lot of pride in the type of work and the service that we provide to this community."
To learn more about other Public Works projects happening in Marysville, click here.