BOTHELL, Wash., June 28, 2022 – Anyone who knew Jim Corcoran would describe him as active, outgoing, and profoundly generous. In the last 25 years there was hardly a day you wouldn't catch Corcoran sponsoring sports teams at the Alderwood Boys and Girls Club, sharing his military expertise at the Northwest Veteran Museum, or sitting on the Board of Directors for the Lynnwood-Alderwood Manor Heritage Association where he met his most recent partner, Sharon Jungers.
A Memorial Service will be held 1 p.m. on July 23, at the Alderwood Boys and Girls Club on what would be Jim's 82nd birthday.
It was because of Corcoran's intensely involved, and tremendously altruistic lifestyle, that when he began slowing down his community service his friends and family knew it had to be serious. After being in-and-out of the hospital for the past six weeks, Corcoran ultimately passed away on Tuesday, June 14, due to aplastic anemia and complications with his heart. He was 81-years-old.
"He was not one to lay around and do nothing," Jungers, his partner, said. "When I would visit him in the hospital, he would joke, 'they're keeping me captive, take me home.'"
Jungers first met Corcoran in 2013 when she joined the Board of Directors at the Lynnwood-Alderwood Manor Heritage Association, where he served on the board. The two got along immediately and Corcoran asked her to go to Jewel, his hometown with him, two years later. According to Jungers, the Corcoran family embraced her immediately.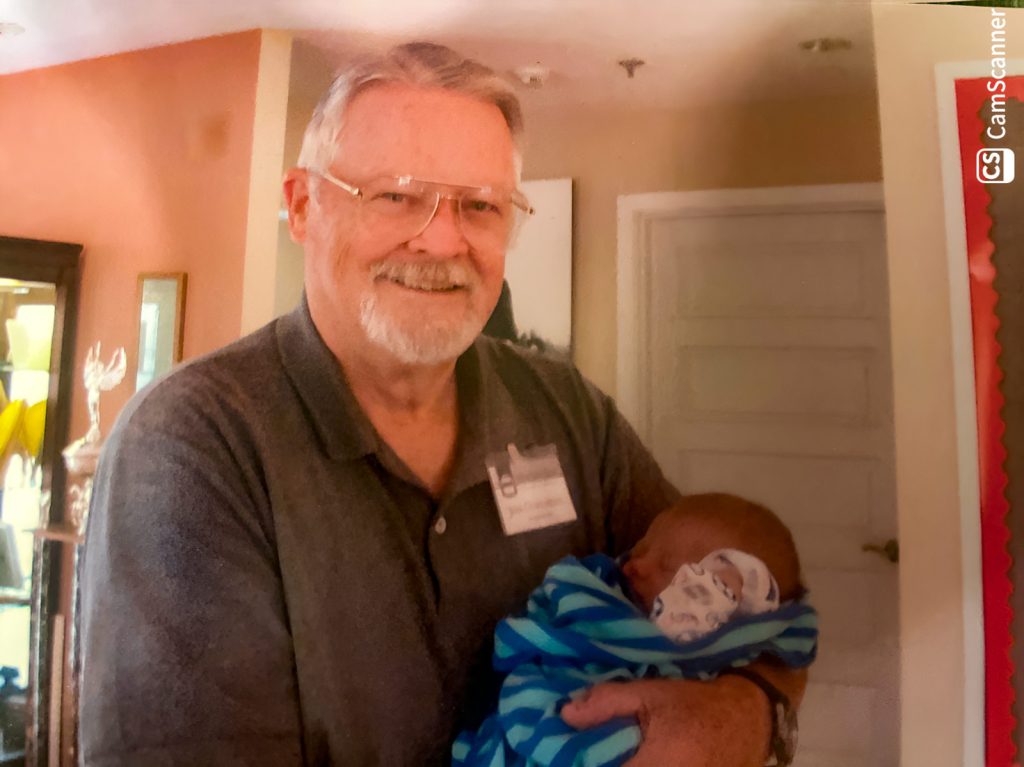 A year later Corcoran and Jungers took a trip to the East Coast, to visit Maine, the only U.S. state Corcoran had yet to visit, and then North Carolina to visit an old army buddy who served with him in Okinawa.
"I can't say enough about him," Jungers told the Lynnwood Times. "He was just an amazing man, and an amazing friend, He had an incredible sense of humor and was very, very active. I'm still in shock, and I still can't believe that he's gone."
Corcoran's fast-paced life began at a young age growing up in Jewell, Oregon where he played sports and made friends with just about everybody. Even though his life eventually would lead him to Washington State, he always returned to Jewell once a year during Memorial Day, for a family reunion. This year marked that reunion's 70th anniversary.
"He was somebody who could talk to anyone. We would be standing in line at McDonald's or we would be at the gas station, it didn't matter where we were, he could strike up a conversation with anybody. It always embarrassed me as a kid, but it really influenced me in my adult life where, now I talk to everyone and always laugh because it reminds me of him," Alex Hendrick, Jim's grandson told the Lynnwood Times.
When Corcoran was approximately five years of age, his family relocated to Raymond, Washington, where his active lifestyle brought him through drama, choir, high school student government, and playing football and running track.
After high school, Corcoran joined the U.S. Army fighting in Vietnam, where he earned a bronze star, and the Korean War quickly working his way up to a Green Beret in Special Forces. He retired from the military a Lieutenant Colonel after about 20 years of service. Corcoran remained actively involved in the Veteran community, volunteering his time at Lynnwood's Northwest Veteran's Museum where he even generously paid for the museum's utility bills.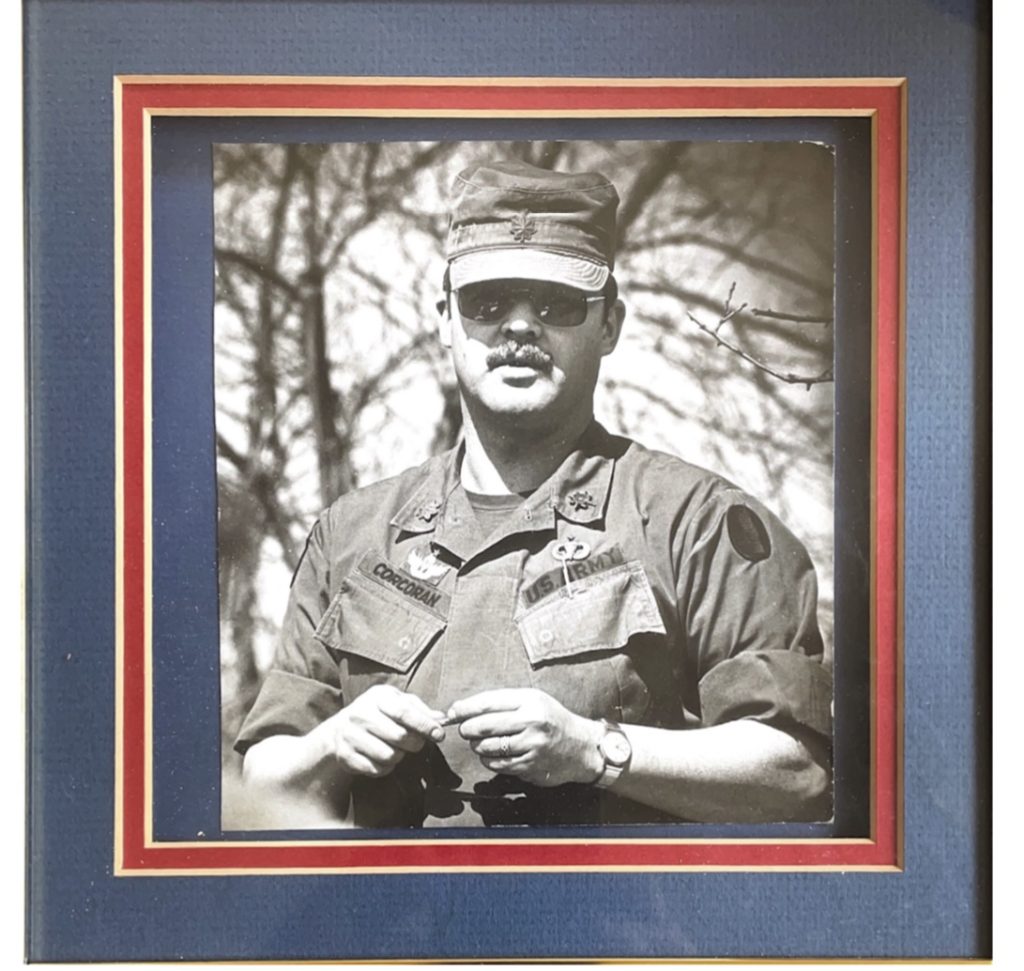 "It's really sad to have lost Jim so quickly. I had a chance to visit him at Manor Care. I called him Jim 'the Colonel' Corcoran," Myra Rintamaki, with the Veteran Museum, told the Lynnwood Times.
Corcoran was also an extremely dedicated volunteer and club supporter at the Alderwood Boys and Girls Club, where he visited almost daily, and was named Volunteer of the Year.
"One funny story…when COVID hit, we could no longer have adults, other than staff, in the building and we have to put a hold on having volunteers. This was very upsetting to Jim since he enjoyed his daily visits with staff and kids. The day he was told that we could not have people in the building, he called my office and said, 'This is Jim Corcoran and I guess you are putting me on the payroll.' We were able to work out parking lot visits instead," Marci Volmer, Boys and Girls Club South County Chief Operating Officer, told the Lynnwood Times.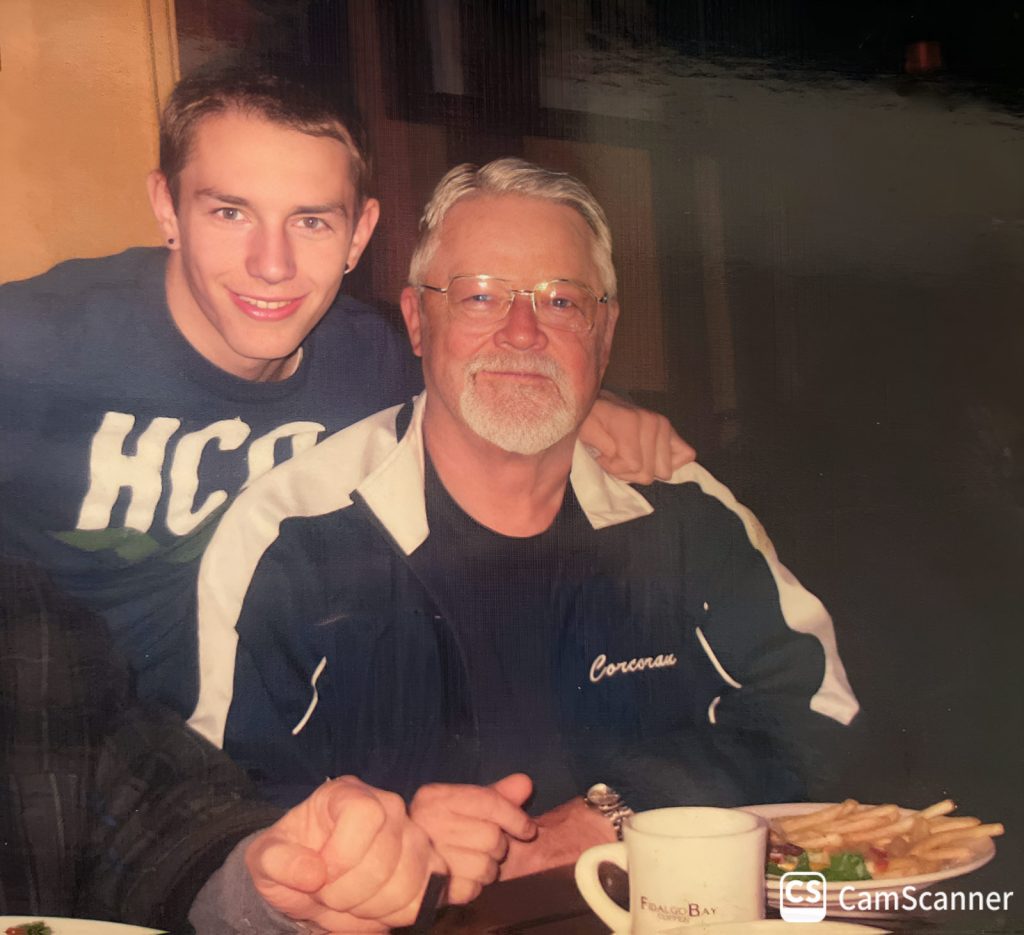 Through the Club, Corcoran sponsored around 7-10 youth sports teams for many years including the basketball teams his grandson, Alex, coaches. His sponsorship did not end with donations and his name on the jersey, however. He also became very involved with the teams he sponsored, attending every game they played to show his support.
"If we weren't [at the Boys and Girls Club] every day something was wrong," Alex Hendrick said. "Every time I was at the Boys and Girls club there was at least one team with the Corcoran name on their back."
Corcoran was extremely close to his grandson Alex as he grew up, encouraging him to be the athlete he once was. By the time Alex was walking, his grandfather had him throwing a tennis ball up in the air and trying to hit it with a bat on his 3.45-acres of land in Bothell.
"James, (Jim) Corcoran, 'The Colonel' as I referred to him, was a 'straightforward enigma,'" Tom Teigen, Director for the Snohomish County Conservation and Natural Resources Department wrote in a statement to the Lynnwood Times regarding Corcoran. "He was a Special Forces, Green Beret, Veteran Warrior, Seasoned Colonel, and truly a caring, teddy bear at heart. He loved his community and invested in our youth by sponsoring hundreds of youth sport teams and programs over many decades.
"He approached the County in 2007 and together we started a 13-year journey that would have him gifting his beautiful 3.34-acre property to the residents of Snohomish County. Because of his wisdom and foresight, we were together able to create an amazing public park space. He was my friend and collaborator, and I dearly miss him."
On September 11, 2019, Corcoran pushed his generosity and love for his community to new heights by donating this land to Snohomish County to be turned into Corcoran Memorial Park. The land at that time was valued at $1,573,800 making it one of the highest-valued land donations in Snohomish County Parks, Recreation and Tourism Department's 57-year history.
"We're not a real wealthy family and for someone to give that kind of property away is tremendously generous," Dean Corcoran, Jim's nephew and Executor of his uncle's estate, told the Lynnwood Times.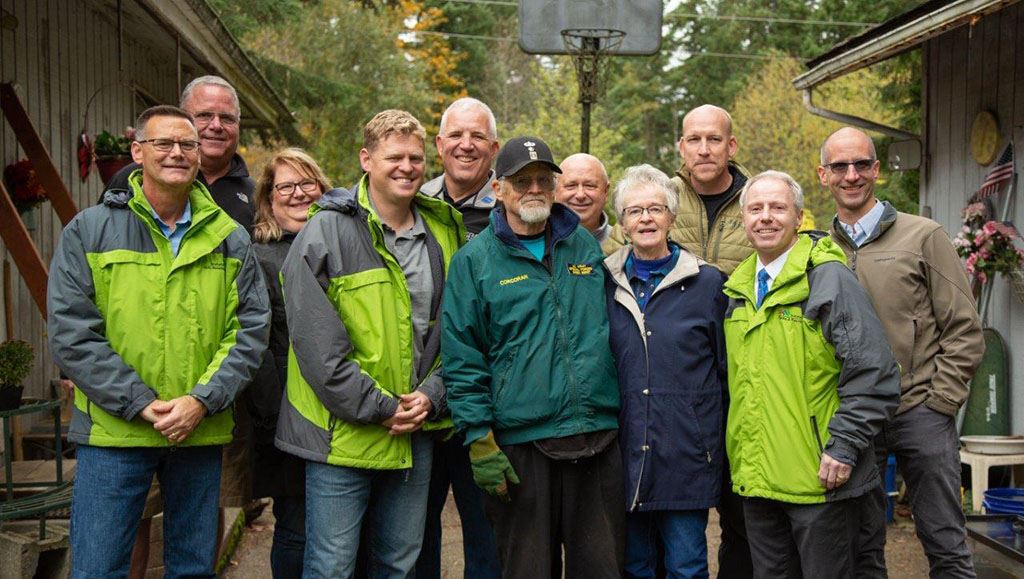 While the park may be a couple years away from opening, a playground was open just this year allowing Corcoran to see his dream at least begin to take shape. Alex informed the Lynnwood Times that his grandfather loved children and dogs so two "must haves" he had, while envisioning the park, were a playground where children could play and an off-leash dog park. The park will also feature parking and a picnic area for visitors to enjoy for generations.
"It was something he talked about my entire life…I just want it to be everything he always wanted, and to be able to walk around with my kids and tell them all the memories I had here," Alex said.
The property will be known as the Corcoran Memorial Park in memory of Mr. Corcoran's younger brother who died in 1970 shortly after serving in Vietnam with the 82nd Airborne Division, his nephew who perished in the 2014 Oso Mudslide, and the memory of other loved ones lost in a plane crash in 1960 while serving in the Navy. Most recently the park will also honor Jim Corcoran himself and his life, legacy, and extremely generous contributions to his community.
"He wanted it to be the way he wanted it to be, so that's why it took such a long time. He had a lot of requests about the park to make sure he supported the community around it," Lynnwood City Council member Shannon Sessions told the Lynnwood Times. "He was hoping Lynnwood would annex that area so it could become a Lynnwood Park but that didn't happen, so it went to the County."
Councilwoman Sessions first met Corcoran 30 years ago as a husband to her best friend's mother. In a lot of ways, she has felt like a member of Corcoran's family, attending many of the potlucks, picnics, and events he would host on his land. Councilwoman Sessions, a fellow Air Force veteran, recalled her working relationship with Corcoran over the years helping many of Lynnwood's Veteran community.
"If you were on Jim's good side you were certainly a fortunate person. If he saw that you were a hard worker and wanted to get to the next level, he would make sure that you got to do that," Sessions told the Lynnwood Times. "If you were one of the lucky ones, he cared about you very deeply."
Sessions and her husband Keith, also a close friend with Corcoran, visited him in the hospital during his final days on earth and asked if he was ready to go. Corcoran replied he was…that he had a good life, and that he was just waiting around to see his park come into fruition.
"When he was in the hospital one of the nurses read an article about Jim giving his land away and said, 'Oh my gosh Jim, you are a saint' and he said, 'No, I just want to share the wealth' and that's what he did his entire life," Sharon Jungers, Corcoran's partner, said.
During his last six to eight weeks, daily tasks became harder for Corcoran. To those who knew him best, not seeing him attend the Boys and Girls Club to root on his teams was concerning. After struggling with his health for the past couple months Jim William Corcoran passed away on Tuesday, June 14, 2022.
A Memorial Service will be held 1 p.m. on July 23, at the Alderwood Boys and Girls Club on what would be Jim's 82nd birthday.
Below is a statement from one of Jim's mentees and friends, Jeff Hill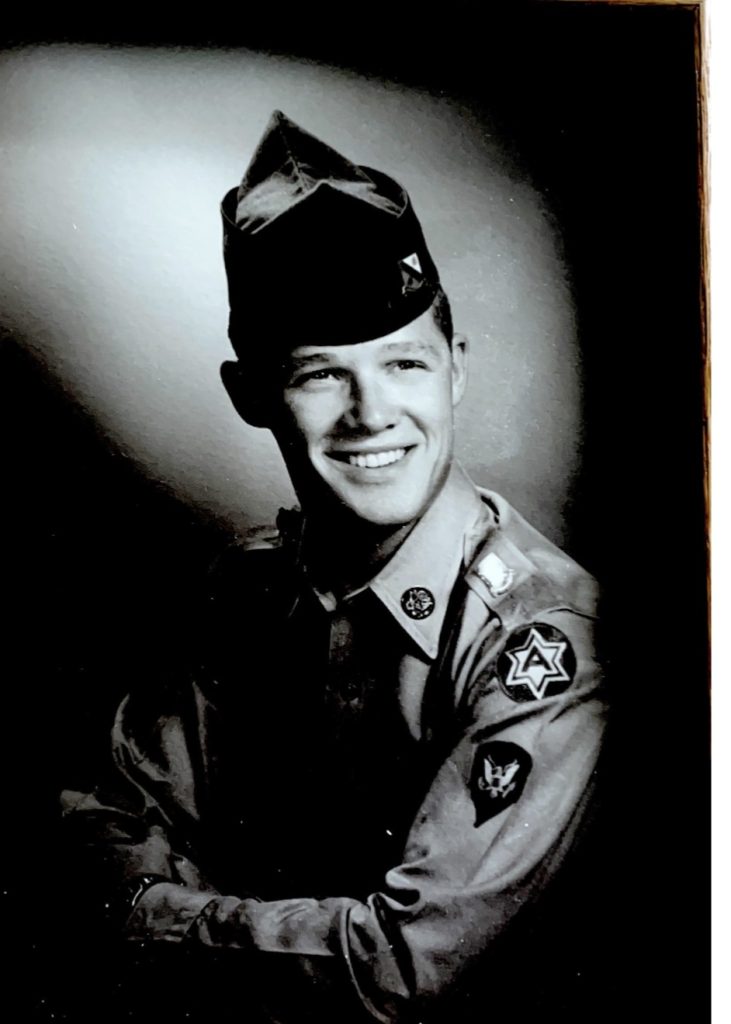 "I've known Jim Corcoran since 1971, when we met in the Army at Ft Holabird, MD. His brother, Richard, had recently been killed in an automobile accident, and I apparently resembled Richard in mannerisms and humor. I became a surrogate younger brother. Jim was 30 and I was 22. Jim and I became fast friends, but it developed into much more than that.
"We ended up in the same Special Forces unit in Okinawa, where he became not only my Commanding Officer, but my mentor. Jim was a great CO who enjoyed the confidence and respect of his Enlisted men and Officers, including his superior officers. He read people exceedingly well and was able to identify their strengths and bring out the best in them, be it fellow soldiers or the ROTC students that he had great success in recruiting in the mid-late 70's, post-Vietnam, when public opinion of the Army was at a nadir.
"I know about the ROTC students because, as it happened, Jim was sent to be an ROTC instructor at the same university that I was attending after I left the service. The students loved him.
"On graduation, Jim was adamant that I apply to the FBI, based on my background in Special Forces, languages, and Counterintelligence (which also happened to be among the many qualifications in his background). I was accepted and spent 26 years in the FBI as a Special Agent. I was assigned to offices in Detroit, San Juan, Puerto Rico, Baltimore, and Milwaukee. Jim visited me and my family at each one of those assignments – we maintained big brother – little brother relationship for 51 years.
"I have visited him in Washington several times. We reminisced a lot of the old times, but of all of his accomplishments – in his military career, a career with Boeing, in his retirement – the things that mattered most to him were the Boys and Girls Club, and the donation of his property for construction of a public park to be named, in part, after his brother, Richard.
"RIP, Jim. You were a wonderful friend, Great CO, mentor, and big brother."