Marysville man shoots sword-wielding roommate
MARYSVILLE – Marysville Police Officers responded to an altercation leading to shooting around 11:17 a.m., Tuesday, June 28, at a residential neighborhood south of 116th Street Northwest and State Avenue in Marysville.
The two males, both in their 30's, were roommates who entered a verbal argument involving the sale of property. The suspect grabbed, what was described as, a "sword" or "large knife" and slashed his roommate in the upper torso. The alleged victim then drew his concealed pistol and fired a single shot in self-defense. He was a legal gun owner.
The victim's girlfriend dialed 911 and remained on scene, along with the suspect and victim, until Officers arrived and provided immediate medical treatment to the suspect. Multiple witnesses were on scene and provided Detectives enough information that led to the arrest of the suspect.
Officers initially detained the victim and he was interviewed by Detectives while the suspect was transported to nearby Providence Medical Center in stable condition. After receiving proper medical attention, the suspect was booked into Snohomish County Jail for Assault in the 2nd Degree, Domestic Violence.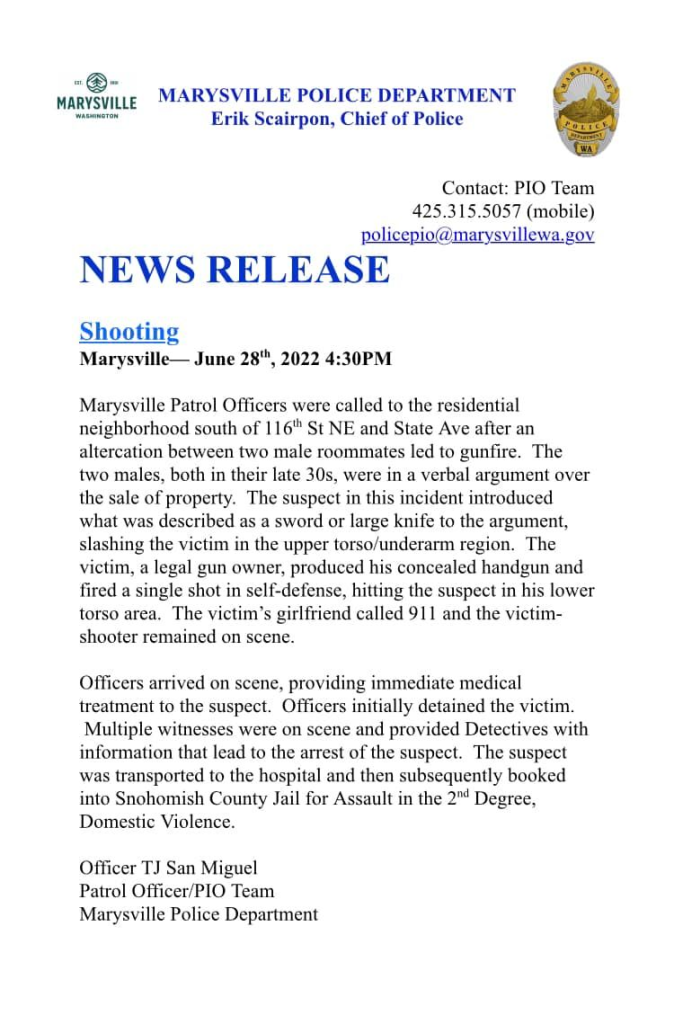 This is a developing story, please check back for updates as we gather more information.