EVERETT – During the pandemic many high school drama departments were forced to put their productions on hold, but Archbishop Murphy High School turned to feature films as a way to reach audiences remotely. One of those films, Bridgehurst Asylum for the Sane, was picked up by New Jersey-based BayView Entertainment.
Typically, the Everett-based private school performs two productions a year – a musical in the spring and a dramatic play in the fall. When Director Brent Stainer was notified by the school, two years ago, the fall play could not be conducted as a live performance due to pandemic restrictions, he began brainstorming with Program Director Carrie Wright to find alternative options.
"We didn't want a student to go through their senior year of high school and not have that theater experience — when you're in the fine arts program that's an important aspect, at least it was for me when I was in high school," Stainer told the Lynnwood Times.
The two decided they'd take a stab at cinema. It was a way they could still engage the drama department while shooting under COVID-conscious guidelines and reaching an audience without packing an auditorium.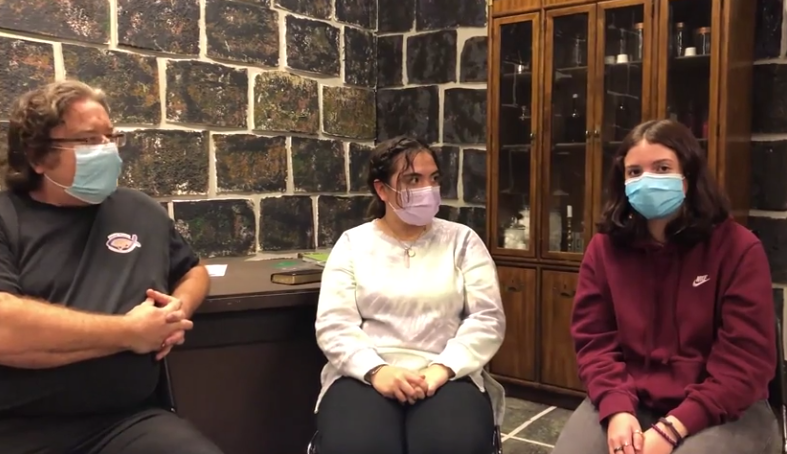 "We went into the film side of it reluctantly, quite honestly, but it was the only real option we could provide students that year and now I don't think there's any looking back," Stainer said.
The first film AMHS' fine arts Department made was Love at First Zoom, a hilarious and heartfelt story of a high school class trying to maintain normalcy during remote learning. The script was written by Julia Hawkins, Adriana Hilerio, and Brent Stainer utilizing social distancing to create a story told mostly through zoom call footage.
"Love at First Zoom was made out of the need to bring the arts back to AMHS because at the time musicals were kinda off the table because of the global pandemic. Mine and Brent's solution was to create a film that could be made under COVID protocol. After that it became this big thing for students because it was such a unique opportunity," Julia Hawkins, Co-writer of Love at First Zoom, told the Lynnwood Times.
Following the success of the department's first film, they decided to return this year to make Bridgehurst Asylum for the Sane, a thriller about a woman wrongly incarcerated in an insane asylum driven by control, manipulation, and greed.
The idea came to Stainer while working on a production of Sweeney Todd and becoming interested in women's insane asylums during its asylum scene. To research the subject further, he picked up a copy of Women of the Asylum, a series of firsthand accounts written from 1840 to 1945 by women committed to insane asylums against their will, which eventually formed the basis of Bridgehurst's story.
Co-directing and co-writing the project with Stainer was Julia Hawkins, returning after co-writing Love at First Zoom. Hawkins just graduated this year and will go on to study creative writing at Western Washington University this fall.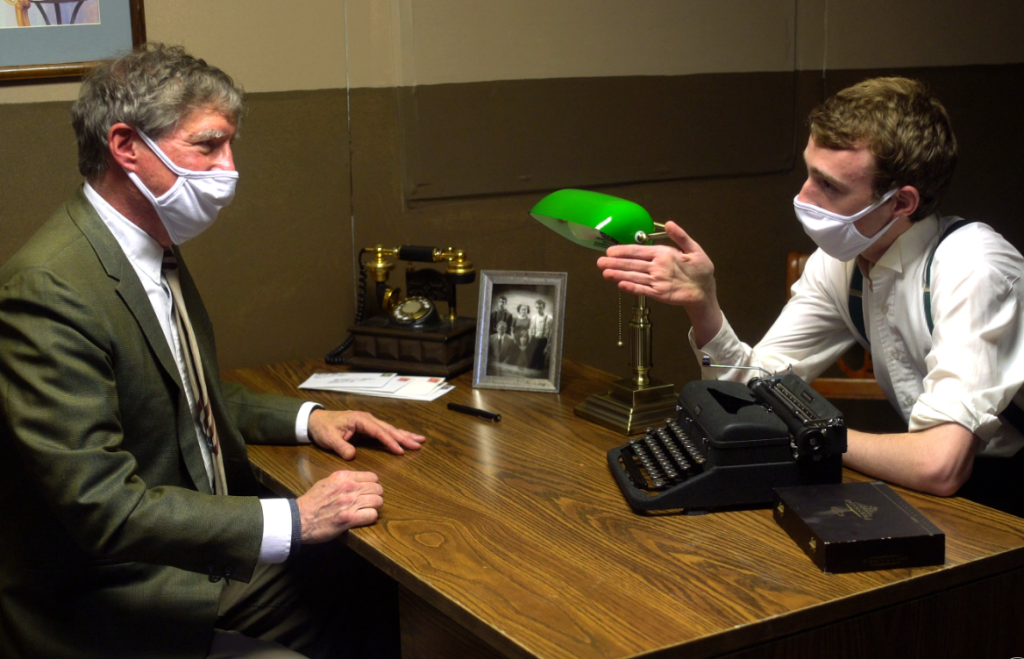 When filming for Bridgehurst began in September 2021, many COVID precautions were still being taken such as temperature checks and wearing masks when shooting indoors. To explain the actors' wearing masks from a narrative perspective, Stainer and Hawkins rewrote the story to take place during the 1918 influenza pandemic, more commonly known by the misnomer the Spanish flu.
"It actually ended up working quite well, we simply swapped one pandemic for the other," Stainer said.
Many of the scenes were also rewritten to take place outside where actors weren't required to wear masks.
"Acting on film is very different than acting on stage, in some respects, like transmitting emotion so much clearer through your face because you can get the camera right there. With a face mask you lose some of that so several of our scenes were rewritten to be outside," Stainer said.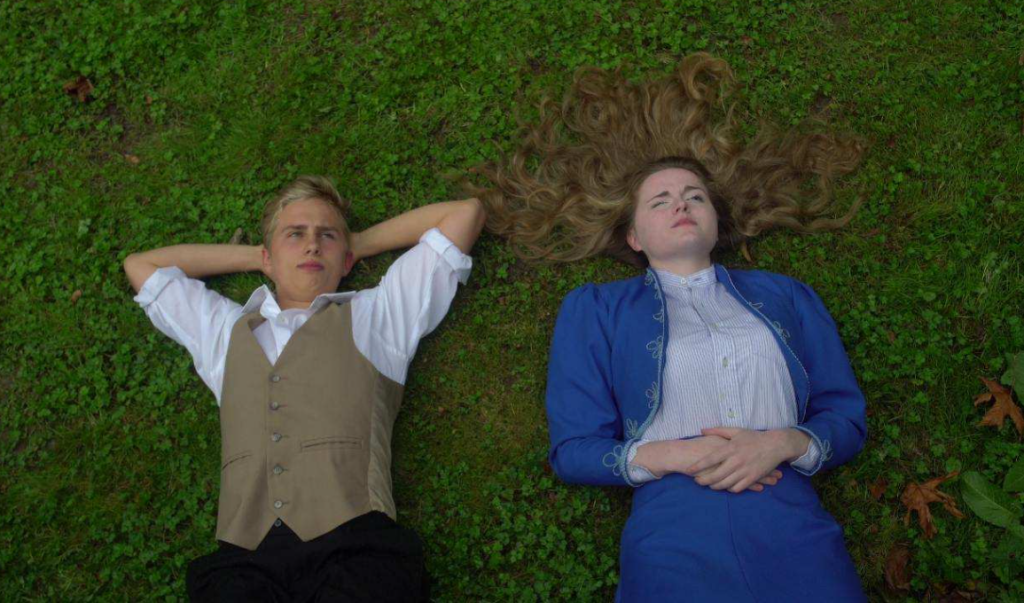 Starring in the film are students Emma Kormanyos, 17, playing the part of Holly Emerson, and Steven Locke, 18, playing the part of Harry Rogers. Co-writer and assistant director Julia Hawkins also makes an appearance as Margaret Lytte.
Kormanyos, who also designed some of the costumes, joined the cast of Bridgehurst with virtually no acting background, coming from a background as an accomplished figure skater. She drew her inspiration, for her character, from Anne of Green Gables.
Director Brent Steiner explained to the Lynnwood Times that accommodating their filming schedule with Kormanyos' skating schedule was another noticeable benefit of working with film rather than stage where actors are typically required to meet for ten to twelve weeks for rehearsals and performances. In film, the shooting schedule allows more flexibility for students like Emma, who had other demanding extracurricular commitments.
"I thought it would be fun to do acting but I never really had the chance because I was always skating. I heard people talking about the movie in choir, so I auditioned and ended up getting a pretty cool role," Kormanyos told the Lynnwood Times.
Kormanyos' co-star Locke has been acting in stage plays since the 8th grade and participated in every AMHS production, with the exception of their first film Love at First Zoom, due to complications with COVID. He drew inspiration, in preparation for his role, from a part he played in What Love Looks Like. His favorite memory of working on the project was watching it for the first time at the premier.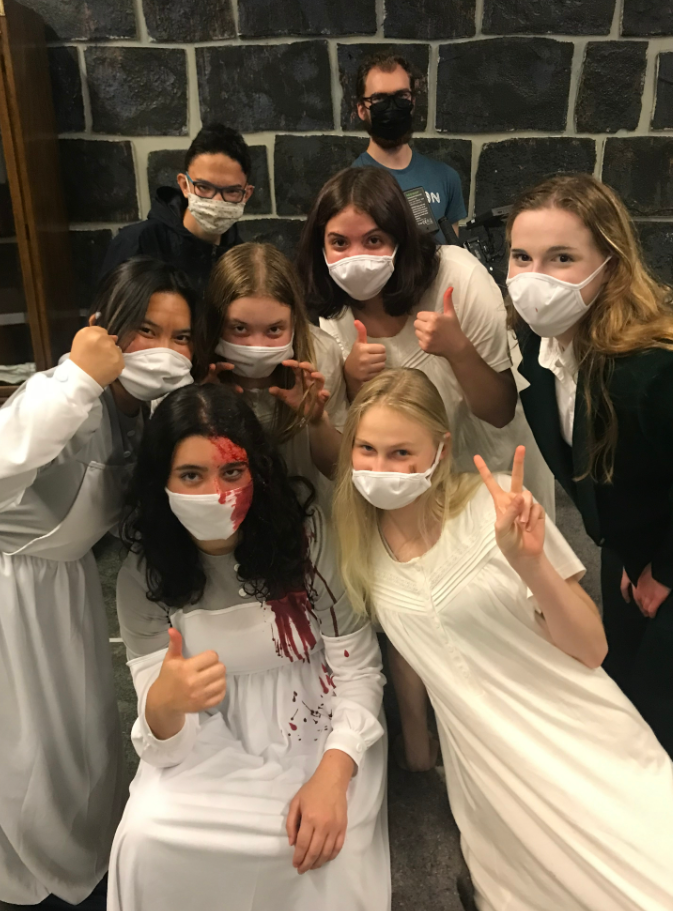 "Brent fully believes in giving students as much responsibility as they're willing to take on and I really appreciate that," Locke said.
In addition to the film being co-written, co-directed, and starred by high school students, it was also completely film scored by student Elliot Montoya, 17, who has participated in AMHS's musical programs through jazz band and choir for the last three years.
Montoya informed the Lynnwood Times that when he was approached to do the score for the film, he was told "think Pirates of the Caribbean." He did this by studying what he called "classic film" – scores from the 50's and 60's that eventually became the inspiration for the score of Bridgehurst.
"I was thinking, ok, I'm a sixteen-year-old kid with no access to an orchestra so we're going to have to work something out here," Montoya said.
Following the completion of the film, a red-carpet premier was held on April 8 at Historic Everett Theater. It also ran at Stanwood Cinemas until May 28.
After receiving some traction on its IMDB page, film broker TMA and New Jersey-based BayView Entertainment contacted Stainer to discuss distribution rights and, after striking a deal, Bridgehurst Asylum for the Sane will also be releasing to streaming services, like Amazon and Hulu, and DVD at a yet-to-be-determined date.
"I'm very much a theater purist but film has done things I wasn't expecting," Stainer told the Lynnwood Times. "One thing about film is we have a product years later that's just as viable as when we first did it. In stage we can record a live show but it's still just a recording that doesn't carry the weight of that life show. In film years later it's going to be just as good of a performance as it was when we first made it."