Archbishop Murphy newest film 'Varsity Squad' premiers this Friday
EVERETT, Wash., January 30, 2023—The Archbishop Murphy High School (AMHS) Fine Arts Department's latest feature film, Varsity Squad, premiers at the PUD Theater this Friday, February 3 with an additional screening Saturday, February 4. Tickets for the PUD showings can be purchased by clicking here.
The film follows a group of undercover cops who, in an attempt to break a potential racketeering ring, use a "de-age"ing device to infiltrate a local high school disguised as teens. The film stars many returning actors from the department's previous film including Steven Locke, Emily Crawford, and Emma Weller. Brent Steiner, AMHS Drama Instructor, also returns as writer and director.
Working in tremendous cooperation with the school was the Snohomish County Sheriff's Office who leant their name to the film's, fictionalized, police agency, let the crew film with their vehicles (including a helicopter), and even featured several Deputies as actors in a hand full of scenes.
The idea for the story came from Steiner's upbringing in the 1980's paired with his interest in cop shows like Brooklyn Nine-Nine. During both the writing and directing process, Steiner tried to include students as much as possible, being first and foremost a student-led project, using many of their jokes and challenging his two student directors to put together a crew, run sound, and even direct entire scenes themselves. The original score, additionally, was entirely written and composed by students in the AMHS Music Department.
Steven Locke, AMHS Senior, plays the role of Detective Dylan Rath, one of the five lead detectives, while aiding Steiner as First Assistant Director. Locke described his character as the "jokester" of the group while "still getting things done" adding that his role in Bridgehurst Asylum of the Sane, which was his first time acting for film, was very much a learning process he then used for his role in Varsity.
"[Working on Varsity Squad] kind of ruined movies for me because now when I watch them I watch them from a director's point of view, rather than a viewers, so it's a little harder to get immersed in the story" said Locke who plans to study Physiology in college after graduating.
Acting, and directing, alongside Locke is Junior Emma Weller who plays the role of Detective Emily Parker while working as Second Assistant Director. Weller described her character as the "ditsy blond" and drew her inspiration from actors like Lucille Ball and films like the 2010 Cop-Buddy Comedy The Other Guys.
"I want to do a hundred different things before I'm thirty," said Weller when asked if she planned to continue a career in film. "It's whatever I feel like when I wake up. If I wake up and want to become an actress I'll become one, if I wake up and want to work in an office I'll work in an office."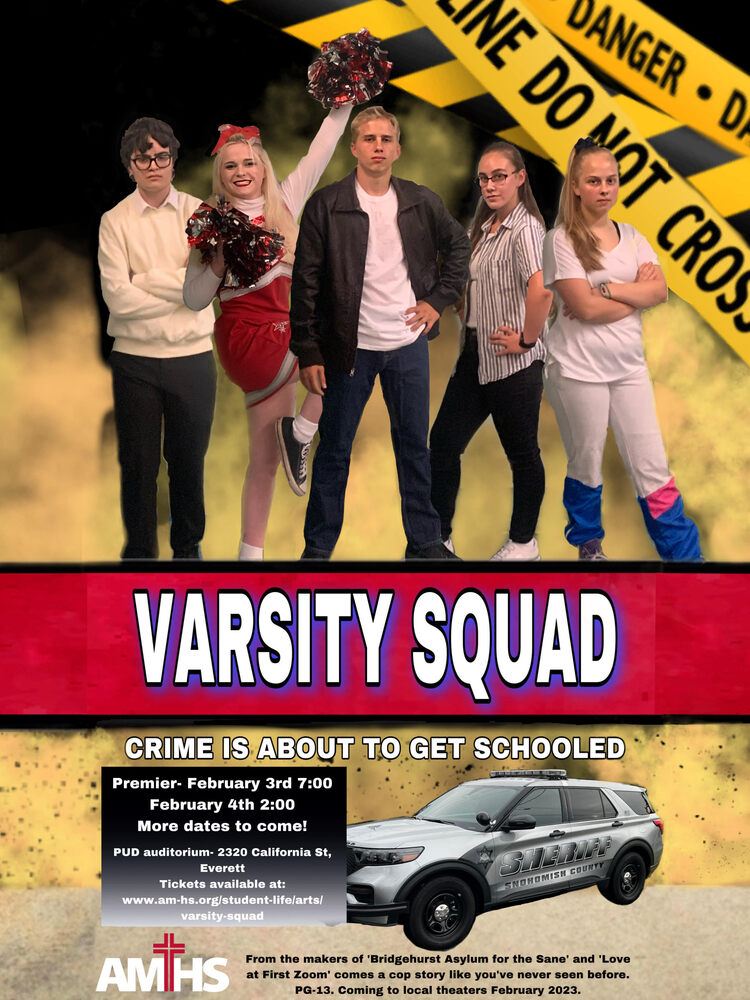 While Varsity Squad is AMHS' third feature film, following Love at First Zoom in 2021 and Bridghurst Asylum for the Sane in 2022, it is the department's first attempt at comedy: the first a romance and the previous a drama. Writing comedy, Steiner said, is more difficult than other dramas because it is difficult to gauge a joke's effectiveness while practicing it over and over, and without an immediate audience response.
"A lot of times jokes are funny because there's some unexpected twist to them but directing a comedy, there's no surprises for me [directing it]," said Steiner. "It's challenging but it's rewarding in a different way."
During the pandemic many high school drama departments were forced to put their productions on hold, but Archbishop Murphy High School turned to feature films as a way to reach audiences remotely. After the success of its first film, Love at First Zoom, the Department returned with Bridgehurst Asylum for the Sane last year which was even picked up by New Jersey-based production company, BayView Entertainment, releasing it on DVD and several streaming platforms. According to Director Brent Steiner, the same company has expressed interest in distributing Varsity Squad.
Typically, the Everett-based private school performs two productions a year – a musical in the spring and a dramatic play in the fall. When Steiner was notified by the school, three years ago, the fall play could not be conducted as a live performance due to pandemic restrictions, he began brainstorming with Program Director Carrie Wright to find alternative options.
"We didn't want a student to go through their senior year of high school and not have that theater experience — when you're in the fine arts program that's an important aspect, at least it was for me when I was in high school," Steiner told the Lynnwood Times.
The two decided they'd take a stab at cinema. It was a way they could still engage the drama department while shooting under COVID-conscious guidelines and reaching an audience without packing an auditorium.
"Love at First Zoom was made out of the need to bring the arts back to AMHS because at the time musicals were kinda off the table because of the global pandemic. Mine and Brent's solution was to create a film that could be made under COVID protocol. After that it became this big thing for students because it was such a unique opportunity," Julia Hawkins, Co-writer of Love at First Zoom, told the Lynnwood Times.
Following the success of the department's first film, they decided to return last year to make Bridgehurst Asylum for the Sane, a thriller about a woman wrongly incarcerated in an insane asylum driven by control, manipulation, and greed.
Three years and three films later, Varsity Squad is the school's biggest production yet, Steiner told the Lynnwood Times, with a fourth film on the way. The details of this next project, however, Steiner was not able to disclose sharing that the writing process is typically a four to six month process and it is still in its "earlier stages."
"I knew that once we opened that can of worms students never would want to go back, and I don't blame them for that" said Steiner, a self-proclaimed "theater purist" who admitted working with cinema has opened his eyes to new ways of storytelling unsupported by the stage.
Varsity Squad premiers at the PUD theater on Friday, February 3 at 7:00 p.m. and again on Saturday, February 4, at 2 p.m. Steiner informed the Lynnwood Times there is a "good chance" it will then go on to show at Stanwood Cinemas before returning to the PUD sometime in March.
Tickets for the PUD showings can be purchased by clicking here.
Steiner informed the Lynnwood Times he is still in the process of working with other venues for theatrical viewings as well as Bayview Entertainment for eventual streaming and DVD releases.