Congress passes Inflation Reduction Act of 2022
WASHINGTON, D.C., August 12, 2022 – Today, the U.S. House of Representatives passes the Inflation Reduction Act, just days after Vice President Kamala Harris cast the tie-breaking vote to pass the legislation in the U.S. Senate. The legislation passed on party lines with 220 yeas (all Democrats) and 207 nays (all Republicans) with four Republicans not voting. The bill now heads to the desk of President Joe Biden to be signed into law.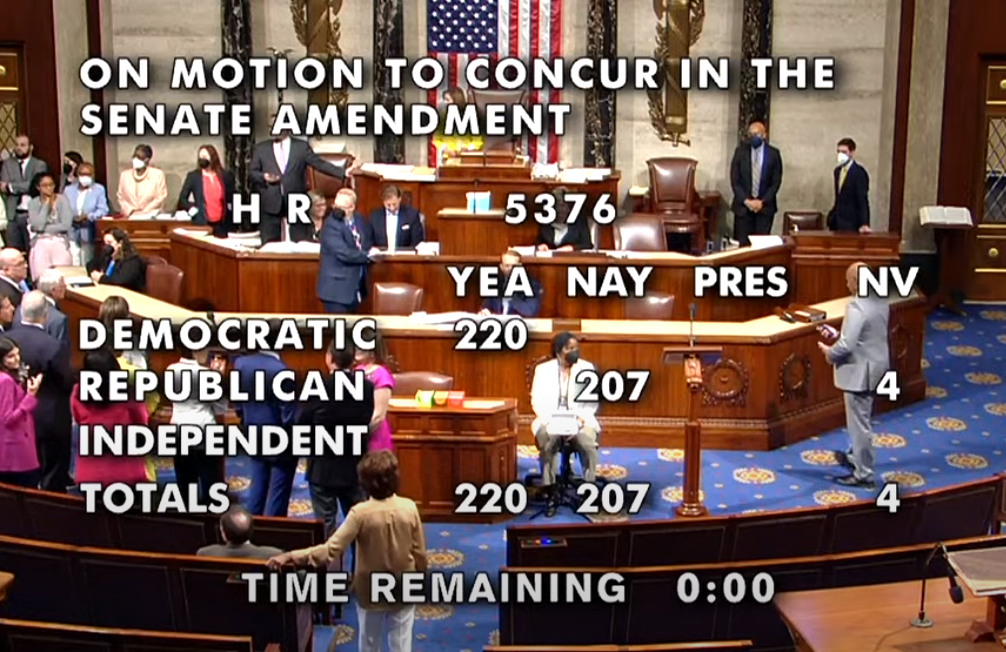 "Today is a historic day for American families, our seniors, and our economy. The Inflation Reduction Act is the culmination of a year of negotiating and the final product we are sending to President Biden will provide benefits that Americans will feel right away while making important investments in our clean energy future," said Congresswoman Suzan DelBene (WA-01). "To anyone who says that Congress cannot do big or good things anymore, we proved them wrong today, again."
"It's going to bring lower prescription drug prices. It's going to cap the cost for Medicare prescription drugs out of the pockets of seniors. It's going to make the single largest investment in fighting climate change that this country has ever seen and it is going to make the wealthiest people and the biggest corporations pay their fair share of taxes. This is a great bill. It's a great day. It's one more step to what has been a very successful Democratic administration for the first two years," said Congressman Rick Larsen (WA-02).
#InflationReductionAct = ✅ PASSED

The Inflation Reduction Act will benefit Washingtonians by making health care and prescription drugs more affordable, creating jobs, lowering energy costs, combating climate change and much more. pic.twitter.com/xb50PAXklS

— Rep. Rick Larsen (@RepRickLarsen) August 12, 2022
The Inflation Reduction Act:
Lowers prescription costs for seniors

Allows Medicare to negotiate for cheaper prescription drugs.
Caps seniors' out-of-pocket spending on prescription drugs at $2,000 a year.
Reduces the cost of insulin for Medicare beneficiaries to $35 per month.
Provides free recommended vaccines, including for COVID-19 and shingles.

Keeps health insurance affordable for millions of families

Extends Affordable Care Act insurance subsidies for an additional 3 years that have saved 13 million people an average of $800 a year on health coverage.

Makes it more affordable to purchase energy-efficient products and enables the U.S. to reduce greenhouse gas emissions by roughly 40 percent by 2030, the largest federal investment to combat climate change.

Up to $7,500 credit for purchasing new electric vehicles and up to $4,000 credit for used ones.
Up to 30% credit to install energy-saving products like heat pumps, battery storage, and solar panels.
This legislation will also:
Create an estimated 9 million good-paying jobs
Not raise taxes on families making under $400,000 a year or on small businesses.
Lower the deficit by over $300 billion.
Invest in IRS enforcement so the largest corporations and wealthiest individuals pay their fair share. The Treasury Department proactively said these resources will not increase audits on households making under $400,000 a year.