Details of seized items from Mar-a-Lago raid released
MIAMI, FL., August 12, 2022 – Today, the Property Receipt and search warrant related to the FBI raid of the Palm Beach home of President Donald J Trump, Mar-a-Lago, was unsealed by Juan Antonio "Tony" Gonzalez, U.S. Attorney for the Southern District of Florida.
The items seized were recorded as documents marked "Top Secret," "Secret," "Confidential," and "Classified/TS/SCI." It is unknown if the documents seized by the FBI raid are in fact still classified by the time of the raid and/or during the period these were in possession of the 45th President after leaving office.
Other items seized were binders of photos, a grant of clemency for Roger Jason Stone, Jr., information relating to the President of France, a Presidential Record, a handwriting note, and 26 boxes. The contents of the boxes nor the handwritten note were not disclosed on the unsealed documents.
The Property Receipt document was received and signed by President Trump's attorney, Christina Bobb at 6:19 p.m. on August 8, 2022.
The search warrant was signed by United States Magistrate Judge Bruce E. Reinhart for the Southern District of Florida on August 5 at 12:12 p.m. to be executed no later than August 19, 2022. Reinhart was appointed to the position on March 19, 2018, by a majority of district judges at that time. Magistrate judges serve eight-year renewable terms. As of 3:30 p.m. August 12, 2022, the webpage of Judge Reinhart is no longer available on the United States District Court of the Southern District Florida's website – see picture below.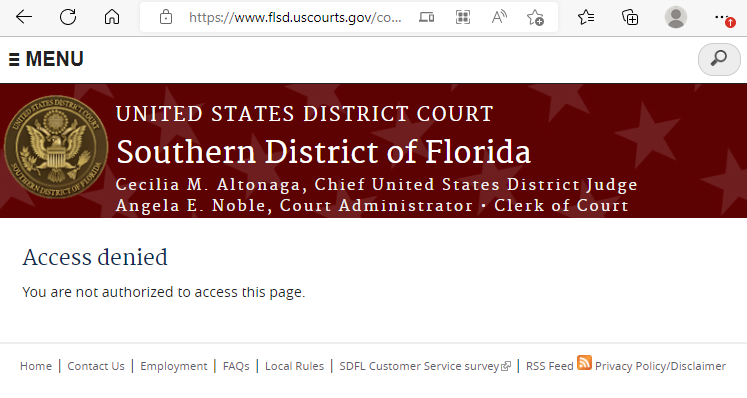 According to the warrants, the FBI had authority to search the "'45 Office,' all storage rooms, and all other rooms or areas within the premises used or available to be used by FPOTUS and his staff and in which boxes or documents could be stored, including all structures or buildings on the estate."
The search warrant of the Mar-a-Lago estate did not include areas rented, occupied during the time of the raid, private suites, and rooms occupied by third parties or 45th President staff.
The warrant was issued to seize "all physical documents and records constituting evidence, contraband, fruits of crime," as part of a federal investigation of whether the 45th President of the United States, Donald J. Trump, illegally removed classified documents from the White House upon leaving office.
If the items marked "Classified" and higher are still classified or were classified during the possession by the 45th President after he left office, according to the warrant, it would be a violation of 18 U.S.C. §§ 793, 2071, or 1519. The penalty for such violations are fines, imprisonment for not more than 20 years, or both, according to www.justia.com.