The latest Trump indictment: What you need to know
MIAMI, Fla., June 11, 2023—The 45th President of the United States, Donald J. Trump, is scheduled to appear in federal court in Miami on Tuesday, June 13, to be arraigned on 37 criminal counts, 31 of which are for allegedly violating the Espionage Act of 1917. The indictment is related to the unprecedented Federal Bureau of Investigation (FBI) raid on August 8, 2022, of Trump's Mar-a-Lago home.
"The ridiculous and baseless indictment of me by the Biden administration's weaponized Department of Injustice will go down as among the most horrific abuses of power in the history of our country," the 45th President of the United States, Donald J. Trump, told supporters at the Georgia GOP State Convention on Saturday regarding the DOJ's latest indictment against him.
According to the unsealed 49-page indictment, Trump faces 31 counts of willful retention of national defense information, each with a maximum penalty of 10 years imprisonment and fine of $250,000; one count of conspiracy to obstruct justice, one count of withholding a document or record, one count of corruptly concealing a document or record, and one count of concealing a document in a federal investigation, all with a maximum penalty of 20 years imprisonment and a fine of $250,000; one count to scheme to conceal, a maximum penalty of 5 years imprisonment and fine of $250,000; and lastly, one count of providing false statements and representations, a maximum penalty of 5 years imprisonment and a fine of $250,000 — a total of up to 400 years in prison and $9.25 million in fines if found guilty on all criminal counts.
"In the end, they're not coming after ME, they're coming after YOU—and I'm just standing in their way!" pic.twitter.com/li1SM0bjz3

— Trump War Room (@TrumpWarRoom) June 10, 2023
During his speech, Trump accused President Joe Biden of attempting to jail political opponents such as in Stalin's Russia or in Communist China. He further condemned the Department of Justice stating, "We now have two standards of justice in our country…and no criminal is more protected than Crooked Joe Biden!"
The former president is referring to one of the many allegations against Biden in pay-for-play schemes, where his son and other family members were allegedly paid large sums of money to influence US policy. The latest allegation involves a $5 million criminal bribery scheme between then-Vice President Joe Biden and a foreign national, according to an FBI whistleblower.
Trump has vowed to fight on and continue his 2024 Presidential Election bid.
"We are a nation in decline and now these radical left lunatics want to interfere with our elections by using law enforcement," Trump said. "We're not going to let it happen. This is the final battle. This is the most important election we've ever had."
Trump is expected to enter a not guilty plea at his Tuesday court appearance and then will deliver remarks at his Trump National Golf Club in Bedminster, New Jersey, at 8:15 p.m. EST later that day, according to a news release from his campaign.
The latest Trump Indictment
This is the first time in U.S. history that a former president, yet alone a leading presidential candidate, has been indicted in federal court. Back in April, the 45th President of the United States, Donald J Trump, pleaded not guilty at his arraignment hearing in Manhattan Criminal Court to 34 felony counts related to payments made to two women—$130,000 to porn actor Stormy Daniels and $150,000 to former Playboy model Karen McDougal.
If convicted in the Manhattan case, the former president could face over 100 years in prison—up to four years per charge. However, this being a Class E Felony, the least severe felony charge in New York state and with no prior criminal history, it is unlikely he would be sentenced to prison.
The 49-page indictment of Trump released on Friday, June 8, was signed by special counsel Jack Smith, who is leading the Justice Department's investigation. This latest allegation lays out a case that accuses Trump of taking classified documents to his Mar-a-Lago home after leaving office in 2021 and resisted the federal government's attempts to retrieve the classified materials.
Of the 13,000 documents stored at Mar-a-Lago in more than 80 boxes, the FBI seized only 102 documents with classified markings in Trump's office and the Storage Room.

According to the unsealed indictment, the former president stored boxes of records and documents—between January 2021 through June 2021—in Mar-a-Lago's White and Gold Ballroom, the Lake Room, and a bathroom prior to moving these boxes to the secured Storage Room. However, nowhere in the indictment that it states any of the 102 classified documents seized by the FBI raid in August of 2022 were in any of the boxes in the White and Gold Ballroom, the Lake Room, or the bathroom; nor does the indictment state if any boxes containing classified material were in the secured Storage Room prior to boxes being added from the other locations.
The centerpiece of the DOJ's case rests on a July 2021 audio-recorded meeting at Trump National Golf Club in Bedminister, New Jersey, between Trump, a writer, a publisher and two staff members.
According to CNN, the interview was with two individuals working on the autobiography of Trump's former chief of staff Mark Meadows. Trump's Communications Specialist Margo Martin also attended the meeting. The DOJ alleges that none of the attendees possessed security clearances at the time of their July interview with the former president.
According to the transcript in the indictment (see below), Trump allegedly showed and described a "plan of attack" that was prepared for him by the Department of Defense to invade a foreign county, identified as County A in the report and speculated to be Iran according to CNN. Trump then told the individuals that the plan was "highly confidential" and "secret" and that "as president I could have declassified it" but "now I can't, you know, bit this is still a secret."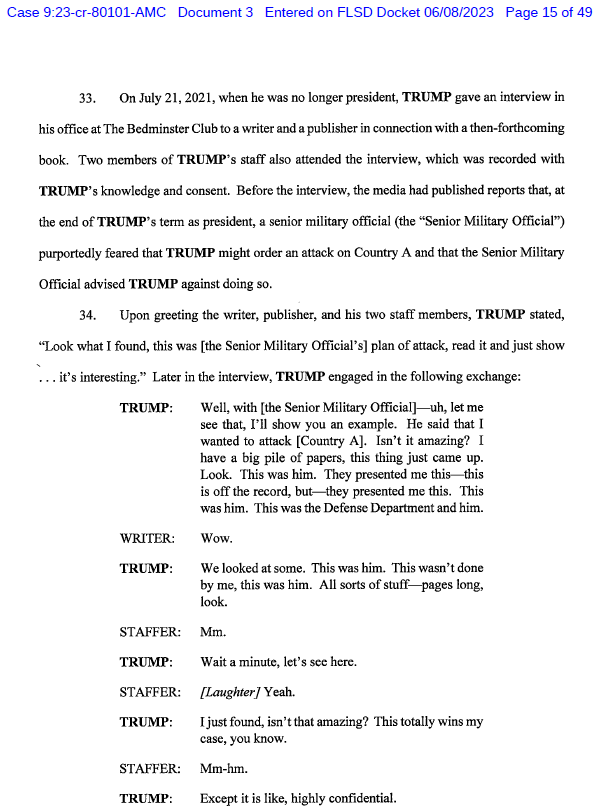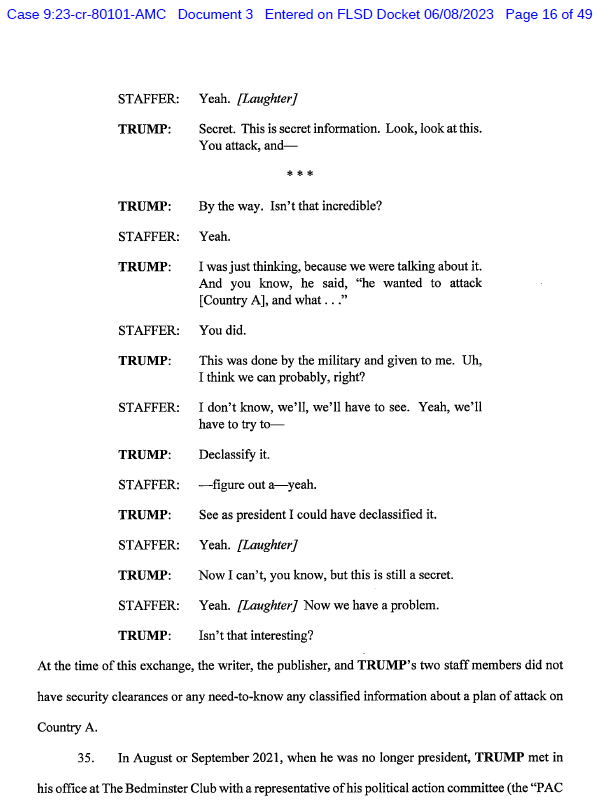 The DOJ alleges that the 45th President of the United States, Donald J Trump, showed these classified documents in violation of the Espionage Act.
What is the Espionage Act?
In a nutshell, the Espionage Act of 1917 limited dissent to war. It was enacted into law by Congress on June 15, 1917, shortly after the start of World War I.
According to intelligence.gov, "The Espionage Act broadly sought to crack down on wartime activities considered dangerous or disloyal, including attempts to acquire defense-related information with the intent to harm the United States, or acquire code and signal books, photographs, blueprints, and other such documents with the intention of passing them to America's enemies. The Act also outlawed false statements intended to interfere with military operations; attempts to incite insubordination or obstruct the recruitment of troops; and false statements promoting the success of America's enemies."
In May 2019, a federal grand jury in Virginia issued an indictment against Wikileaks founder Julian Assange that included 17 counts of violation of the Espionage Act for receiving and publishing classified documents.
What to expect when Trump appears in federal court on Tuesday
In an interview with Miami Herald federal courts reporter Jay Weaver, NPR's Ayesha Rascoe shared in her article that the 45th President of the United States, Donald J Trump, will surrender in a location not available to the public and then transported through a tunnel to the Wilkie D. Ferguson Federal Courthouse in Miami.
"He'll be booked, processed," Weaver said. "He will be electronically fingerprinted. I doubt he would be handcuffed. There would be no need for it, you know, under the circumstances. The Secret Service agents will be there with him every step of the way."
Trump is scheduled to appear at 3 p.m. EST in front of Judge Aileen Cannon, a Trump-appointed judge, who with his attorneys, will arrange bond and conditions of release. Trump is expected to enter a not guilty plea.
Unlike the Manhattan case, Weaver said, television cameras are not allowed in federal court.
"You're not going to see television cameras capturing his every move as he enters the courthouse to appear in the courtroom," Weaver said.
Weaver is doubtful that the DOJ's request of a speedy trail within 70 days after the arraignment on Tuesday is possible.
"There's going to be motions to dismiss it on the basis of selective prosecution. You prosecuted me, but you didn't prosecute, you know, Hillary Clinton or President Joe Biden for possessing, you know, classified documents, as well," Weaver told Rascoe. "There'll be issues over change of venue and moving the case from Miami to West Palm Beach. There'll be issues most significantly over what are called Classified Protection Act issues. And these are classified documents, so there will have to be a special expert assigned through the Justice Department to handle these records, almost kind of like a filter expert who then provides these documents to each side.
"Each side has to have clearances, including the defense attorney, so that can delay the process and change the course of the case in a way that, you know, could cause delays. How much? I can't say. But, you know, are we going to see a trial later this year? That would be pretty quick, you know? Is it going to spill into next year? More likely – right in the smack-dab of the presidential election season."
🚨#BREAKING: Former president Donald Trump has just released a video responding to being indicted pic.twitter.com/XaU0DNka7F

— R A W S A L E R T S (@rawsalerts) June 9, 2023