Local Eats: Barkada, a Filipino-Hawaiian restaurant experience
EDMONDS, Wash., September 21, 2022—Barkada, a Filipino-Hawaiian restaurant in Edmonds, WA, really has it all. Their menu offers a variety of dishes that are sure to satisfy anyone's craving. It's appropriately named, too, because "barkada" means "group of friends" in Filipino, so whatever your barkada's dinner plans require, this eatery has got you covered. 
The shop's ability to facilitate a good time for any barkada stems from the people who run it and their welcoming spirit.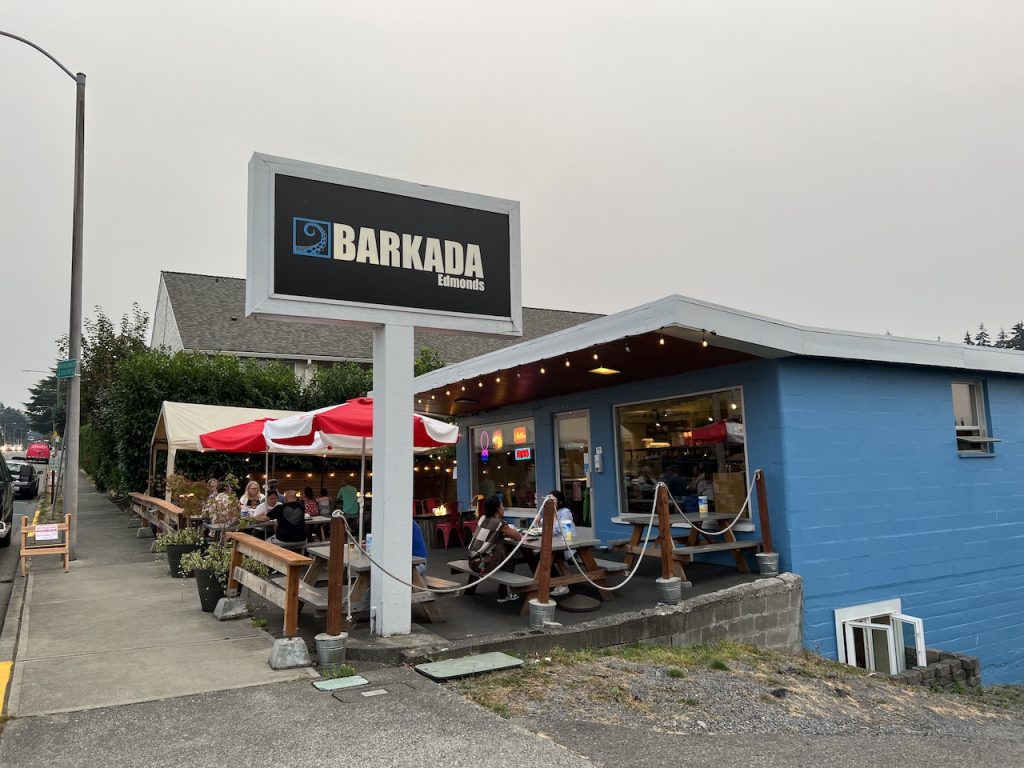 "I have a lot of family on Owahoo in Hawaii," says shop owner and chef Brian Madayag, "and [Barkada] is inspired by all of the 'mom and pop' mixed-plate shops that you go to to get your mixed plates, and we wanted to bring mixed-plates to Edmonds!"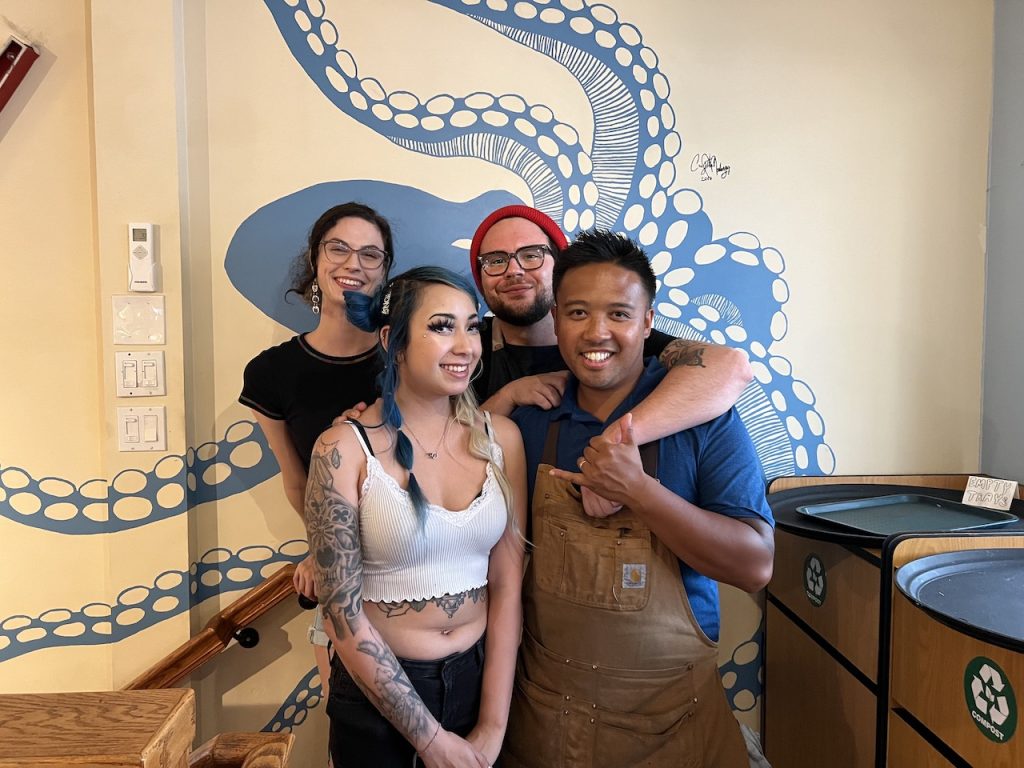 Inherent in the name, mixed plates combine several ingredients—typically including rice—into a single dish. They're also considered by some to be "the ultimate Hawaiian meal." And with the Filipino flavor profile covering everything from sweet and savory to spicy and sour, there's surely something on the menu for everyone in your barkada. (They also serve mostly gluten-free dishes and usually have at least one vegan option).
If you're looking for something new, though, Chef Mark Floresca concocts seasonal specials on a weekly basis. "I always check with my purveyors to see what's seasonal and see what's local," says Chef Floresca. In a recent week, kohlrabi was in season, so Chef Floresca whipped up a special seared ahi dish with furikake, edamame puree, ogo seaweed, and charred kohlrabi.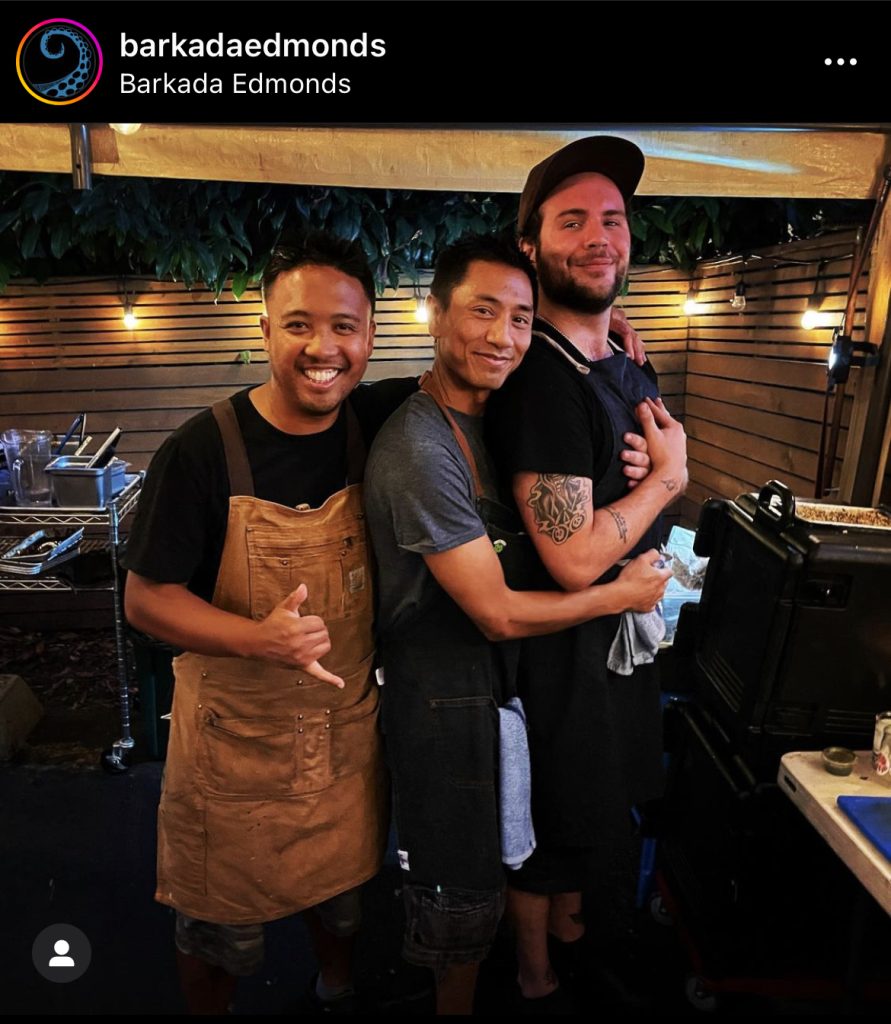 Much like an artist searching for the right color, Chef Floresca's creative process involves consulting his palette's archive of flavors. "I eat a lot. I may not look like it, but I do eat a lot. And I always try to eat different things whenever I go out to eat," he explains.
"And then, when I'm making a recipe and say, 'this needs something crunchy, something fresh, something light;' I'm like, 'what did I eat that's crunchy, light, and fresh? Kohlrabi!' So then I'll try to implement that into the recipe."
While Barkada's menu has got something for everyone, the shop has an atmosphere that's casual and would be comfortable for anyone. This isn't only because of the dining area's decor, complete with fire pits and nautical memorabilia, but because for Madayag and Floresca, Barkada isn't just a clever name, it's a goal.
"We named this place 'barkada' because we want to instill that feeling at the restaurant," says Chef Floresca. "You're coming here with your group of friends, sharing drinks, and just eating food and laughing, and just enjoying yourself here."
That friendly welcoming is present among Barkada's staff members; a trickle-down effect from Madayag and Floresca's friendship. And of course, the high morale and positive vibes among the staff are felt by the customers who dine-in or take-out. Since my first experience at the shop, whenever I read the name, I always think it works so well because it's owned and operated by a barkada.
THE FOOD: BARKADA
Musubi: seared spam, rice, nori, tare, pickled ginger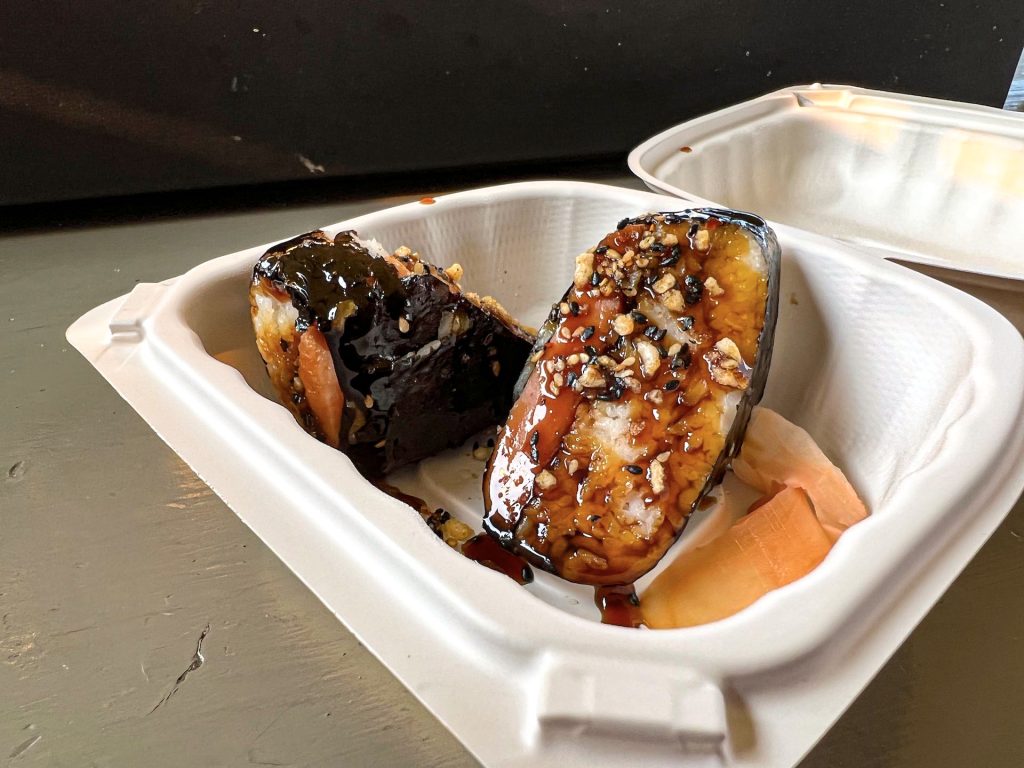 Man-oh-man! This appetizer sets the bar so high. Coming from a guy who has never liked spam, the seared spam in this musubi tasted more like a thick slice of top-quality ham. The tare sauce was supremely balanced between soy sauce's saltiness and honey's sweetness. The texture was chewy—almost gummy-like, and I loved it. I only wish I would have eaten it a little slower.
Ahi Poke: ahi tuna, krab salad, wakame, ogo seaweed, tamari, tobiko, sesame, edamame, onions, scallions, pickled ginger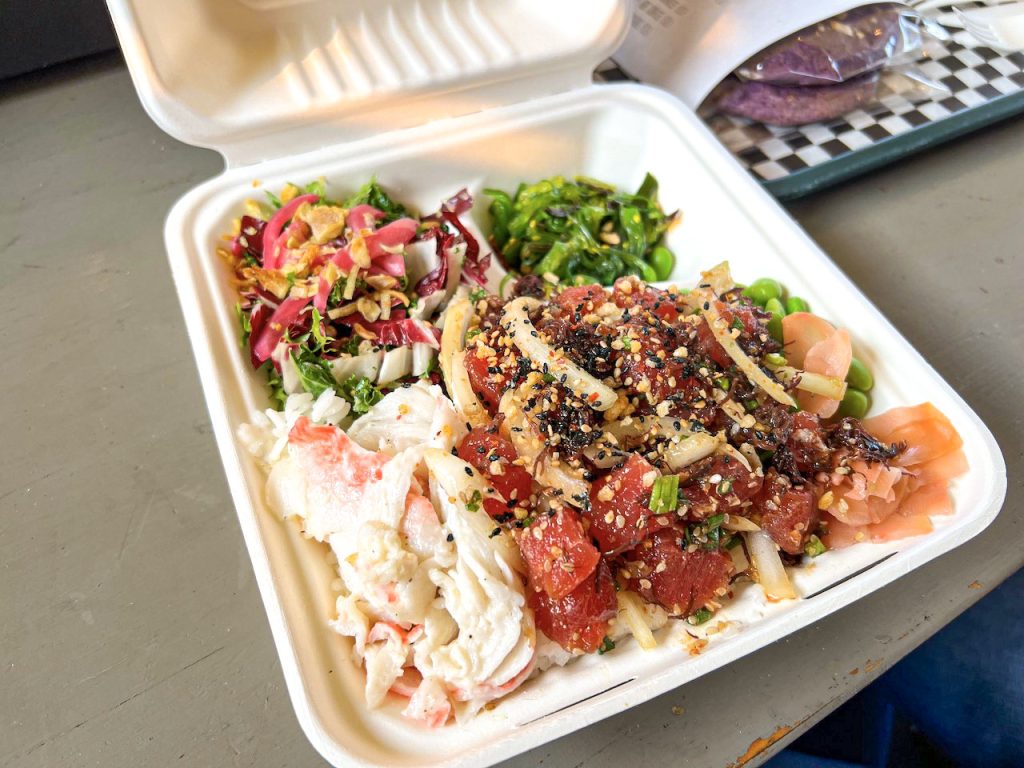 The Ahi Poke mixed-plate was super tasty. From the first bite, I could taste how fresh and rich the tuna was. The krab salad was light and complimented the texture and flavor of the rest of the dish. I ate this plate, thoroughly enjoying every bite, only to realize it had come with a side sauce I could've drizzled on top, and I think the fact that I didn't use it but didn't feel like the plate was missing anything really speaks volumes to how much flavor the Ahi Poke has. This one's for the sushi-lover in your barkada.
Pork Sisig: Sauteed pork, garlic, ginger, lemongrass, aioli, orange, chili, fresh herbs (+ sous vide egg)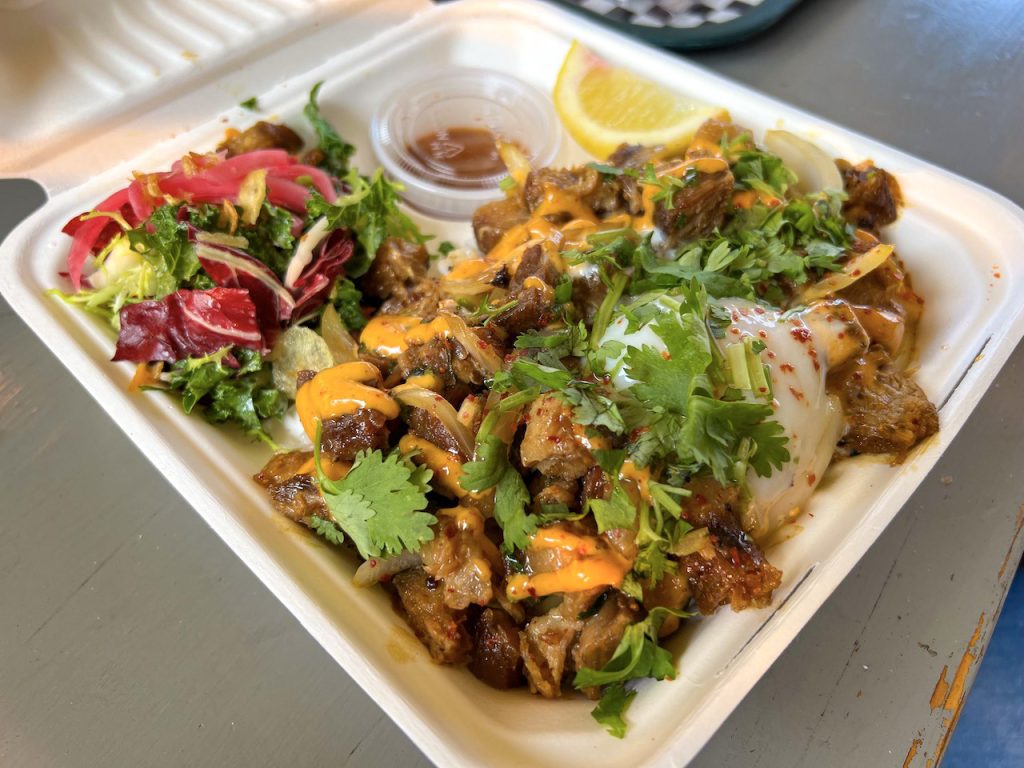 The pork sisig really checks all the boxes. It's spicy, sweet, savory, and with the squeeze of a lemon slice, sour. This dish was my personal favorite of the night. I'd describe it as hardy and "grubbable," meaning you don't have to carefully craft a bite with your fork before eating it; you can just shovel everything at once because there's no such thing as a bad bite of Barkada's Pork Sisig. The pork was super tender with a nice crisp exterior. The herbs were zesty and fresh, and I'm glad I went with the sous vide egg on top because it really added another dimension to it all. I mean, this really was an absolute stunner of a menu item. Bravo.
Ube Cookie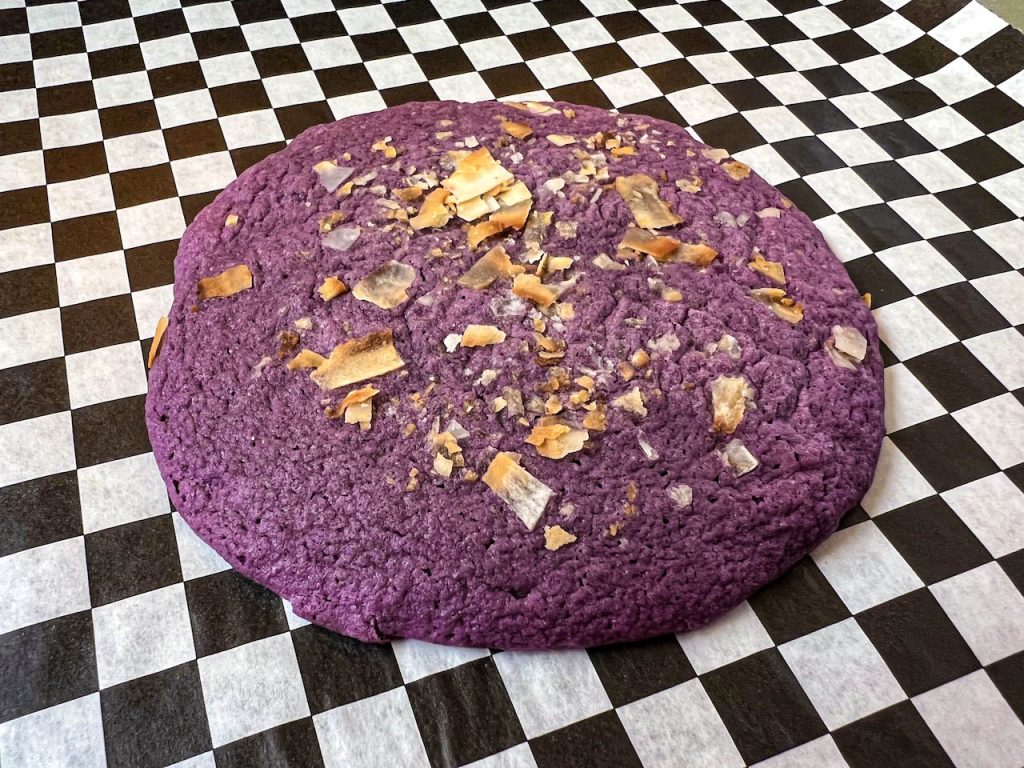 I wanted to try the ube cookie because I've seen online that they sell out fast. I'm a big fan of cookies, so my expectations were high, and I'm pleased to say I was impressed with this one. The ube flavor is present and delightful, and this cookie's sweetness is subtle compared to most. The true star of this cookie is the texture, which can be described as somewhere between a muffin top and a slice of cake. It's pillowy, chewy—a delicious way to end the night.
RATING
Barkada checks all the boxes for me, and I can't wait to explore the rest of their menu. I rate Barkada Edmonds a "Barka-DUH, I'm coming back here because that was so fricken delicious" award!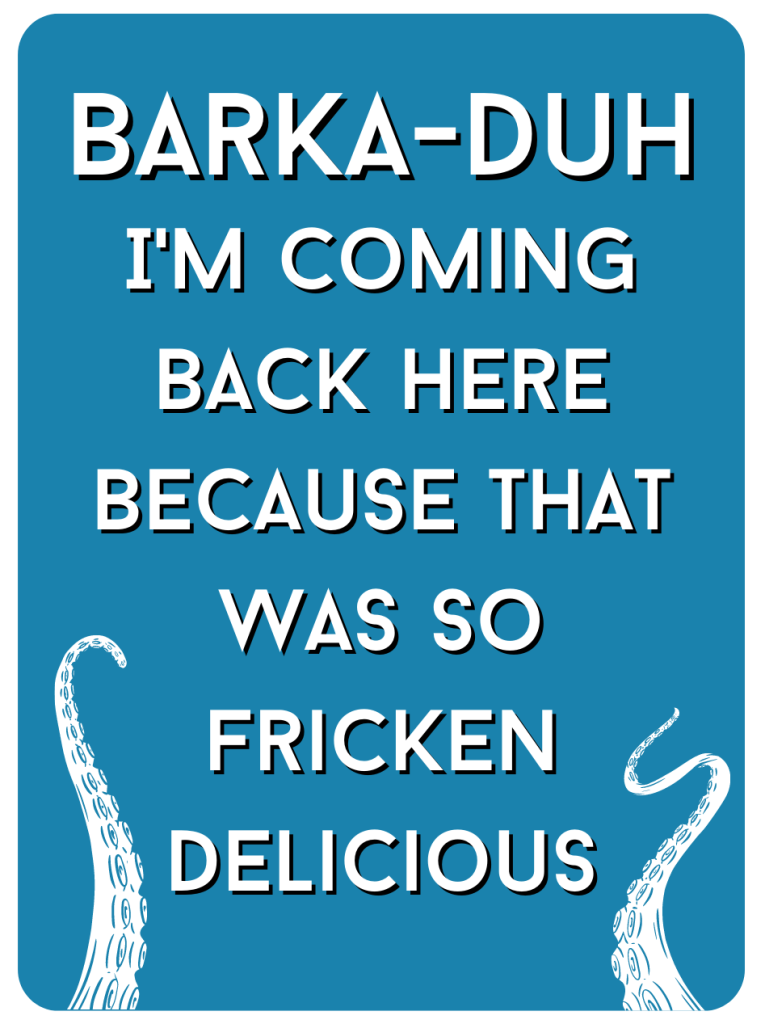 Barkada Edmonds is located at 622 5th Ave S, Edmonds, WA 98020. They are open Wednesday and Thursday from 5 – 9 p.m. and Friday – Saturday 5 – 10 p.m. You can follow them on Instagram @barkadaedmonds! For more Local Eats Spotlights, click here.