Mukilteo PD and Nic's Barbershop take a cut for prostate cancer awareness
MUKILTEO, Wash., November 13, 2022—Nic's Barbershop hosted its fourth annual Cuts with Cops event to raise awareness for prostate cancer on November 5. From 11 a.m. to 2 p.m., community members came in to get their hair cut by officers of the Mukilteo Police Department. Donuts and coffee were available for patrons.
Proceeds from the event will be donated to someone in need locally or a men's health awareness charity. Donations can also be made directly to the Prostate Cancer Research Institute at https://pcri.org/donate.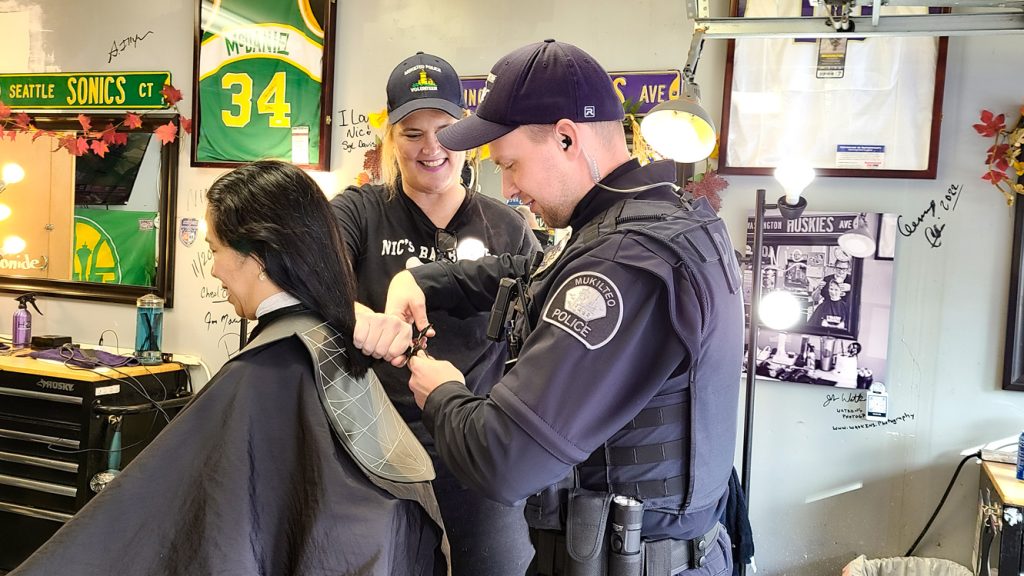 "Bringing our community together is the biggest thing I love about [Cuts with Cops]," says the shop's owner Cheri Nicolopoulos, who also goes by Nic. "I just love everybody in here and socializing, but it all comes down to men's health; we just want to bring awareness to it."
During the event, Nic's staff supervised officers as they made the first few trims for customers before passing the clippers to a professional who'd finish the job.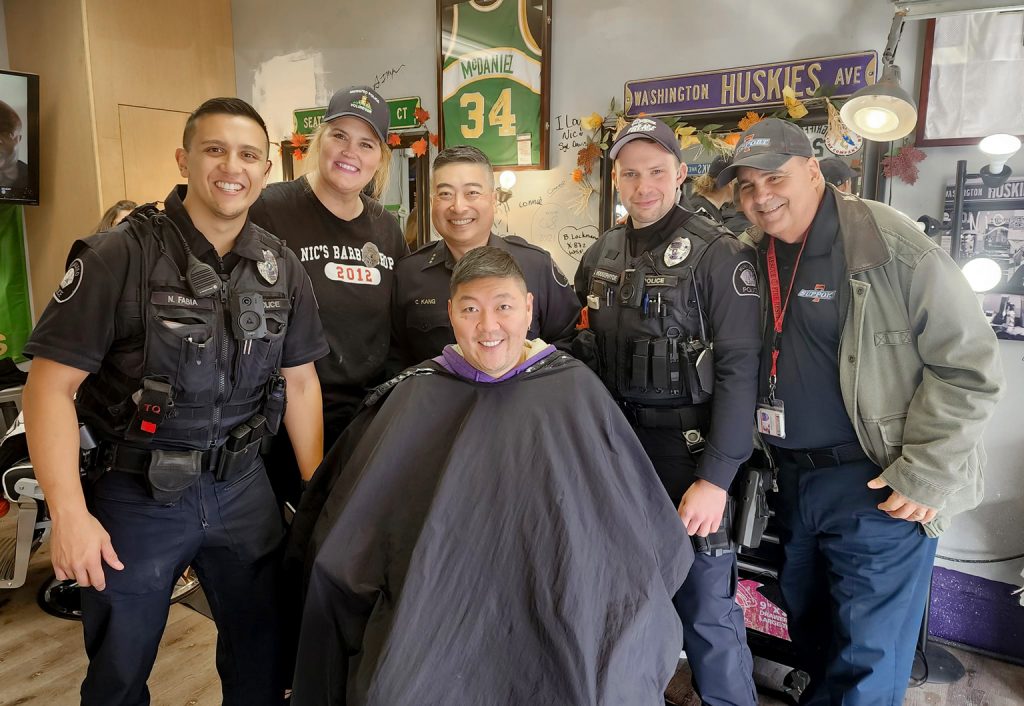 North Lynnwood resident Tony Nicolas comes the Nic's Barbershop for the $8 haircut with his wife Violete and their two kids.
"It is a great thing and a good cause," Nicolas told the Lynnwood Times. "All of the staff are really friendly and down-to-earth."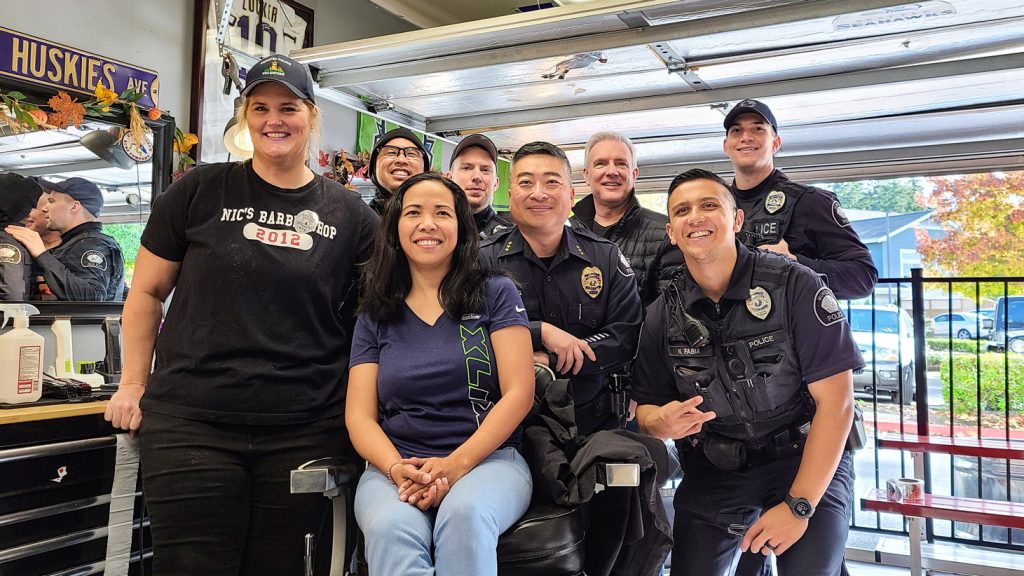 Leading the way on the shop's floor was Mukilteo Police Chief Cheol Kang, Fire Marshal Albright and Mayor Joe Marine, along with Officers Fabia, Hoogerhyde, Ponti, and Kuwana.
Nic also spoke about how the event strengthens the relationship between the MPD and the people they serve. "It just shows that they're human — that it doesn't matter what your title is, it doesn't matter what you do for a living, at the end of the day we're all a community."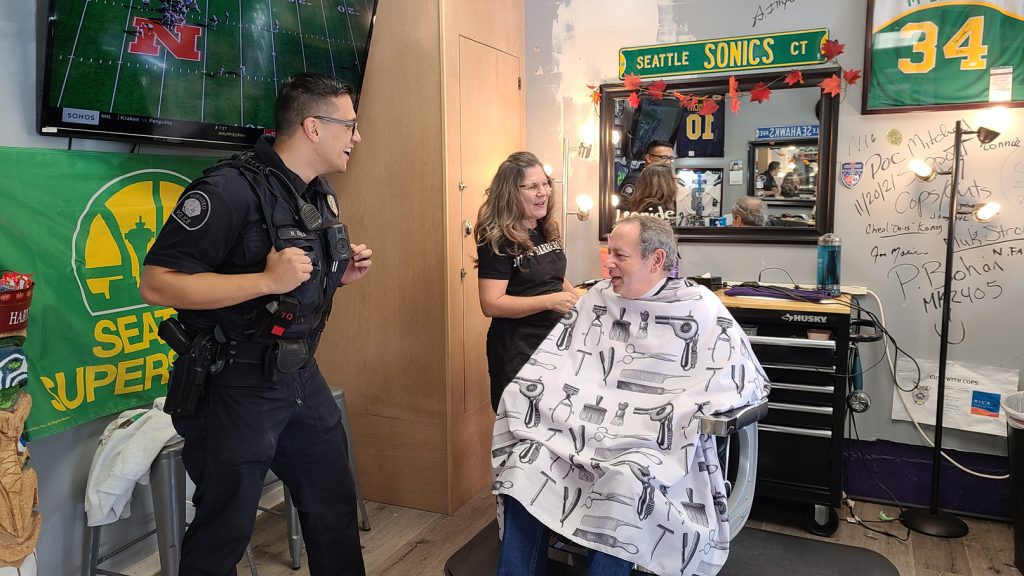 As an enthusiastic proponent of the Mukilteo Strong motto, Nic is devoted to helping her fellow citizens, especially during Men's Health Awareness Month. "Whether it's someone you know who's been affected by [prostate cancer] or someone else who has been affected by it, we're just here to bring awareness and come together and just show support and love and that's all I care about."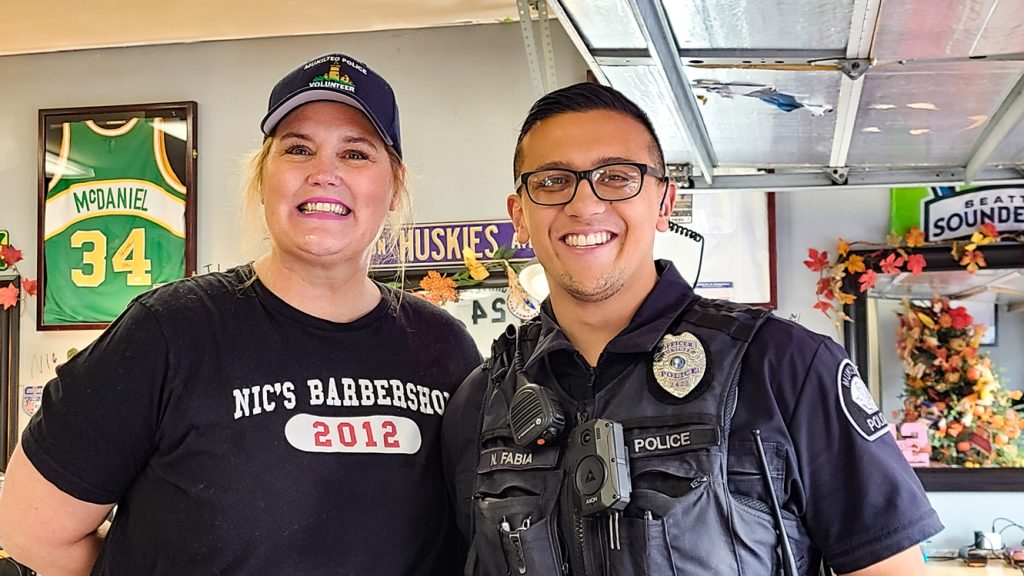 Nic's Barbershop has been serving $8 haircuts since 2012 and is located at 4704 Pointes Dr Ste 105, Mukilteo, WA 98275. Follow them on Instagram @nics_barbershop.