Mill Creek is excited to see the return of the Santa Parade on Dec. 3, 2022, at 3:30 p.m., along Main Street, hosted by the Mill Creek Town Center Association (see attached poster).  Following the parade, the City's Tree Lighting Ceremony will begin outside City Hall South (15728 Main Street) at 4:00 p.m., including a Santa visit.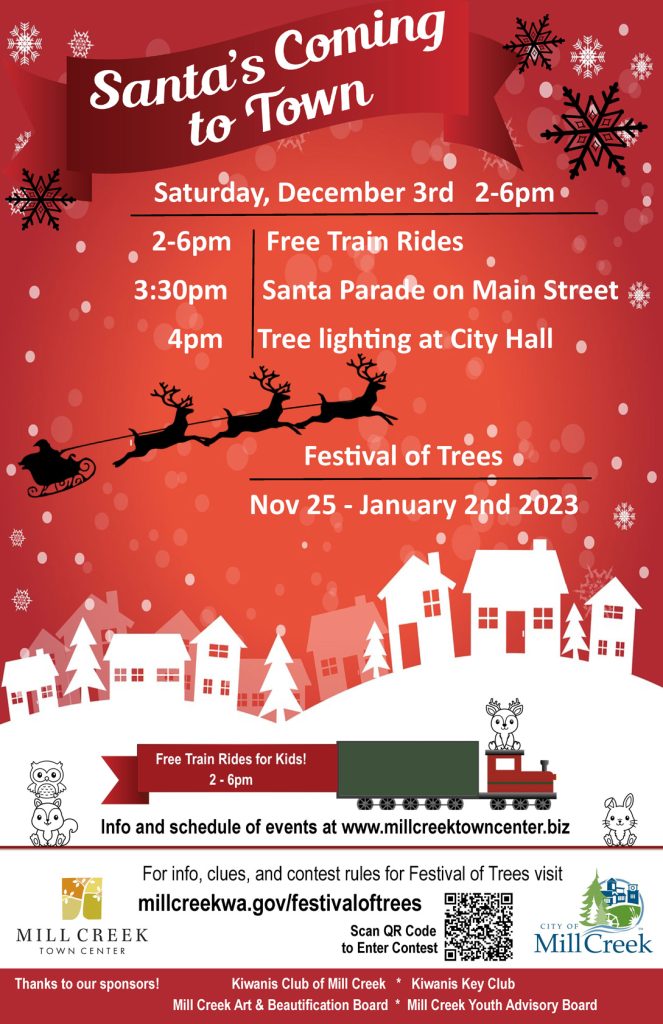 Something NEW is coming to Mill Creek's holiday lineup — the Festival of Trees. City staff partnered with the Town Center Association to form a holiday committee, including Kiwanis Club of Mill Creek and the City's Art & Beautification Board, to develop new ideas to unite the community during the holidays, and the Festival of Trees came to be. 
Take a holiday stroll along Main Street in Mill Creek Town Center between Nov. 25 and Jan. 2, and you'll see something new – windows decorated with snowy tree scenes. To make it even more fun, City staff devised a contest reminiscent of a scavenger hunt, where folks can hunt for four different woodland creatures hidden in the snowy scenes and then enter a contest to win prizes. 
Once the critters are found, participants can use the QR code on the coloring page to enter to win by recording where they found each of the four woodland creatures, Olive the Owl, Betula the Bunny, Sal the Squirrel, and Rata the Reindeer. "We thought it was fitting to name these cute creatures after types of trees," said Communications & Marketing Coordinator Jody Hawkins. "For example, Betula is in the Betulaceae family and is commonly known as a birch tree." 
To learn more about these woodland creatures, contest rules, and upcoming holiday events, visit millcreekwa.gov/festivaloftrees.