Foundation for Edmonds School District teams up with LPD
LYNNWOOD, Wash., December 7, 2022—The Lynnwood Police Department is partnering with the Edmonds School District for a Books and Snacks Drive on Monday, December 12, collecting books and food from several drop off sites around the city for Nourishing Network and the Domestic Violence Services of Snohomish County.
Those interested in donating to the upcoming Snacks and Food Holiday Drive can drop off food and books to the Lynnwood Police Department from now until Monday, December 12. Donors can pledge their donation and based on the donors' locations, LPD will create a Neighborhood Pick-Up Map and notify participants via email/social media of their route.
In addition to the upcoming Books and Snack Drive, the Foundation for Edmonds School District will be distributing Holiday meals on December 23 to ensure none of their families go hungry this Holiday season. 
The Foundation is always looking for easy open, easy access, foods. The top items they are currently looking for are food items like pasta, chips, granola bars, raisins, fruit bars, fruit cups, and peanut butter.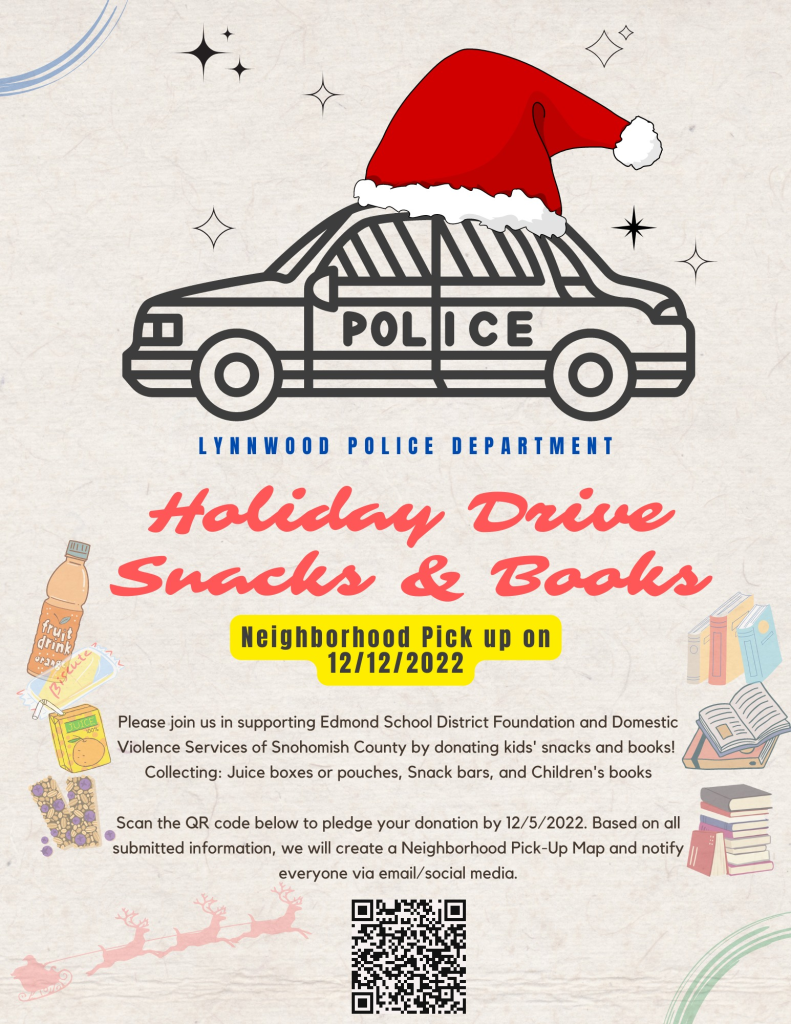 The Foundation for Edmonds School District has been working with the city of Lynnwood for the last nine years partnering in efforts that include the Summer Meals Program, the Celebrate Schools 5k event, and food drives for the Nourishing Network to name a few. Additionally, the Foundation has held a relationship with the Lynnwood Police Department in a number of ways through their joint efforts to helping their community's homeless and food insecure families as well as hosting events including Cop and Clergy and National Night Out.
The Snacks and Book Drive, specifically, is a fairly new program that originated from Lynnwood PD Deputy Chief Cole Langdon, Thame Fuller, Nourishing Network Program Director, and Marielle Harrington, Healthy Communities Coordinator for the City of Lynnwood, banding together to form food drives around the city in behalf of the ESD Foundation and its Nourishing Network program. The upcoming Holiday drive, in partnership with the Lynnwood PD, however, was orchestrated by Crime Prevention Volunteer Coordinator Nic Li.
The Nourishing Network program was founded in 2013 at the request, and in partnership, with the Edmonds School District in order to "fill in the gaps where there are gaps in student resources," Deborah Brandi, Executive Director for the Foundation of Edmonds School District, told the Lynnwood Times.
"About nine years ago the Edmonds School District came to the Foundation and asked if we would be a partner in developing a systemic solution to feed our homeless kids, and our food insecure kids, and we said absolutely because we recognized that if kids are hungry they can't be ready to learn and that's their top job," Brandi said.
Brandi has held her role as Executive Director at the Foundation since 2012, coming from a background in business and finance. After returning to school, obtaining certification in Non-Profit Management and Executive Leadership from the University of Washington, she sat on the Executive Board of Leadership Snohomish County of six years before tossing her hat in the ring for Executive Director at the Foundation. Since joining she helped increase revenues from $40,000 with one program to over a million dollar foundation with 21 programs.
"I love the work that we do. I love the impact that we're having with students and families," Brandi said. "We're really changing people's lives and we're able to do that through our generous community leading the work that we're doing and knowing that when they're making a donation to the Foundation it's changing lives."
The Lynnwood Times reached out to Nourishing Network volunteer Teri Minaker to get a "day in the life" of what it means to donate your time to the program's cause. Minaker was drawn to the work she does believing that "no child deserves to go hungry", a belief that drives her commitment to her role, packaging and sometimes delivering meal kits to kids. Minaker, and other volunteers like her, pack about 150 meals every Tuesday evening but that number will double after the New Year she said.
Minaker loves packing meals but she also loves working at some of the various Pop-Up Pantries located at various schools in the district. Her favorite thing about volunteering her time is witnessing the impact the program has on children and their families first-hand.
"For so many people it's so hard to make ends meet in this economy," Minaker told the Lynnwood Times. "Everyone is just so grateful for the services provided by Nourishing Network."
The Nourishing Network has been busy with their commitment to serving food insecure children through providing Holiday meals, summer meals, weekend meals, and hosting Pop-Up Pantries each month. Just last year they succeeded in providing over 87,000 pounds of food to children and their families investing almost $617,000 in food. Some of its top funding partners that helped make this generous effort possible include Verdant Health Commission, the Hazel Miller Foundation, Safeco Foundation, Whitehorse Foundation, Fred Meyer/Kroger Foundation, and Puget Sound Energy Foundation.