Surveillance footage released of Sheriff's Deputy charged with retail theft
EVERETT, Wash., January 9, 2023–Jeremie Zeller, a now former Snohomish County Deputy, is facing charges of a Class B felony for organized retail theft after allegedly stealing approximately $1,000 in products from an Everett Home Depot – where he was working as a security guard via the Deputy Sheriff's Association.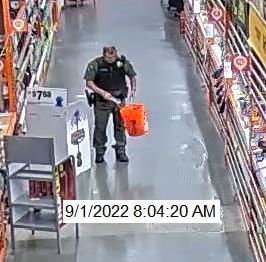 Zeller worked approximately 60 shifts at the Home Depot, from January 2022 to September 14, 2022, ranging from six to 10 hours per shift. In at least eight instances captured by surveillance he would remove products from the hardware store's shelves, place them near the registers with a note indicating they should be held for him, then walk out of the store without paying. He was wearing a Snohomish County Sheriff's uniform, using Sheriff's Office equipment, and driving a fully marked patrol car during these incidents.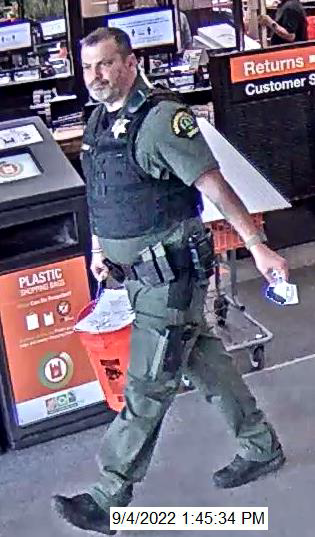 Misinterpreting a state law that rules any amount stolen over $750 becomes a felony, Zeller would never steal more than $750 worth of products at a time, court documents show. However, Det. Brad Reorda explained to MSN News that the total amount stolen could be applied to the charges since there was a clear pattern to Zeller's shoplifting.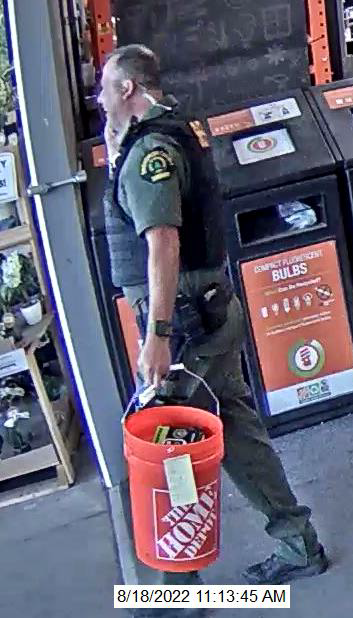 According to records obtained by the Lynnwood Times, Zeller allegedly engaged in more thefts at Home Depot while off-duty but the evidence was not researched. Zeller was also working security at Mariner High School at the time.
Sergeant Dewitt, with the Sheriff's Office, came forward with information that substantiated the investigation against Zeller after an article by a local newspaper surfaced last fall. Dewitt spotted Zeller carrying a bucket of merchandise from Home Depot to his patrol car last September. Zeller told Dewitt that he often worked off-duty at Home Depot and spends a lot of money at the store. Dewitt did not think anything of it at the time but came forward with this information upon learning of Zeller's pending investigation.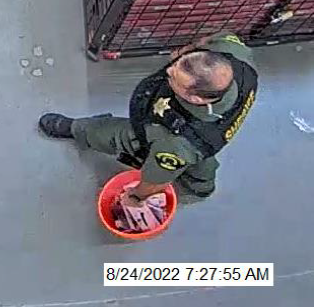 A second deputy then came forward stating Zeller gave them a brand-new pair of Home Depot brand HDX disposable gloves. Upon learning of Zeller's investigation, he suspected the gloves may have been stolen. Gloves were among the multiple lost items Home Depot listed that Zeller allegedly stole.
Lt. Alanis, who also worked security at the Home Depot location in South Everett, also came forward with information that Zeller contacted him, December, 2021, requesting he place specific items near the register with a note saying the products should be held for Zeller, who said he would purchase them the next day. While Alanis did not comply with Zeller's request, believing it to be unusual, it did indicate that Zeller was engaging in theft prior to being discovered and prior to working off-duty.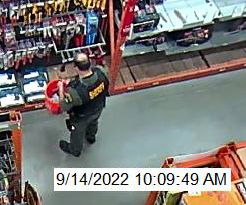 This request was consistent with Zeller's strategy of allegedly stealing which involved removing products from shelves then placing them at the register to be held for "future purchase." Without paying, he would then remove the items from the store.
Home Depot marked a total loss of $857.03 from items Zeller allegedly stole, ranging from 99 cent clamps to an $80 stud finder between August 24, 2022, and September 14, 2022.
Zeller resigned from the Sheriff's Office in late October, 2022, and his patrol car was impounded. As of January 4, he is now facing charges for organized retail theft – a Class B Felony punishable up to 10 years and/or a fine of up to $20,000. His arraignment is scheduled for January 30, 2023.
Retail Theft Taskforce
Retailers statewide lost a combined $2.7 billion dollars' worth of goods to organize retail theft in 2021. Federal crime statistics show that the value of items stolen from Washington retailers increased by 151 percent from 2019 to 2020.
In June of this year, Attorney General Ferguson announced the creation of a statewide Organized Retail Crime Theft Task Force to improve coordination and collaboration among law enforcement agencies to address multi-jurisdictional crimes that endanger employees and cause significant economic harm in Washington State. Nationally total shrink in 2021 alone was approximately $100 billion, according to a National Retail Security Survey.
On Thursday, October 13, the Lynnwood Police Department conducted an emphasis operation in conjunction with Lowes and Home Depot, in which officers were placed in the store with Asset Protection personnel. This was done to be able to immediately detain and charge subjects for theft and/or other charges associated with shoplifting or other crimes associated with theft.
The Lynnwood Police Department arrested all persons who were observed concealing merchandise and walking out of the store without paying for said merchandise. In total there were 7 arrests for theft related crimes, 1 arrest due intoxication, 3 were drug related (stealing merchandise to later sell and use money to purchase drugs). All subjects were also trespassed from the affected property as well.
On December 14, The Lynnwood Police Department conducted an emphasis operation with Lowes, Target, and Kohls yesterday where officers were placed in the store with Asset Protection personnel. This was done to immediately detain and charge subjects for theft and/or other charges associated with shoplifting or other crimes associated with theft.
In total 15 were arrested, seven were charged with a felony, and eight were charged with misdemeanors. Most notably Lynnwood Police arrested an Organized Retail Theft (ORT) group consisting of two adults and one juvenile that is hitting Target stores nationwide.
This group is based out of Michigan and was arrested at the Lynnwood Target after a theft of over $8,100 in merchandise. When Officers identified themselves two of the three fled on foot. All three were captured. A vehicle bearing Michigan plates was located in the Target parking lot and, in plain view was a plethora of Target merchandise. An investigator for Target Corporate contacted Lynnwood Police Department confirming this group is a nationwide ORT group responsible for over $300,000 in stolen merchandise to date.