15 arrested by LPD including members of retail theft ring
LYNNWOOD, Wash., December 14, 2022—The Lynnwood Police Department conducted an emphasis operation with Lowes, Target, and Kohls yesterday where officers were placed in the store with Asset Protection personnel. This was done to immediately detain and charge subjects for theft and/or other charges associated with shoplifting or other crimes associated with theft.
In total 15 were arrested, seven were charged with a felony, and eight were charged with misdemeanors. Most notably Lynnwood Police arrested an Organized Retail Theft (ORT) group consisting of two adults and one juvenile that is hitting Target stores nationwide.
This group is based out of Michigan and was arrested at the Lynnwood Target after a theft of over $8,100 in merchandise. When Officers identified themselves two of the three fled on foot. All three were captured. A vehicle bearing Michigan plates was located in the Target parking lot and, in plain view was a plethora of Target merchandise. An investigator for Target Corporate contacted Lynnwood Police Department confirming this group is a nationwide ORT group responsible for over $300,000 in stolen merchandise to date.
Both adults and a juvenile were booked on felony charges. One of the three had an extraditable nationwide warrant out of Florida for felony Larceny and Burglary. An investigation will determine final charges.
In June, Attorney General Bob Ferguson announced the creation of a statewide Organized Retail Crime Theft Task Force to improve coordination and collaboration among law enforcement agencies that will specifically address multi-jurisdictional crimes that endanger employees and cause significant economic harm to our state.
An analysis from the Retail Industry Leaders Association estimates Washington retailers lost $2.7 billion to organized retail crime in 2021. Federal crime statistics show that the value of items stolen from Washington retailers increased by 151 percent from 2019 to 2020.
If your business is interested in participating, please have your Loss Prevention/Asset Protection personnel contact Lynnwood WA Police Department directly at 425-670-5600.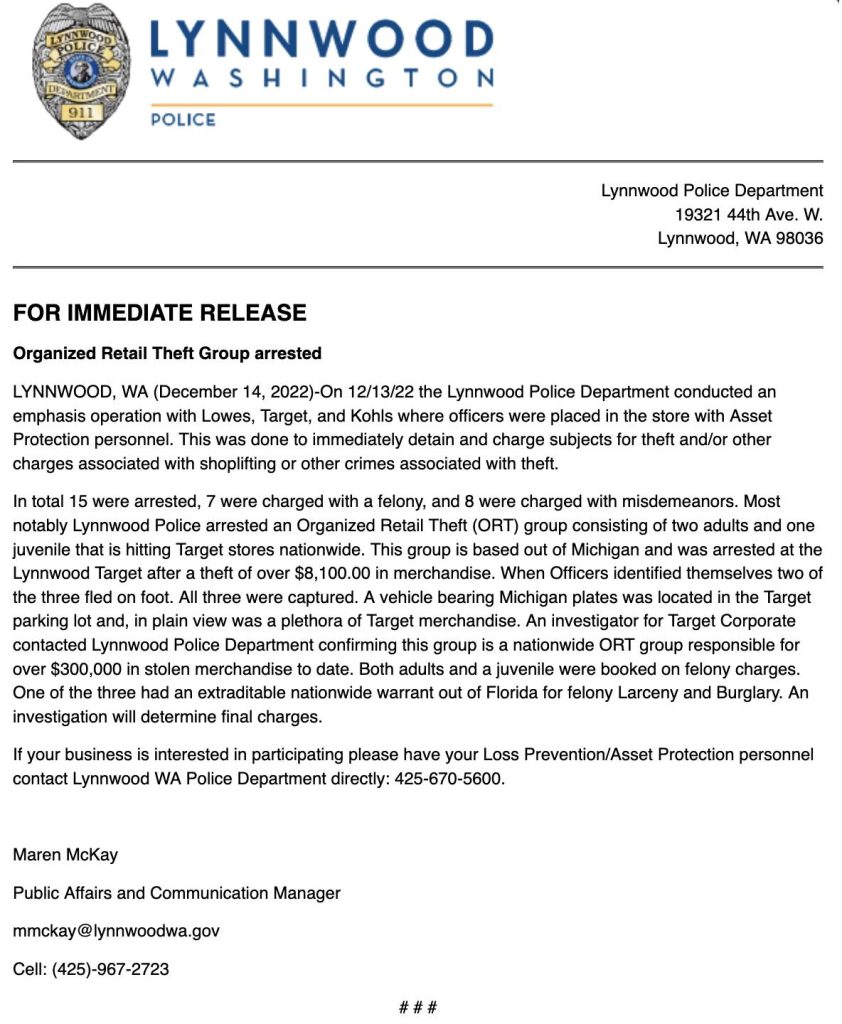 ---
Content Source: Lynnwood Police Department with additions by Lynnwood Times