"Love, Equally" public exhibit celebrates marriage equality
OLYMPIA, Wash., February 15, 2023—The opening ceremony for the "Love, Equally" exhibit packed the State Reception Room of the Legislative Building in Olympia on Valentine's Day. The event occurred on the 14th to simultaneously celebrate the 10th anniversary of marriage equality in Washington state.
Something highlighted by "Love, Equally" is the recency of marriage equality. This is prominently displayed by the giant timeline within the exhibit: "Washington's Journey to Marriage Equality." As recently as 2006, Washingtonians could be discriminated against based on their "sexual orientation" or "gender identity" for "jobs, housing, lending and insurance."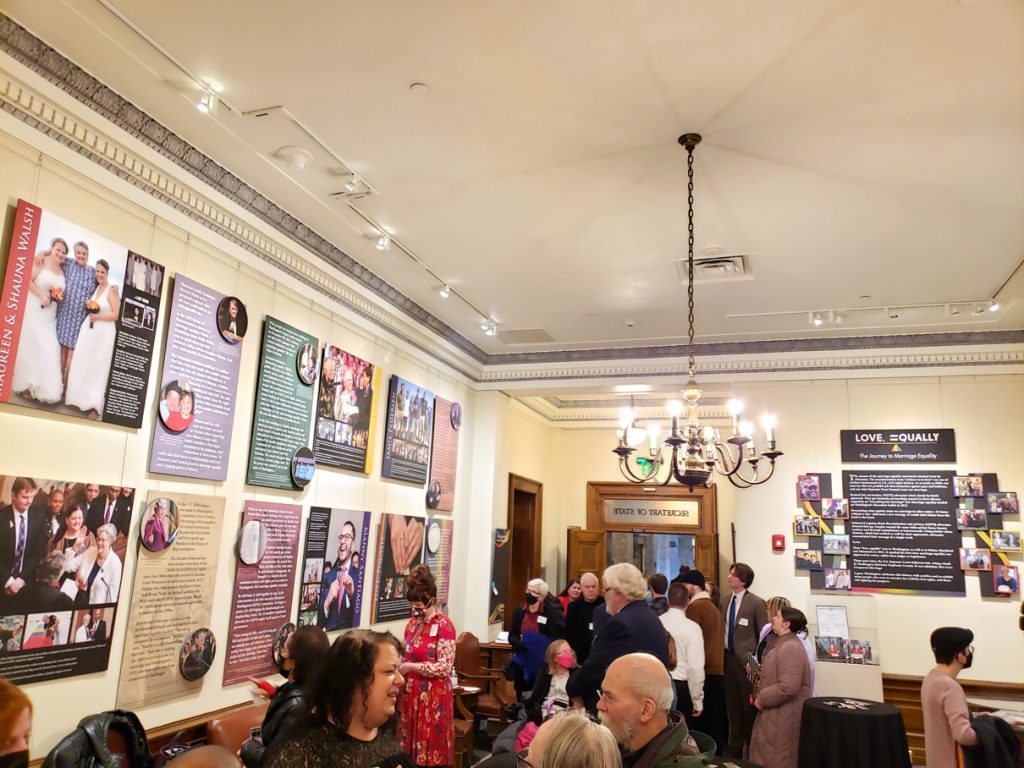 "Love, Equally" was put together by Legacy Washington and not only features the new public exhibit, but a new book, "Love, Equally: The Journey to Marriage Equality," and a mix of videos, interviews and more. The exhibit itself is open to the public and its hours should, according to the Secretary of State staff, coincide with their office hours.
"Our Legacy Washington books capture moments in history through people who lived them," Washington Secretary of State Steve Hobbs said at the ceremony. "If only we could tell every story and mention every person who helped advance marriage equality."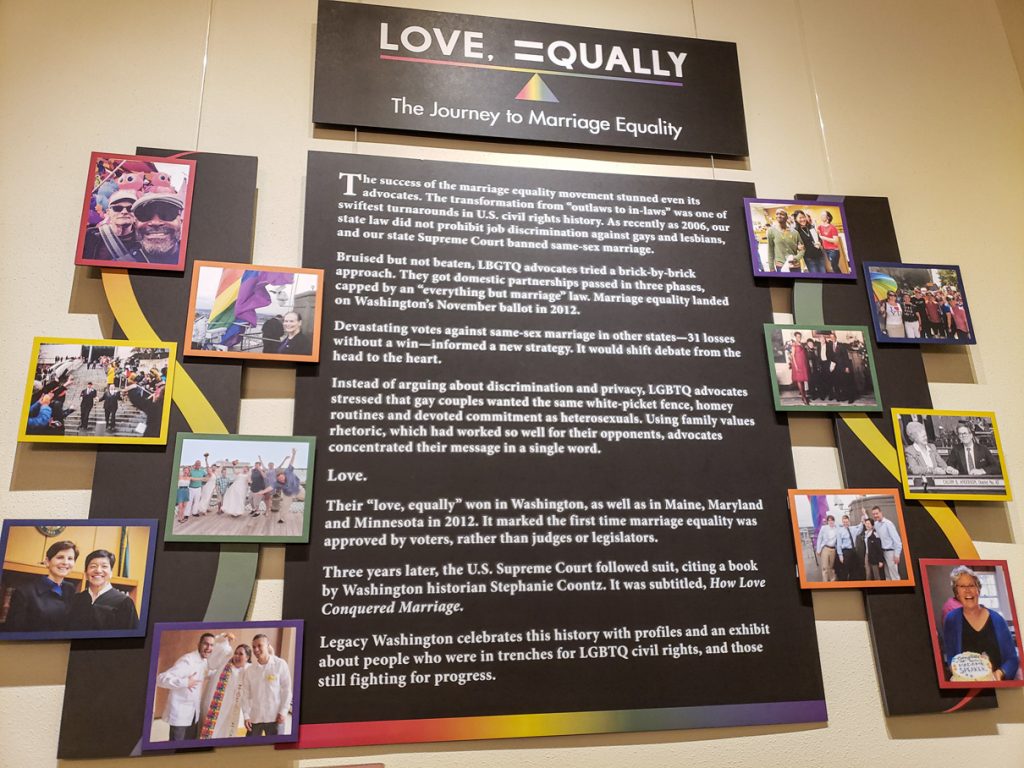 Speakers at the event included not only Hobbs, but Governor Jay Inslee, former Governor Christine Gregoire, State Archivist Heather Hirotaka, Washington Speaker of the House Laurie Jinkins, State Senator Jamie Pedersen, Executive Director of Washington State LGBTQ Commission Manny Santiago, and author and historian Stephanie Coontz.
"I think the fact that you can be who you are and love who you will is one of the most beautiful things about the state of Washington," Inslee said. "I am glad to have lived at a time where we made so much progress in the human condition."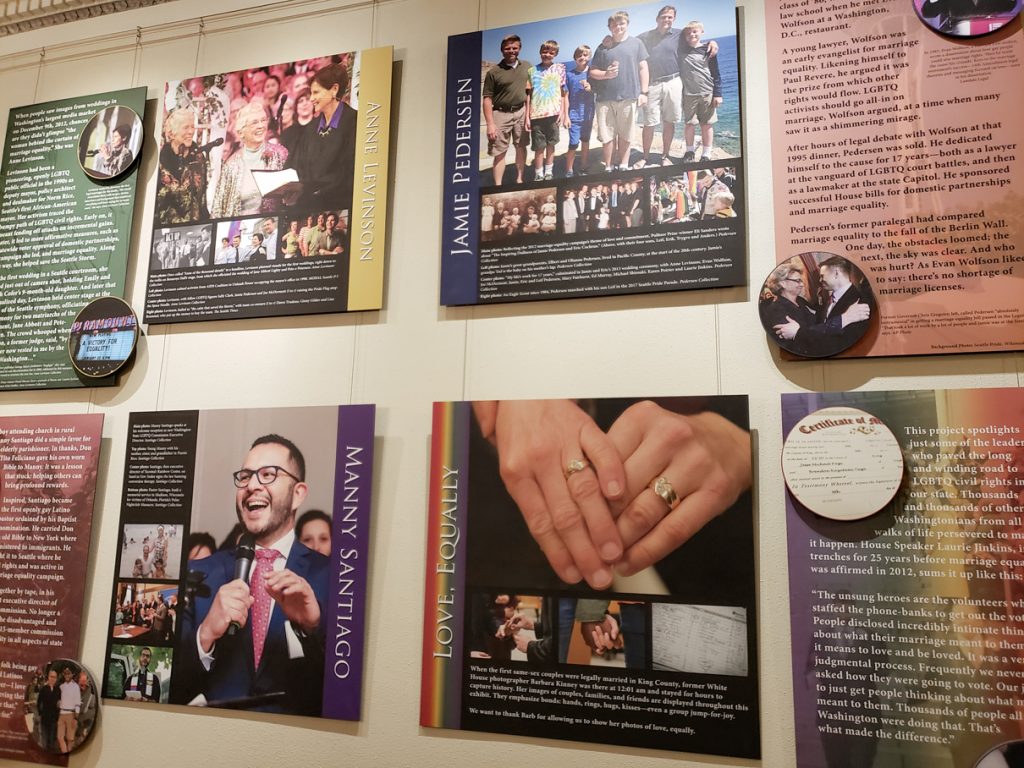 Inslee touched on a consistent theme from the speakers and the exhibit itself — the gradual, persistent effort of individuals fighting for what they believe is right — and referred to the words of Martin Luther King Jr. — "the arc of the moral universe is long, but it bends toward justice."
"The fight didn't start that year. The fight started three decades before," Gregoire said. "Decades of bills that were introduced. Decades of pieces of legislation that had been fought for. Decades where lawsuits had been brought in front of the Supreme Court. All of which was not a failure, but a step forward to that very day in which we did sign the bill."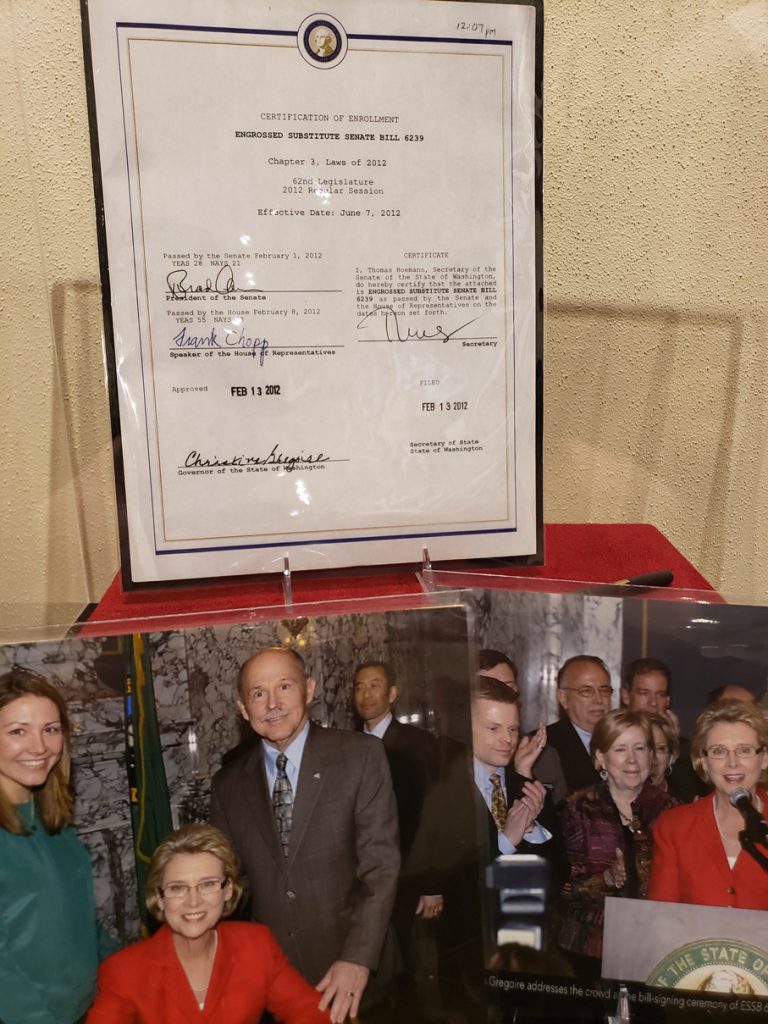 Highlighting the progress of LGBTQ+ rights, Pedersen spoke of working in the state legislature years ago and being told he would "turn into a pillar of salt."
"It's so hard to remember — at this point when marriage equality seems like such a part of the world that we take for granted — that it was not something we could take for granted," Pedersen said. "That it took the dedicated effort and work of a lot of people… to make sure that's where we came out as a state."
According to Secretary of State and Washington State Archivist staff members, "Love, Equally" will remain in the capitol for at least a full year. They intend for the exhibit to travel statewide afterwards to various museums such as the Karshner Museum and Center for Culture & Arts in Puyallup. They hope and encourage each museum to add to the exhibit to highlight local stories.