Evergreen State Fair Park says goodbye to Building 400 after nearly 70 years of memories
MONROE, Wash., February 22, 2023—The tan painted wooden clad Commercial Building 400 that attracted millions of visitors over the span of approximately 66 years with activities at the Evergreen State Fair will be replaced with a new plaza.
Snohomish County Executive Dave Somers joined Evergreen State Fair Board members and county staff to a Golden Sledgehammer event on Tuesday, February 21, to not only honor the building that brought joy to countless fair visitors but to share the next chapter in the space's history.
"We want to invest in modernizing, but we want to also preserve the agriculture and local history and family nature of the park and the fair here," Executive Somers said. "So, whatever we do in the future will be oriented towards really maintaining that community feeling and aspect."
Building 400 housed both the Democrat and Republican parties booths, commercial vendors selling products such as ShamWow, hot tubs, patio furniture, model trains, Christmas decorations, and handmade blankets to name a few. It has also served as a low-class dairy barn; hosting exhibits, small animal and craft shows.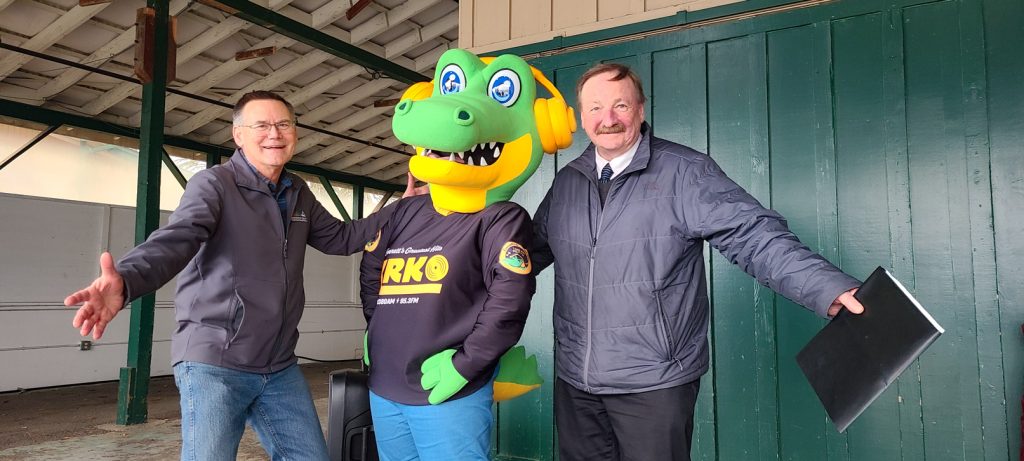 "Updating aging infrastructure to provide functional spaces is part of looking to the future," said Tom Teigen, Director of the Snohomish County Department of Conservation and Natural Resources. "The Fair Park, Evergreen Equestrian Park and Evergreen Speedway serve over 500,000 people year-round. There are so many potential ways we can maximize this space for the community. We are excited to discover what comes next for this space."
Teigen shared that for the next few years the goal is to convert the 25,000-square-foot space into a plaza that will accommodate the flow of visitors to rides and food vendors.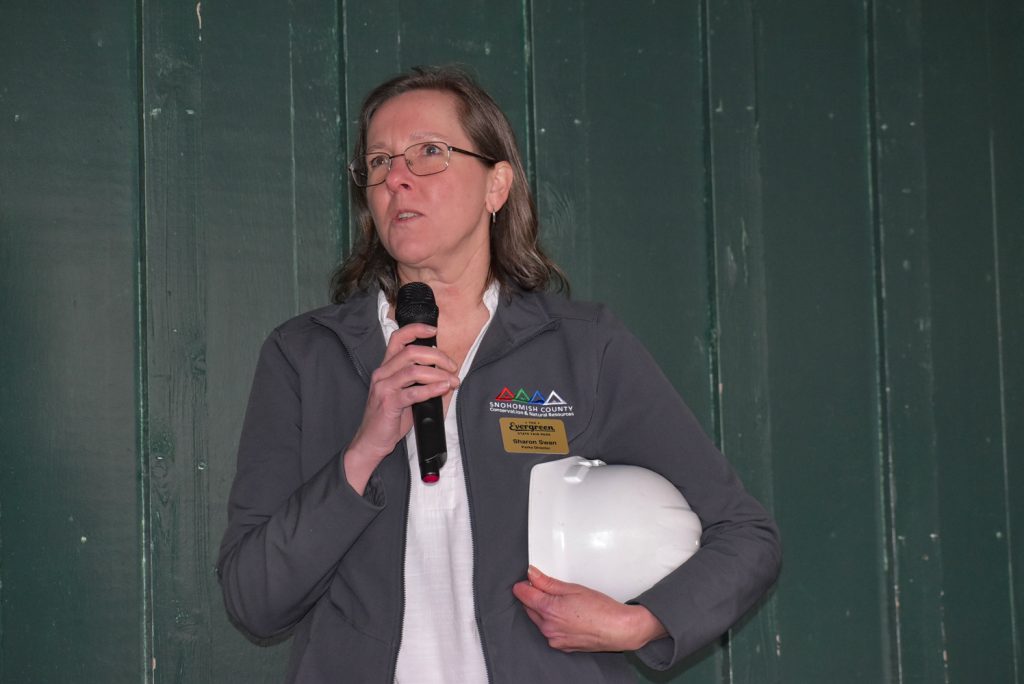 "This building has been a bit if a barrier for connection through the Fair Park and so it is exciting to have this come down to have enhance use of this space, make more community connections as people come together," Parks Director Sharon Swan, said.
Some ideas on the table range from converting it to a green space to a splash pad to a food truck plaza. Over the next few years, the County will reach out for community input and work with the city of Monroe to finalize the final use for the space.
The two-week demolition is scheduled to begin next week by Northend Excavating and is fully funded from Fair Park profits received over the years that are earmarked for capital improvements.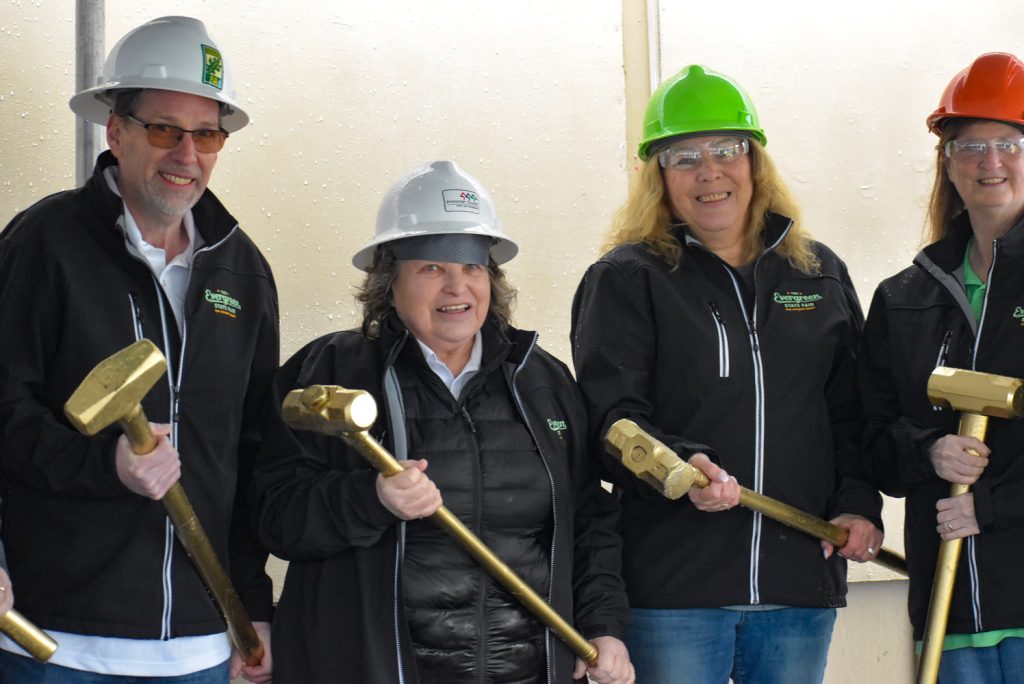 Adhering to the County's goal of reducing the impacts of climate change through environmental sustainability, many of the materials during the demolition will be recycled or reused.
Recycled concrete is used to control streambank erosion and as a bed foundation material for trenches. The recycled metal reduces air pollution and water pollution when compared to processing from its raw ore. Recycled asphalt is used in roofing shingles, and in parking lots and driveways.
The County's Department of Conservation and Natural Resources maintenance staff has salvaged a lot of the building's equipment such as lights, doors, windows, and wooden beams. If any community members are interested in salvaging material from the demolition, please email contact.parks@snoco.org.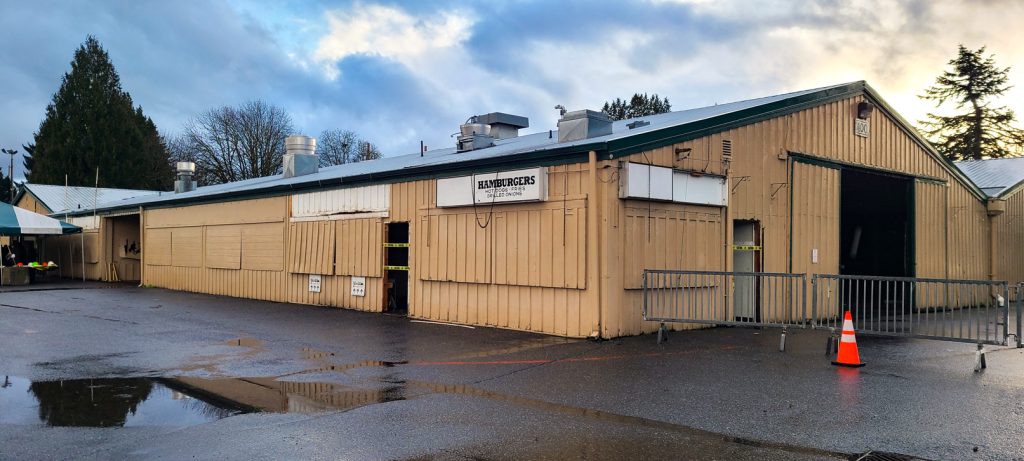 The Evergreen State Fair Park, located in Monroe, attracts up to 750,000 thousand visitors each year with the annual Evergreen State Fair in late August through early September, racing at its Evergreen Speedway, horseback riding at the Evergreen Equestrian Park, and exhibition spaces for horse shows, trade shows, and swap meets. The Evergreen State Fair is now accepting entertainment applications until February 28, 2023.