Commissioner Nick Coelho announces run for Lynnwood City Council
LYNNWOOD, Wash. March 23, 2023—Nick Coelho, parks advocate and co-owner of Around the Table Board Game Pub in Lynnwood, is announcing his run for Lynnwood City Council Position 4.
"Our city has potential. A lot of it! I am confident that we can set the bar higher on public safety and lead the way in defining what a livable, welcoming community looks like. Success won't come easy, which is why we need creative problem-solvers that are grounded in the present but looking to the future. I believe I am that leader, and I would be humbled to earn the trust of our residents and serve as their advocate on the city council."
Nick is running because he believes that there is no better time than now to address the systemic problems that Lynnwood faces. He plans to leverage his unique perspectives as a small business owner in the city's retail & service sector and as a local civic activist to provide the council urgently needed balance.
"There is a very real gap in Lynnwood's leadership when it comes to people with working class backgrounds in our city. If we want to ensure we are making the best decisions for our community, we desperately need to balance out our government with leaders who understand the everyday lives of the essential workers who power Lynnwood's economy," Nick adds.
Nick plans to campaign on embracing proactive public safety and investing in Lynnwood's public parks and trail systems. Other issues he would like to champion include improving housing affordability, expanding access to neighborhood commercial spaces, and reinforcing a culture of volunteerism throughout the city.
"More connected communities are safer communities, and we can improve public safety in a variety of ways. From organized acts of service at neighborhood parks to enhancing the infrastructure and support groups that bring us together, the ideas are there! I truly believe our city just needs to be more creative in pursuit of this goal," he concluded.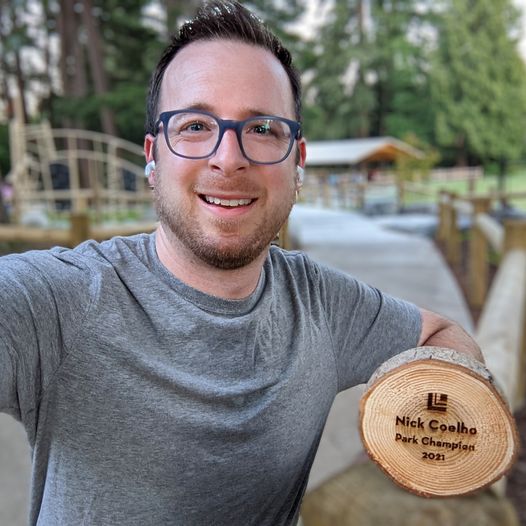 Nick was recently named Lynnwood Park Champion of 2021. He is in his fifth year serving on Lynnwood's Parks & Recreations Board, and his second year on Lynnwood's Parks LOVE Co-Design Team. He has been a contributing member of the South Lynnwood Neighborhood Co-Design Committee, and represents Lynnwood's residents on the Snohomish County Parks & Recreations Board as well as on the regional Community Advisory Group for Sound Transit Light Rail.
He has also participated in business roundtables hosted by the city, and for years volunteered at the Lynnwood Food Bank. These days his community service includes work with organizations like Habitat for Humanity, the Washington Trails Association, and the Friends of Scriber Lake. He also gives back through his business, running regular fundraisers for local nonprofits and charities, and providing a community-building venue for historically underserved communities like the Deaf and those who identify as LGBTQ+. Nick has already received the endorsements of local leaders like former Lynnwood Mayor Nicola Smith, former Lynnwood Councilmembers Ian Cotton and Rev. Chris Boyer, Edmonds City Councilmember Will Chen, Snohomish County Councilmember Jared Mead, 32nd Legislative District State Representative Cindy Ryu and 32nd Legislative District State Senator Jesse Salomon. More are anticipated to join in the coming months.

Following his endorsement, former Lynnwood Councilmember Ian Cotton added "I've known Nick now for years. He is a builder of community, and has been all-in on Lynnwood since founding his business here more than 9 years ago. I can think of no greater vote of confidence in a city than to have built a business from the ground up in it. Nick's fresh ideas and collaborative mindset will help in every situation. He understands that Lynnwood is so much bigger than us vs them, and that we are at our best when we work together."
---
SOURCE: Nick Coelho