Nick Coelho named 2021 Lynnwood Park Champion
LYNNWOOD – The Lynnwood Parks, Recreation, and Cultural Arts Department (PRCA) named Nick Coelho as its 2021 Park Champion for his advocacy with park improvements, support of the Friends of Scriber Lake Park, and general dedication to the advancement of parks and recreation in Lynnwood.
"I thought it was awesome. I wasn't looking for an award like that but I do feel appreciated and I'm looking forward to seeing other people in our community be appreciated for the work they put in; I already know a hand full of people who I would nominate next time," Coelho told the Lynnwood Times.
Coelho has been a cheerleader for Lynnwood parks for many years, sitting on the Parks and Recreation Advisory Board since April of 2019, and participating in many of the volunteer efforts the Parks Department hosts. Most recently he participated in a weed pulling effort at Scriber Lake Park and helped the city plant new trees for Arbor Day.
"I always try to take part in that stuff because I think it's important for people who live in those areas to be stewards of public lands and I think, in general, that's kind of how volunteers work," Coelho said.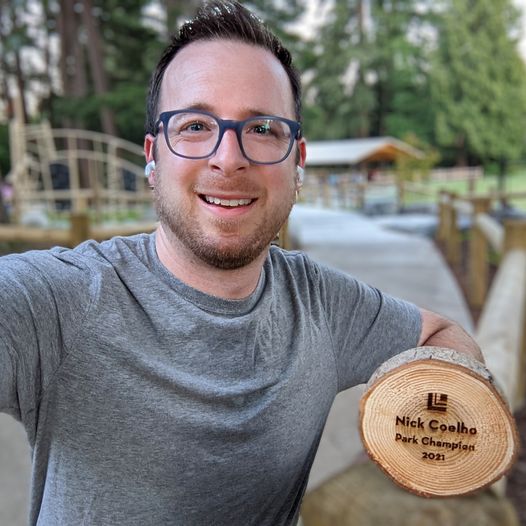 In addition to volunteering his time to help beautify the City's parks, Coelho is also a frequent park visitor jogging down to South Lynnwood Park almost daily, which is about a half mile from where he lives. He informed the Lynnwood Times that since the City reinvested in the park's maintenance he has noticed a resurgence of visitors return, even late into the evening playing pickleball or grilling dinner.
"It really makes a difference," Coelho said.
Since 2019, Lynnwood's Parks, Recreation and Cultural Arts Department has recognized its staff who have been outstanding in some regard the previous year in an annual PRCA Excellence Awards Ceremony given in a variety of categories including: Key Contributor, Equity Champion, Innovation Spirit, and Customer Hero.
In addition to these categories, the City has an additional category for a "Park Champion" award that is an honor bestowed upon a city employee from another department or a community member.
Other Park Champion recipients include Bill Frantz, Public Works Director, who was awarded in 2020 and Sallyann Geiger, Senior Finance Technician, who was awarded last year.
When Coelho was notified by the City that he would be honored this year as Park Champion, for his work and involvement in 2021, it came as a bit of a surprise, he informed the Lynnwood Times. To this day he has no idea who nominated him although Sarah Olsen, Deputy Director for Lynnwood Parks, Recreation, and Cultural Arts, informed the Lynnwood Times that nominees are decided by the Parks leadership team.
"Nick was recognized for his service as our Park Board Chair for two years and with a focus on how we can continue to improve our service for Lynnwood residents and visitors," Olsen said.
Although surprising, Coelho added that the recognition was welcome and he believes the City's Park Champion program is a great way of acknowledging the work that volunteers put in to keeping the City's parks maintained.
After a small ceremony, Coelho was sent a wood stump trophy in the mail, made from wood chips collected by the City's Parks Operations crew throughout the year. The trophy was laser etched with his name by Awards Service, cementing his title, and paid for by the City's Parks Administration Budget at a total cost of just $15.
"When I think of people who are stewards, they're oftentimes not doing it for the desire to get that tree stump award, or any recognition, they just see something in the world they want to fix and they just want to be part of the solution," Coelho said.