"Pick Nick!" campaign kicks off at Peace of Mind Brewing
LYNNWOOD, Wash., April 14, 2023—Nick Coelho, parks advocate and owner of Around the Table Board Game Pub, kicked off his campaign for Lynnwood City Council Position 4 on Thursday evening, April 13, at Peace of Mind Brewing.
Coelho's endorsements include Snohomish County Councilman Jared Mead, who emceed the event, Naz Lashgari, Lynnwood City Planning Commissioner and former DEI Commissioner, also the evening's featured guest speaker, and Lynnwood City Councilman George Hurst, who formerly ran against Coelho for a City Council seat in 2019.
Other endorsements include former Lynnwood Mayor Nicola Smith, former Lynnwood Councilmembers Ian Cotton and Rev. Chris Boyer, Edmonds City Councilmember Will Chen, 32nd Legislative District State Representative Cindy Ryu and 32nd Legislative District State Senator Jesse Salomon.
"We need to get back to electing and supporting people like [Nick] in political office. I think the reason that we've strayed in society, in our political system right now, and we have a little bit of dysfunction, is we don't elect and support people like Nick. People who want to dig in on policy, people who want to be nuanced, people who are nerdy about urban planning. Instead our system incentivizes the wrong types of personalities. The people who want to be the loudest, the people who don't want to be nuanced," said County Councilman Mead.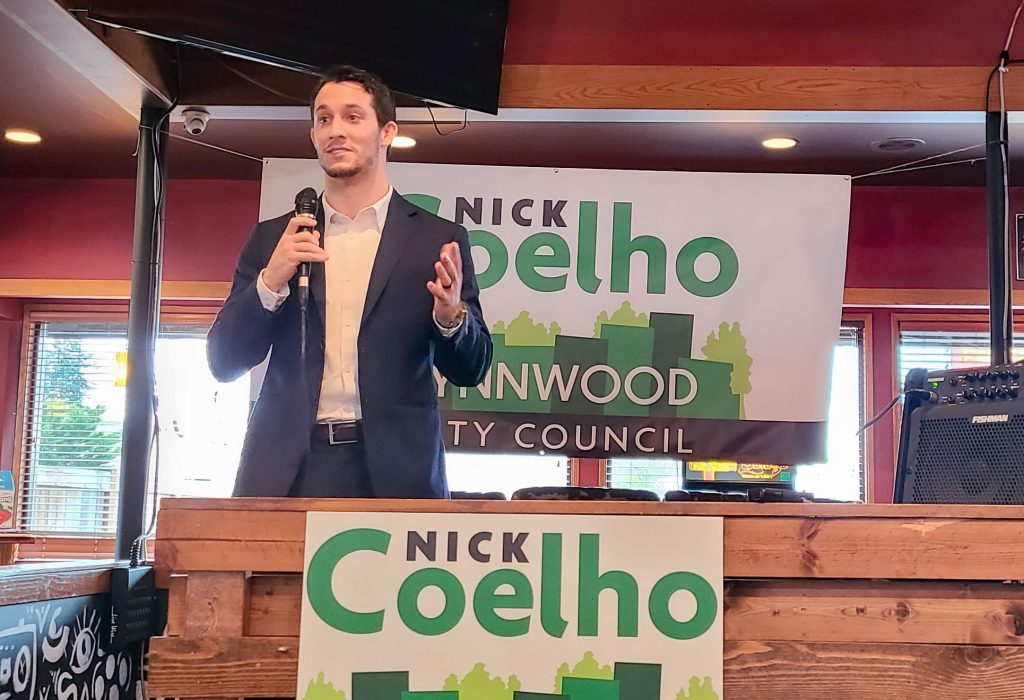 Mead first met Coelho a few years ago when he was running for City Council. His immediate impression was that Coelho was passionate about the City of Lynnwood, thoughtful, but also "nuanced in policy."
"I'm a closet nerd. I play Dungeons and Dragons and video games and all these things but not many people know that about me. Everyone knows that about Nick. He is not a closet nerd, he is an outed nerd and I appreciate that about him," Mead continued. "But in the same breath that we can be talking about Dungeons and Dragons, and orcs, and Star Wars, he can then bend my ear and talk poetically about the need for good representation in the city of Lynnwood; in urban planning, in housing, and all the things that we all care about as community members in south Snohomish County."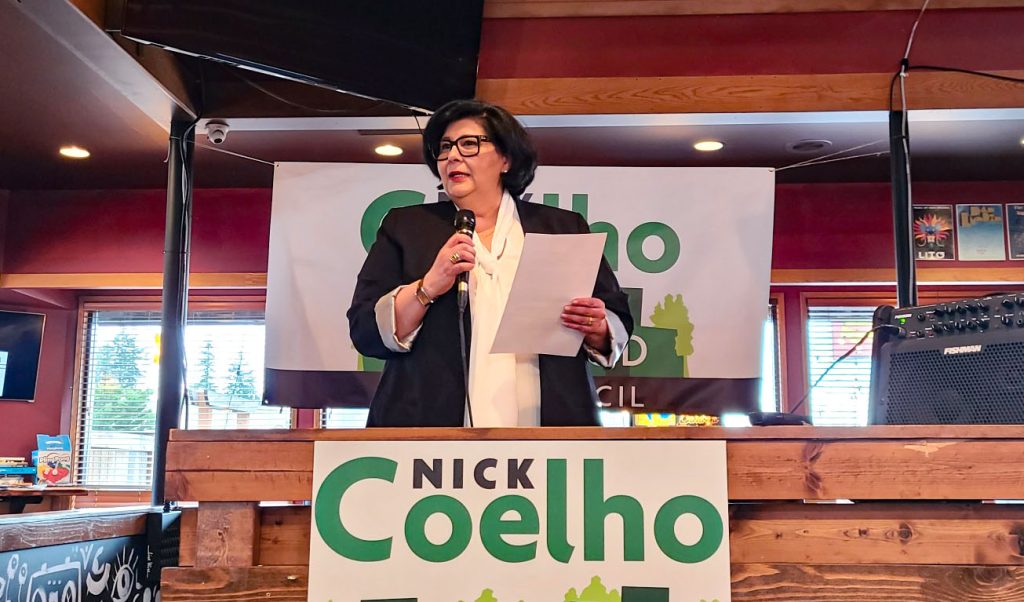 Mead then introduced Naz Lashgari who spoke on Coelho's passion for policy, the safety of Lynnwood's community, growth and development, equity and inclusion, and the ongoing issue of housing in the region. Lashgari first met Coelho when both ran for City Council in 2019, under the platform "Lynnwood Forward" but, Lashgari noted, since then the Lynnwood City Council has not been moving forward but "moving backwards."
"Electing the same people over, and over again, or who are there for their own personal gains. Name recognition has become the tool to become re-elected. I'm here to say, if we want change, we have to change the people that we elect," said Lashgari. "We need to elect Nick Coelho and have him in City Council Position 4."
Lashgari continued her speech by noting she has witnessed, firsthand, Coelho's commitment to the city of Lynnwood, not only through his volunteering in different Commissions, but being intentional about being involved to do all that he can do to help the city.
"I believe that Nick will make a great City Council member because he has a deep understanding for socioeconomic and racial disparities in our community. For me the question is going to be who's going to be in Position 4 that is going to work collaboratively and be intentional about moving forward with the lens of equity? The answer to that is Nick Coelho," Lashgari continued.
Before attendees and supporters had the opportunity to dive into pizza and beer, Coelho himself took the mic to briefly speak about his priorities and platform.
"I'm tired of our City's promise and potential slipping right between our fingertips. I'm tired of seeing short sighted distractions take precedent over long-term vision and action. I'm tired because I know how much work it takes to win an election and we are going to win," said Coelho.
In Coelho's last run for a City Council seat, he went completely carbon neutral, paying to offset his campaign's carbon footprint, which he believes set an important message that he supports "action".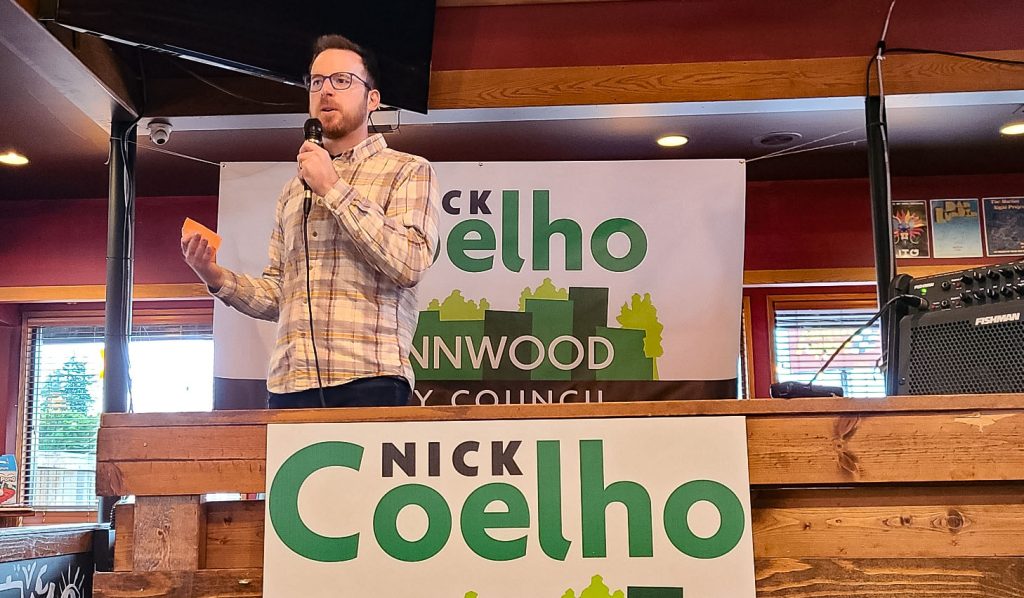 "What I love most about Lynnwood is that it's always changing. Change is a part of the City's DNA unlike any other place I've ever been," said Coelho. "As a place changes it's really important that we have certain types of leadership at the helm and we're in a really transformative stage right now in the city. I really do believe that Lynnwood has the bones, it has all of the tools at its disposable to make a place that is a great deal more than a place that just's live, work, play, it should be a place to dream, it should be a place to inspire, it should be a place to create."
George Hurst, who formally ran against Nick Coelho, offered his endorsement stating that, towards the end of the race, it was a disappointed running against Coelho, recognizing that Coelho was someone he would have loved to work with.
"He and I have the same values as far as Lynnwood. The future is bright in Lynnwood and we need to be forward looking and not trying to resist change but to figure out how we're going to manage growth a little better," said Hurst. "With Nick on the Council and a few others I think we'll be on the right track."
Coelho is running because he believes that there is no better time than now to address the systemic problems that Lynnwood faces. He plans to leverage his unique perspectives as a small business owner in the city's retail & service sector and as a local civic activist to provide the council urgently needed balance.
"There is a very real gap in Lynnwood's leadership when it comes to people with working class backgrounds in our city. If we want to ensure we are making the best decisions for our community, we desperately need to balance out our government with leaders who understand the everyday lives of the essential workers who power Lynnwood's economy," Nick adds.
Coelho plans to campaign on embracing proactive public safety and investing in Lynnwood's public parks and trail systems. Other issues he would like to champion include improving housing affordability, expanding access to neighborhood commercial spaces, and reinforcing a culture of volunteerism throughout the city.
"More connected communities are safer communities, and we can improve public safety in a variety of ways. From organized acts of service at neighborhood parks to enhancing the infrastructure and support groups that bring us together, the ideas are there! I truly believe our city just needs to be more creative in pursuit of this goal," he concluded.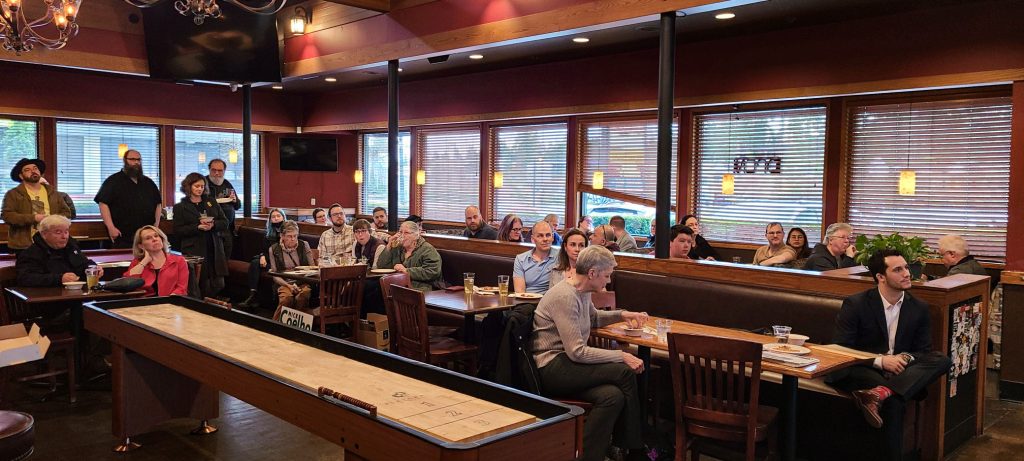 Coelho was recently named Lynnwood Park Champion of 2021. He is in his fifth year serving on Lynnwood's Parks & Recreations Board, and his second year on Lynnwood's Parks LOVE Co-Design Team. He has been a contributing member of the South Lynnwood Neighborhood Co-Design Committee and represents Lynnwood's residents on the Snohomish County Parks & Recreations Board as well as on the regional Community Advisory Group for Sound Transit Light Rail.
He has also participated in business roundtables hosted by the city, and for years volunteered at the Lynnwood Food Bank. These days his community service includes work with organizations like Habitat for Humanity, the Washington Trails Association, and the Friends of Scriber Lake. He also gives back through his business, running regular fundraisers for local nonprofits and charities, and providing a community-building venue for historically underserved communities like the Deaf and those who identify as LGBTQ+.
Following his endorsement, former Lynnwood Councilmember Ian Cotton added, "I've known Nick now for years. He is a builder of community, and has been all-in on Lynnwood since founding his business here more than 9 years ago. I can think of no greater vote of confidence in a city than to have built a business from the ground up in it. Nick's fresh ideas and collaborative mindset will help in every situation. He understands that Lynnwood is so much bigger than us vs them, and that we are at our best when we work together."
"I feel like he's looking for everyone, not just a certain group or another, but he really cares about parks and just making Lynnwood livable for types and walks of people," Matt Vonnegut, a Coelho supporter and patron of his store told the Lynnwood Times at Coelho's kick off event Thursday.
Cindy Robertson, another Coelho supporter, told the Lynnwood Times she believes Coelho will bring some "sanity" to the City Council, and some rational decision-making.
All our photos were goofy, so we're just going with this one. Couldn't even fit everyone in the shot ffs!

The Kick Off's turnout was overwhelming, but our team is now confident, gassed up & ready to go win this election! Thank you so much to everyone who came, even in spirit. 🍻 pic.twitter.com/wbylu9oRKW

— Nick Coelho (@Nick4Lynnwood) April 14, 2023