Inslee joins other governors in meeting with Ukraine's Zelenskyy on war effort
WASHINGTON, D.C., April 4, 2023—Ukrainian President Volodymyr Zelenskyy, via video conference, shared with governors from across the United States that with military and financial support, his war-torn county can "defeat Russia" and prevent "the expansion of the war."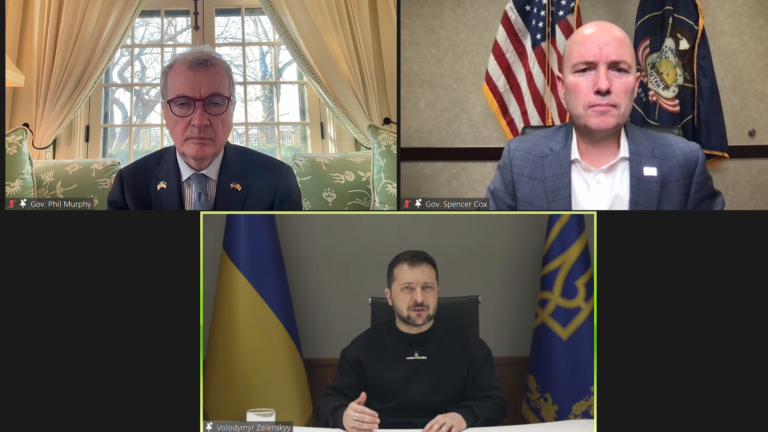 Since Russia invaded Ukraine in February 2022, Governors welcomed Ukrainian refugees, partnering with charitable organizations to send humanitarian aid, overseeing the donation of surplus equipment from law enforcement departments, banning the sale of Russian products, and reviewing state investments and contracts to eliminate any financial support to the Russian government.
"When asking why America should help Ukraine and invest in our defense, the answer is: Just look at reality," Zelenskyy said to the governors. "Millions of Ukrainian families are torn by the war. This is what the evil state has brought to Ukraine. And what if all this spreads further across Europe, through the cities and lands of your allies?"
He continued, ""The reconstruction of Ukraine will be the largest economic project in Europe in the lifetime of several generations. And I believe America will stand with us in this reconstruction just like you are with us now in our defense. Hundreds and hundreds of American companies, banks and factories are already doing business with Ukraine. Thousands of companies will join our reconstruction project."
During the teleconference, the National Governors Association (NGA) Chair New Jersey Governor Phil Murphy and Vice Chair Utah Governor Spencer Cox reaffirmed the association's commitment to Ukraine's freedom and sovereignty.
"As the Russian invasion of Ukraine reaches its second year, it is critical that the United States and our allies remain unwavering in our support of the Ukrainian people," said NGA Chair Governor Phil Murphy. "Ukraine is fighting not just for its own freedom and sovereignty, but also fighting to defend peace and democracy worldwide, and the defense of their homeland has been nothing short of inspiring. As Governors, we recommitted to President Zelenskyy that our states will come together under this common purpose and support the freedom-loving people of Ukraine in their time of need."
According to the NGA, National Guard service members have been deployed to support Ukraine. Guard members are training the Armed Forces of Ukraine, and the National Guard has sent critical supplies and equipment in addition to providing strategic counsel.
Governor Jay Inslee commended Zelenskky on looking into the future for the efforts and need to rebuild and reconstruct Ukraine when the Russo-Ukrainian conflict ends.
"He started by focusing on Ukraine's forthcoming reconstruction," Inslee wrote to his Twitter account about Tuesday's meeting. "That's positive leadership incarnate."
President @ZelenskyyUa was inspirational this morning in a call with U.S. governors. He started by focusing on Ukraine's forthcoming reconstruction. That's positive leadership incarnate. We reassured him we stand with Ukraine. Slava Ukraini. pic.twitter.com/85MXgMUNWI

— Governor Jay Inslee (@GovInslee) April 4, 2023
Since Russia's annexation of the Crimean Peninsula in March of 2014, the Seattle Times reported that Washington state has become home to more Ukrainian refugees than any other state, taken in 16,000 Ukrainian refugees. In March 2022, Governor Inslee helped organize a flight to take 32 tons of medical supplies to Ukraine and issued a directive to state agencies to ban new contracts and investments with Russian agencies or state-owned businesses.