Damaged Westgate station ceiling to disrupt Seattle light rail services for at least two weeks
SEATTLE, Wash., April 29, 2023—Sound Transit light rail passengers should expect massive delays and disruptions for at least two weeks throughout Seattle due to damage caused by street-level construction at the Westlake station last Tuesday. The routes impacted are those through the Downtown Seattle Transit Tunnel.
During this two-week period, passengers traveling southbound will need to transfer at Capitol Hill station to another train to continue their trips, while passengers traveling northbound will need to transfer at Stadium station. Trains through the tunnel will run in each direction every 32 minutes. Trains between Northgate and Capitol Hill stations and between Stadium and Angle Lake stations will run every 15 minutes.
Because trains will be single tracking through the tunnel, the northbound platforms at Westlake, University Street, Pioneer Square, and International District stations are closed. Only the southbound platforms at those stations will be open for trains traveling in either direction.
During this time, passengers should pay extra attention while they travel so they don't get on the train going in the wrong direction and don't stay on the train when they need to transfer.
Passengers should add extra time for their trips and may also want to consider taking other routes. Visit this page for travel options during the disruption. Also, sign up for rider alerts so that you are informed of any changes to service.
More details on the damage at Westlake
The closure is necessary to allow Sound Transit to investigate the damage caused last Tuesday when a construction crew attempting to remove a clock at street level broke through the roof of the tunnel. While no one was injured at the time, subsequent examination of the damage showed that it was more significant than originally thought, necessitating the emergency service disruption for the safety of passengers.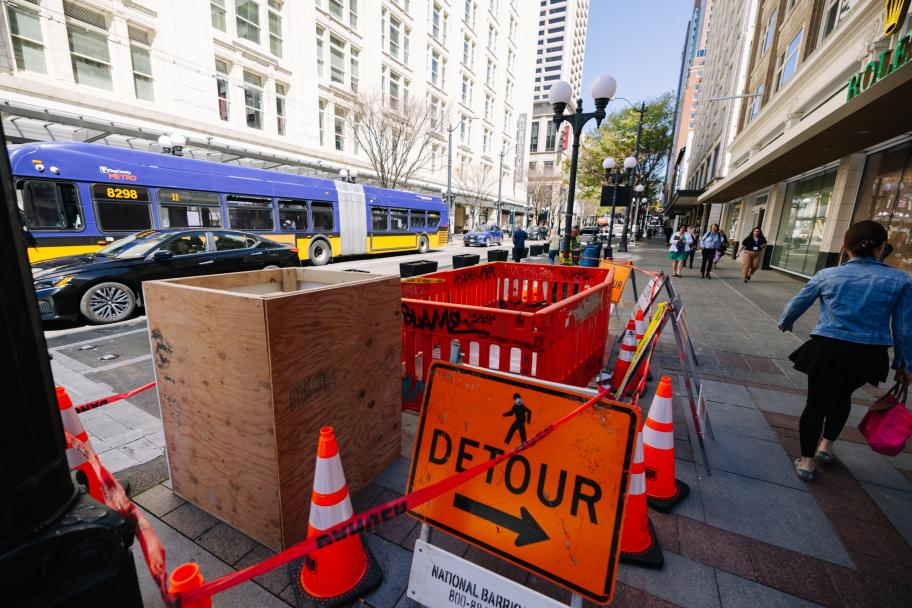 After bringing in necessary equipment on Thursday Sound Transit our engineers to fully assess the damage, they found more severe damage to the lid structure than originally understood. Given unknown risk of the beam stability and the need to remove the debris ponding on the protective membrane, Sount Transit made the decision to close that platform. 
This condition will remain until teams has removed the debris, confirmed the stability of the beam, and put in place temporary measures to ensure protection of all potential hazards for our passengers. 
Sound Transit hired a contractor to work under emergency authority and expects the temporary repair and necessary scaffolding to begin construction as soon as next week, while also allowing for access to fully assess the beam damage. 
Until the condition of the situation is fully understood, the northbound platform area will remained closed.