Lynnwood recognizes Cinco de Mayo with Guerrero, Mexico
LYNNWOOD, Wash., April 30, 2023—On behalf of the City of Lynnwood, Mayor Christine Frizzell and Councilwoman Julieta Altamirano-Crosby presented local Latino and Latina business owners a Cinco de Mayo proclamation at its business meeting on April 24.
"Cinco de Mayo serves as a reminder that the foundation of the United States was built by people from many countries and diverse cultures who were willing to fight and die for freedom," Councilwoman Altamirano-Crosby told the Lynnwood Times. "By proclaiming and recognizing Cinco de Mayo, Lynnwood is adhering to being a truly welcoming city."
Rafael Alarcon, La Malquerida Mexican Gourmet; Maria Casey, The Fat Brush Art Workshop; Soledad Chavez, and Soledad Geniniano, Folklore Oaxqueno; Maria Anakotta, Alzheimer's Association; Jane M. Gonzales, Rene Perez Morales, Marvin Perez Gonzalez, J&R Window Coverings' and community leader Silvia Rodriguez Gonzalez received the Cinco de Mayo proclamation in English and Spanish. In addition to those in attendance at the Lynnwood City Council meeting was Daniel Agis Eslava on zoom, representing the Governor of Guerrero State. Chilpancingo, Guerrero, Mexico is a one of three Sister & Friendship Cities in relationship with Lynnwood.
"It is an honor to share this space in the framework of the celebration of Cinco de Mayo, a date of great significance for Mexicans, who day-by-day contribute to the construction of a better place in Lynnwood, WA but also in Guerrero, in their communities of origin," said Mr. Eslava on behalf of Evelyn Salgado Pineda, Constitutional Governor of the State of Guerrero and Silvia Rivera Carbaja, Secretary of Migrants and International Affairs. "From the capital of the State of Guerrero we recognize the work of the City Council and this Proclamation in honor of our culture, which undoubtedly contributes to strengthen the bond of friendship between our cities and nations."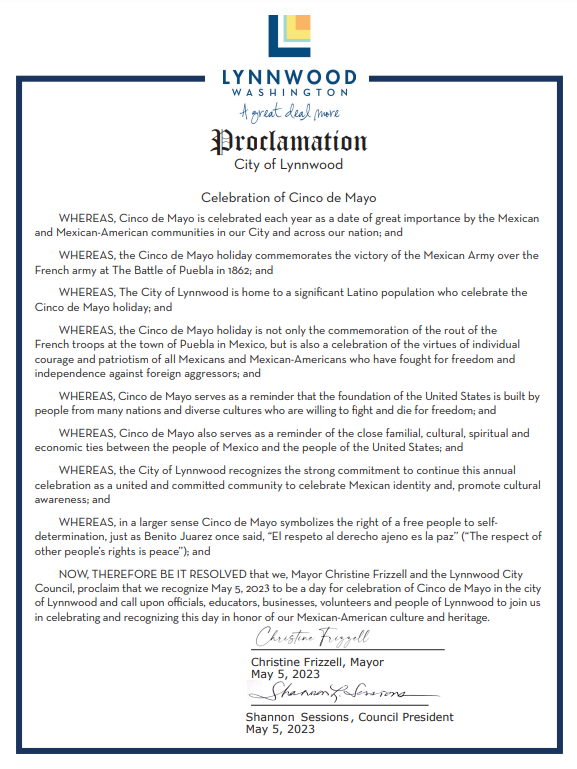 Lynnwood was the first city in Washington state on April 25, 2022, to recognize and observe Cinco de Mayo, or May 5, as the historic struggle of the people of the Republic of Mexico for independence and freedom against the Empire of France. At its upcoming General Legislative Session, on May 3, the Snohomish County Council is expected to recognize Cinco de Mayo.
Dr. Altamirano-Crosby presented the Cinco de Mayo resolution to the owners of the following business: