Students recognized for completing projects in the 2023 Mayor's Challenge
LYNNWOOD, Wash., May 24, 2023—Lynnwood Mayor Christine Frizzell joined by Director of STEM/Career & College Readiness Mark Madison of the Edmonds School District, presented certificates to students of Beverly Elementary, Lynnwood High School and Mountlake Terrace High School for completing the 2023 Mayor's Challenge.
What started as a partnership between former Lynnwood Mayor Nicola Smith and the Edmonds School District, has inspired scores of students to explore and propose solutions to authentic issues within the community by using Science, Technology, Engineering, and Math (STEM) principles. Students in grades 4 through 12, with the Edmonds School District, work alongside City engineers, technicians and subject matter experts researching and developing solutions to one of six Challenge Issues presented by Lynnwood Mayor Frizzell in January. All projects were due on May 1, 2023.
Of the seven challenges presented, three were selected by the students to solve:
Outreach Program for Lynnwood Storm and Sewer Utilities – Beverly Elementary and Lynnwood High School
Salt Brine Applicator Build – Mountlake Terrace High School
Hall Lake and Hall Creek Habitat Restoration – Mountlake Terrace High School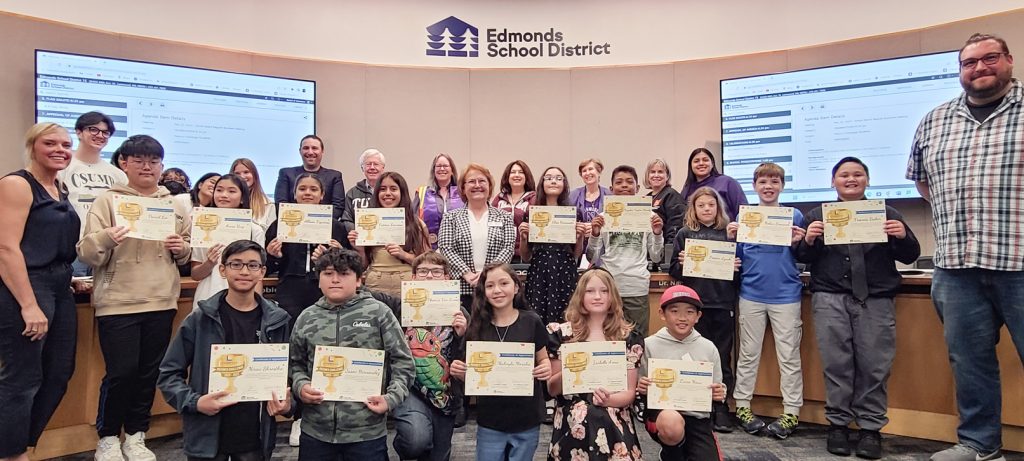 Both Beverly Elementary and Lynnwood High School students tackled developing preventative measures of stormwater pollutants entering the Puget Sound. Stormwater is the most prevalent pollutant entering the Puget Sound that harms marine wildlife such as salmon and orcas.
Their deliverable was to develop educational or awareness material, a community pledge, host awareness events, conduct an impervious surface water study at school or a City facility, and conduct a stormwater reduction project.
Receiving certificates from Beverly Elementary were: Jason Hernandez, Nirav Shrestha, Makayla Morales, Daniel Lee, Anna Ung, Allison Figueroa, Phoenix Van Luvan, Elisa Haramoto, Kayday Tsapin-Handy, Preston Lynch, Nolan Leonard, Francis Baker, Isabelle Arma, Fatima Laurean, Lucas Moua, Tyrell Emery Henderson, Aaliynah Calin, and Arturo Perez. Recipients of Lynnwood High School were Dylan Por, Taylor Johnson, Jalen Brady, David Osborn, Ava Barias, Hasan Al-Jumaili, Danica Neyman, Jason Humber, Jayden Phan, Muhammad Ali, Gavin Ellis, and Jacob Seuferling.
Matthew Margo and Davis Gonzaga of Mountlake Terrace High School provided ideas on creating a cost-effective applicator for the City to use for its new anti-icing and snow removal program in the Salt Brine Applicator Build challenge. The two students worked Lynnwood Public Works employees to evaluate brine mixtures, application rates, and equipment. Students had to consider variables such as weather condition, temperature, and vehicle speed.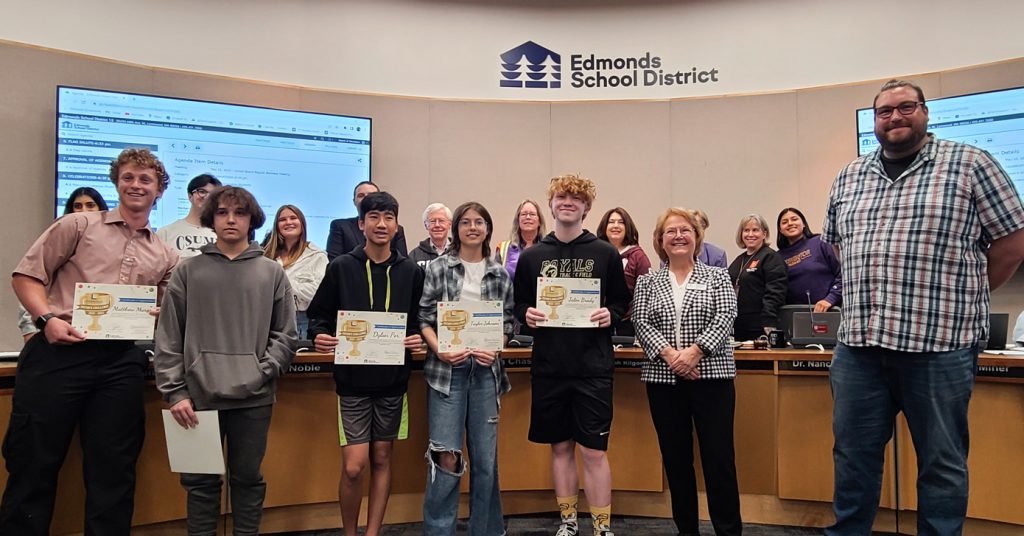 The third Mayor's challenge of returning salmon spawning to the upper reaches of Hall Lake and Hall Creek were accepted by Riki Kobayashi and Kaylyn Takeya, both of Mountlake Terrace High School. The students worked with Lynnwood's Environmental & Surface Water Supervisor Derek Fada, to map the current conditions of the Lynnwood portion of Hall Creek then research and propose a habitat restoration plan.
"The product of the students was astounding," Fada told the Lynnwood Times. "These were professional looking projects."
Mayor Frizzell thanked not only the participants for their hard work, but also their parents and teachers for committing the time needed with the students for them to develop thoughtful and novel solutions. Beverly Elementary Teacher Emily Czerwonka thanked members of the Mayor's Office for working with students and providing them with valuable life learning experiences.
The exact proposed solutions for each challenge will be on display at Lynnwood City Hall within the upcoming weeks, Mayor Frizzell informed the Lynnwood Times. Subject Matter Experts of the City are currently evaluating the projects to determine feasibility and an implementation plan.