Mill Creek launches new resident portal, a one-stop shop for city info
MILL CREEK, Wash., May 31, 2023—The City of Mill Creek is launching a new resident portal on May 31, offering easy access to the City's most requested information.
Now, consolidated into a single space, residents can access current City projects, future development of city-owned properties, news and community events, permits and licenses, survey opportunities – including its most recent 2023 Performance Survey, recreation programs and city highlights, senior services, volunteer opportunities, and much, much more.
With this one-stop resource the City hopes to engage its community and meet its resident's needs for information, while maintaining transparency.
"Communication and communicating with our community is a top priority for the city as well as our city leadership," said Jody Hawkins, Communications Manager for the City of Mill Creek.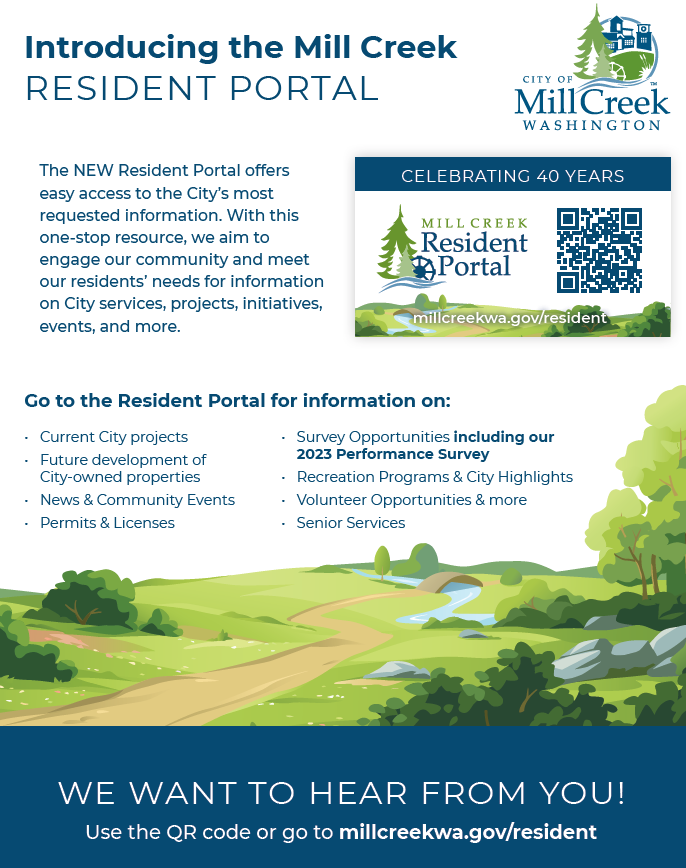 The idea for a new resident portal came from the City receiving regular feedback from its residents expressing they were having difficulty navigating the city's website.
After brainstorming how to resolve this issue, the city began developing the resident portal December of last year, which basically operates as a landing page consolidating the most requested information in a single location. It also helps City staff easily access information to answer residents' questions.
"We just wanted a way to bring all of that to the surface so folks didn't have to dig so deep in our website," said Hawkins. 
The city brought in its IT Department and consulted with city leadership on what kind of information they would like to see featured, before presenting a survey to City Council members.
Scott Harder, Communications, Marketing, and Recreation Program Manager for the City of Mill Creek built then used that information to begin developing the portal.
"This has been a huge project of ours since December of last year and we are really excited to see it launch this week," said Harder.
To get the word out, the city sent out informational flyers to 9,100 Mill Creek homes and businesses. The flyers include a refrigerator magnet with a QR code that takes users directly to the portal with a single scan.
The portal works on mobile devices as well although Jody Hawkins informed the Lynnwood Times it works "visually better" on a computer screen.
The access the resident portal, which is now live, visit https://www.cityofmillcreek.com/resident_portal.
RELATED ARTICLE